I've discussed in detail how to us the 21 day fix color containers but let's talk FOOD! What exactly can you eat during this program? You can't just go and fill anything in the containers and expect to lose weight! A cup of chocolate-covered peanuts is going to pack a whole lot more calories than a cup of fresh strawberries.  I've decided to create a complete 21 day fix approved food list to help you on your challenge to learn about portion control!
What Foods are on the 21 Day Fix Approved List?
Attention: The internal data of table "2" is corrupted!
Can I get my own printable food and shopping list?
Yes! This one we designed with the most common and loved Fix approved foods.  It is color coordinated by each container and food group and also contains a Freebie section with a list of items you can enjoy unlimited quantities of.  The worksheet also comes with a blank shopping list so you can jot down your favorites to buy at the store!
Get the 21 Day Diet Approved Foods List Here!
What do I do with items that don't fit in the containers?
Now, while this program is designed to work with portion control, not all items will fit perfectly in the containers! For example, we don't expect you to chop up a piece of bread and stuff it in the container. For this reason, there are certain exceptions.  For example, 1 slice of bread = 1 yellow container (one portion or serving).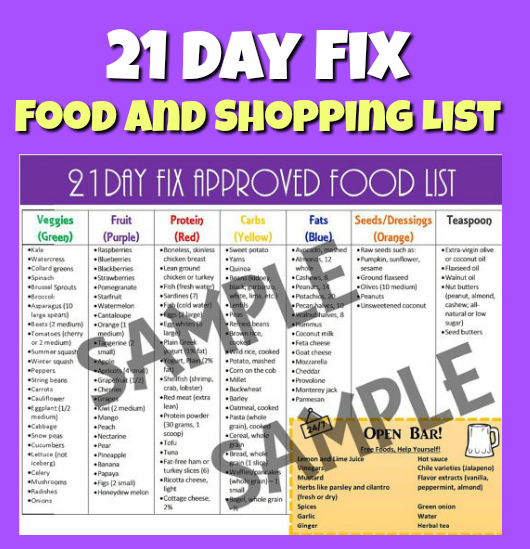 It's also important to note, that when having nuts, you can't just fill the blue container and eat from that.  Some nuts have way more calories than other.  For the blue container, when choosing whichever nut, you need to follow the rules shown in the guidebook or in the printable food list.  For example:
Almonds (12 = 1 blue serving)
Cashews (8 whole = 1 blue container)
Peanuts (14 whole peanuts = 1 blue)
For protein, you can chop up the meat and put it in the container if you're making a chicken salad. But if you are serving meat on the size, one portion is generally 3-4 ounces.  I recommend using a food scale to help you make sure you're not overeating.
However for eggs, you can either fill the container with egg whites for one serving or 2 whole eggs is the equivalent of one red container.
What is an easy way to Meal Plan for the week?
We've designed a 3 page bundle pack according to whichever calorie bracket you are.  Each pack includes the food list above, shopping list PLUS an editable document file to type up your own weekly meal plan that you can print off.  You can either print off a blank PDF version of the 21 day fix meal planner and write in your plan with colored pencils to match the food groups, or you can use Microsoft Word to edit the file in case you have bad handwriting like I do!
What is the 21 Day Fix Drinks List?
While doing this program, you'll have to give up a lot of your favorite drinks. It is pointless to drink fruit juice for example.  It is full of calories and sugar. You won't feel as full after a glass of orange juice as you will by eating a full orange.  However you can drink plenty of water and other drinks with no added sugar.
Water

Tip: Make a water fruit infusion by adding frozen berries, lemon or lime

Carbonated Water

Don't over do it. But if you have sugar-free carbonated water and add a splash of lemon juice, you'll fix that craving for soda!

Herbal teas

Green is especially good to boost your metabolism

Black coffee or tea

If you want to whiten the coffee, add a splash of skim milk or sugar-free and fat-free cream
How Can I Season My Food?
While a lot of seasonings are full of sugar and additives, there are many all-natural spices you can use to "spice up" your meals! You can enjoy a much as you want of the following: (Well, within reason of course!)
Vinegars
Sugar-Free Mustard
Herbs like cilantro or parsley
Sugar-Free Spices
Garlic
Ginger
Hot Sauce
What are your go-to items on your 21 day fix food list? My shopping cart is always full of apples, eggs, Greek yogurt, almonds and sweet potatoes!  Let us know in the comments below what your favorite Fix approved foods are!