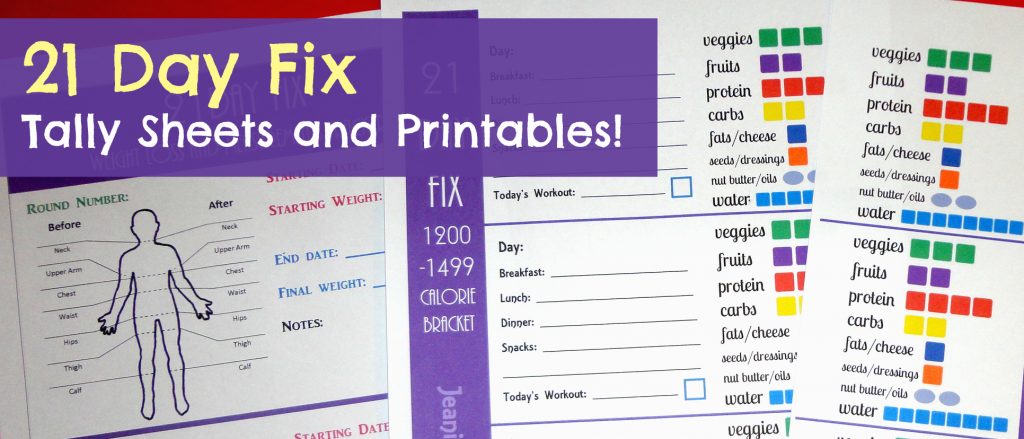 Looking for 21 day fix printable tally sheets to help you keep track of your progress throughout the program? You've come to the right place! We've designed a whole little shop full of affordable tally sheets for the 21 day fix Beachbody program or any other workout program using portion control containers.
The worksheets are designed to help you keep track of how many containers you are consuming each day depending on which calorie bracket you have chosen to follow for your diet.  Most women who are trying to lose weight are using the 1200-1499 or 1500-1799 calorie bracket. Once you have achieved your weight goal and are on "maintenance" mode, you will progress to the 1800-2099 calorie bracket or slightly higher depending on your activity levels.
21 Day Fix Worksheets for the 1200-1499 Calorie Bracket
I've designed various worksheets to use with this calorie range depending on how you prefer to proceed throughout the program. Some people just like to tick off the containers as they go through the day whereas others prefer to have space to write down exactly what they have for breakfast, lunch, dinner and snacks to make sure they are logging everything on their worksheet.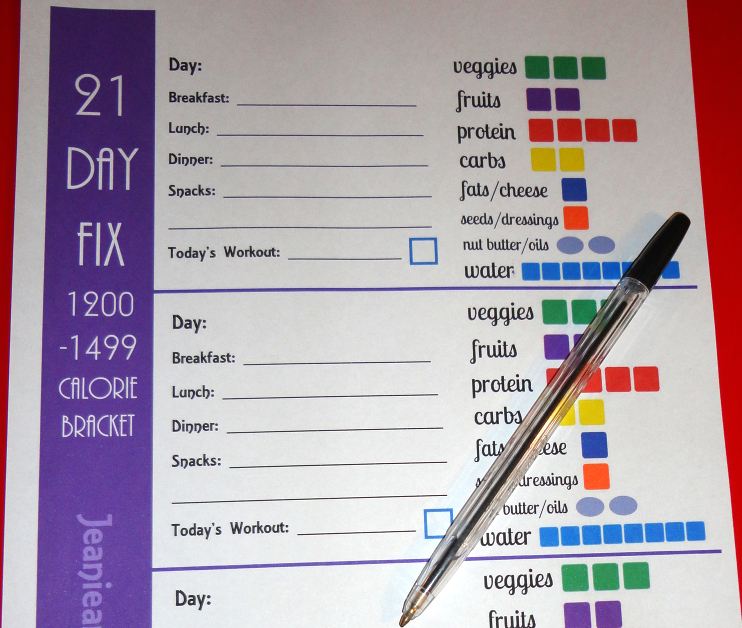 For those who like to log down your daily meals and snacks, I've created a tally sheet with space beside each meal to write what you had. This also allows you to "copy" meal and snack ideas on other days and remember foods that you are eating or meals that are quick to make.

Get my 1200-1499 Worksheet here!
You can either print out a bunch of these 21 day fix tally sheets and have them in a binder to keep track of each and every day. Personally, I like to save on ink and paper and print off just one or two copies of the sheet as seen below. I then laminate it and use a dry-erase marker to write each day. When I'm done the three days, I erase the laminated printable and start again! 🙂
The other option is the tally sheet that offers space to track 6 days worth of the diet.  You can print these and put them in your work agenda/planner or purse and tick them as you go throughout the day.
Visit my Portion Control Printables Shop on Etsy!
1500-1799 Calorie Bracket Printable
I have the same options available for the next up calorie bracket.  Again, you simply print as many as you need for the full 21 day program (or however many rounds of the program you plan on doing), or wipe and re-use the same sheet if it is laminated and you use a dry erase marker with it.
For higher brackets like 1800-2099 calories and up, you can check out my shop on Etsy for the full set of tally sheets.
Bonus 21 Day Fix Printables and Worksheets
In addition to keeping track of the food and containers you eat each day, it's also so important to keep track of your weight loss and inches lost each round you complete.  Every 3 weeks, you should weigh yourself in the morning before eating or drinking to track a consistent weight loss. Additionally, after weighing yourself, you should take your measurements.
Many people will see a greater loss in inches around the body initially. As you build muscle, your weight loss might not be accurate on the scale because muscle weighs more than fat! But you will still have lost several inches and be leaner, smaller and tighter.
Measurements and Results Tracker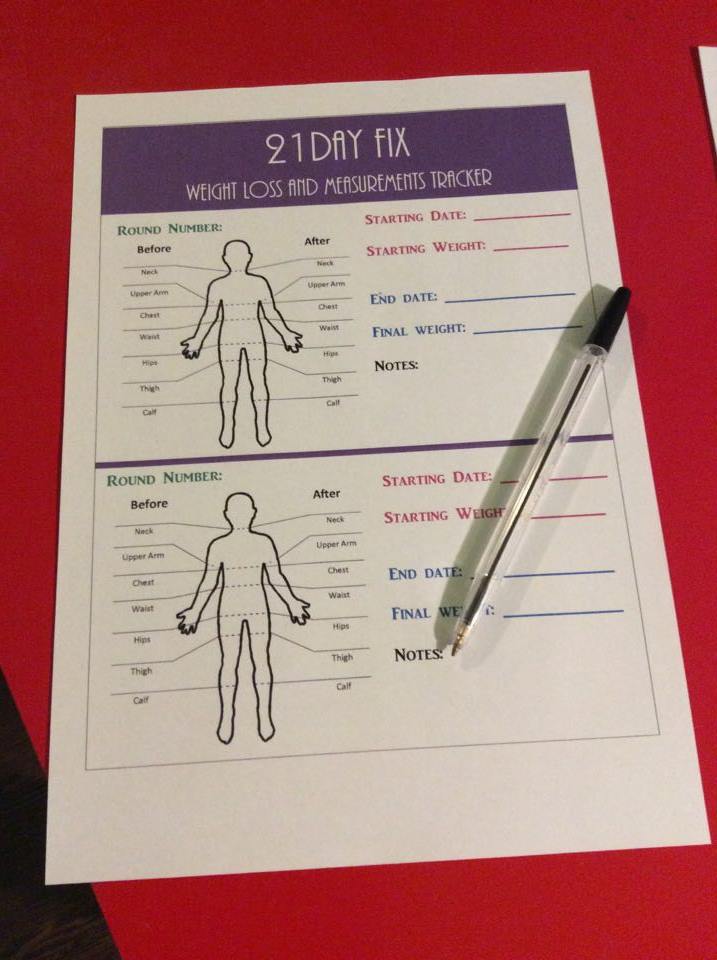 I like using this tracker to see just how much progress I Have made after one or two rounds.  Of course, you can use this worksheet for both the essential and extreme program (or any workout program of your choice).
The worksheet gives you space to write down all the info you need to track two rounds of the fix program and your starting/end weight plus additional notes.
I recommend also taking pictures before and after each 3 week segment.  You won't believe the difference you will see in the photos after you continue taking them after each round. 🙂
This worksheet and other 21 day fix tally sheets are available at my Etsy shop that you can access by clicking on the button below!
Visit my Worksheets Shop on Etsy!