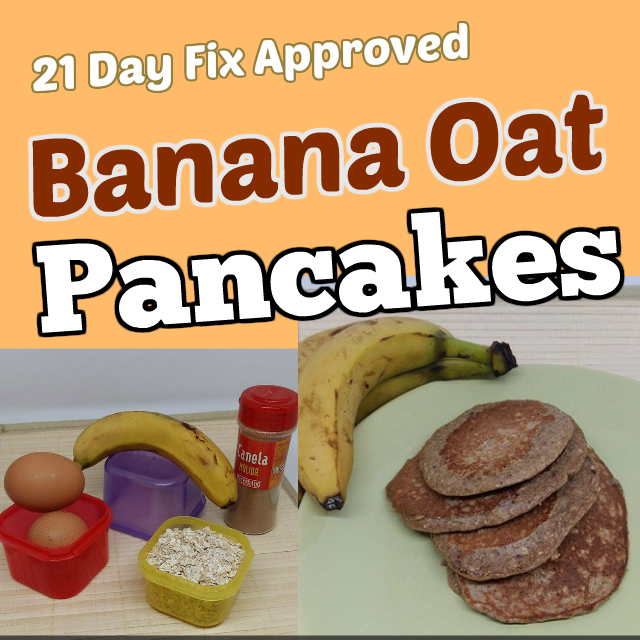 One of my favorite breakfast treats are pancakes! Unfortunately, the regular white fluffy version is chock full of fat, sugar and simple carbohydrates.  That is why we have come up with some delicious 21 day fix pancakes recipes that are not just as a treat! You can have these 21 Day Fix pancakes every day for breakfast if you like! They are healthy and full of protein and fiber.  I like to start the day with these pancakes if I know I have a busy day ahead of me.
The pancakes are filling and will keep you satisfied all morning long.  You can even make them and pack half to go as a snack for later if you don't feel like eating the whole batch!
21 Day Fix Banana Oat Pancakes
Ingredients
1 medium ripe banana (1 purple container)
2 whole eggs (1 red container)
1 yellow container filled with raw dry oats
1/4 teaspoon of cinnamon
Stevia or Sweetener (to taste)
Non-Fat or light cooking spray
Instructions
Mash the ripe banana with a fork in a medium sized bowl.
Add the eggs and whisk until thoroughly combined.
Add the raw dry oats and mix with a hand blender until the oats are broken down into finer pieces.
Add 1/4 teaspoon of cinnamon and Stevia or sweetener. (The recipe will be slightly sweet with the addition of banana, but I recommend adding a teaspoon or more of Stevia for a sweeter pancake)
Mix again.
Heat a non-stick frying pan on medium heat with a light drizzle of non-fat cooking spray
Pour 1/4 of the batter onto the pan for each pancake (makes four pancakes)
Pan fry for 1.5 minutes and flip. Cook for another minute until both sides are a nice golden brown.
Serve immediately!
Enjoy these pancakes as is or with a drizzle of sugar-free maple syrup!
Notes
If you eat the entire serving of this, it will account for 1 purple container, 1 red container and 1 yellow container of your daily portion control container allowance.
If you decide to split this recipe between two people, it will account for just half of each of the containers above!
https://jeanieandjoan.com/21-day-fix-pancakes-recipes/
You can adjust this recipe by adding sugar-free all natural cocoa powder to make it taste like chocolate banana pancakes.  Or add a few teaspoons of peanut butter (simple add 2 teaspoons to your oils allowance).  You could also add  blueberries using 1/2 of the purple fruit container.
There are many options to make this recipe for fun and flavorful depending on your tastes.
What Can I Use as a Syrup or Topping?
Some people like to eat pancakes plain, especially if you are bringing them on the go (They taste great cold!)  But I like my pancakes warm and topped with maple syrup. Traditional pancake syrup is loaded with sugar and calories so it is a HUGE no-no for your diet! However, you can get sugar-free or low-calorie pancake syrups that have essentially no sugar and are fat-free.  That means you can indulge in drizzling this on your pancakes guilt free!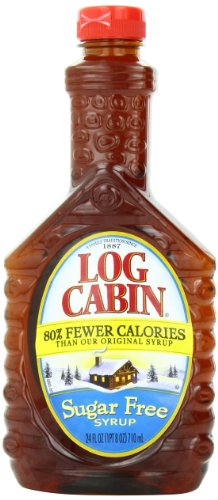 My favorite sugar-free pancake syrup is by Log Cabin. It tastes just like the real thing and there are only 20 calories per 1/4 cup! That means if you have this recipe, you can feel free to use around 1/8 cup (only 10 calories) or even the full 1/4 cup without worrying about harming your diet.
Regular pancake syrup contains over 184 calories in 1/4 cup of syrup! So going light makes all the difference.
I hope you enjoyed this 21 day fix pancakes recipe! What are your favorite additions or variations? Comment below!
You can check out my other Fix approved recipes here!