We just had to order Country Heat once Autumn Calabrese released it!  Both of us have lost over 30 pounds each doing her workouts so we trust her as a personal trainer and fitness expert.  While her previous programs focus on more athletic based workouts and use weights (such as the 21 day fix extreme program), Country Heat is more about dancing and having fun!

Joan isn't a big fan of country music but I certainly am. I love dancing as well so this might be a great way to burn extra calories and lose weight in a less high impact way.  If you are more into pop music or hip hop, I highly recommend Shaun T's Cize Dance Workout Program which burns around 100 more calories per workout than this program.

Country Heat is currently available for order. The wait is over! To purchase the full program, you can click on the button below.

Order Country Heat and Read Program Reviews on Amazon by Clicking Here!
My Country Heat Workout Review:
This workout program will follow a similar structure to Autumn's previous programs in that the format will be 30 minute long dance workout routines.  This is one of the things we both enjoy most about Autumn's fitness routines because other popular Beach Body programs get you working out for almost an hour a day. And it is much harder to find an hour in the day to spare than it is to find a half hour uninterrupted.  This program will include use of the portion control color containers as used in the 21 day fix program.
What is the difference between the Base and Deluxe Package?
This program is available in two different package options.  The most affordable being the Base option which includes the following items:
The Country Heat Base Kit Package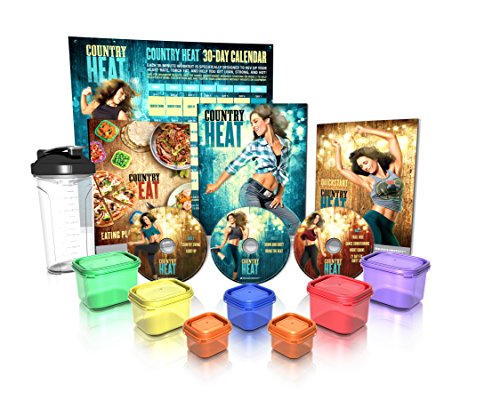 3 DVDs with 6 workouts in total

7 Color Coded Portion Control Containers and Shaker Cup

Nutrition Guide

Quick-Start Manual

30 Day Workout Calendar
The base package gives you the essentials you need to get going on starting both the exercise and nutrition components of the program.  If you don't mind spending a bit extra, you might consider the Deluxe package as you will get an extra workout.
>>Read Reviews about the Base Kit on Amazon.com
The Country Heat Deluxe Package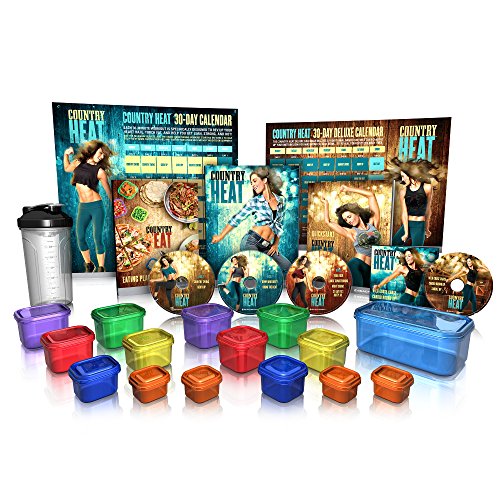 The Deluxe kit contains everything in the base package as listed above plus the following bonuses:
Bonus DVD with 3 Extra workouts

Wild Goose Chase

Cardio Round Up

Saddle Up

Deluxe 30 Day Workout Calendar

An addition set of the portion control containers plus a large blue "salad mixing" container
The deluxe kit truly has everything you need to start the program plus plenty of variety with the extra workouts.  It's also great if you plan on doing this program with your partner or a family member as it includes an extra set of containers. Or just better for you so you're not constantly washing them!
>>Click Here to Learn More about the Country Heat Deluxe Kit on Amazon.Com
What equipment will I need for Country Heat?
You just need to bring yourself and some good sports footwear! The fun thing about this program is it's literally just about burning calories while dancing with a mixture of low, medium and high intensity dance routines.  The choreography isn't complicated and you don't need to be good at dancing to burn calories and follow along.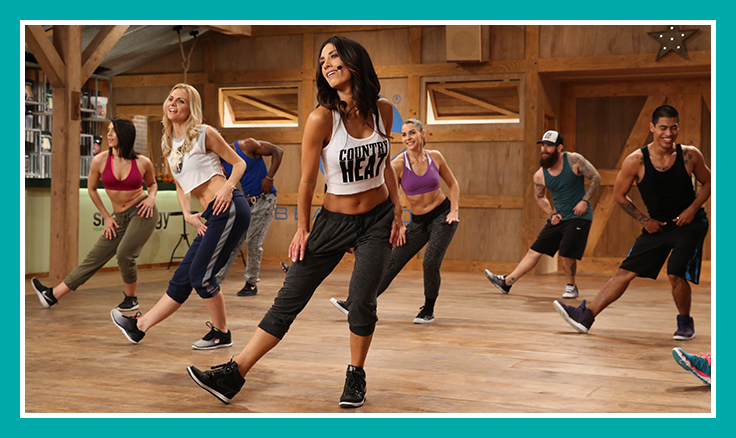 There won't be use of any resistance bands or weights, it's primarily a cardio burn but the workouts will work your entire body.  Personally, I really enjoy using weights and resistance bands when exercising because you can't get that lean tight muscle on your arms or legs without doing some form of strength-training. So I am more likely to use the workouts in this program as a supplement for my cardio days, or when I'm feeling doing something different. However, the "Dance Conditioning" workout included in this program is also a great way to help build muscle.

Anti-Slip Dancing "Shoe Socks"
One of the greatest problems I have with at home workouts like Country Heat is that my workout shoes slip around so much. When I am doing "twist and turn" moves, I find myself sliding all over my hardwood floors.  I have the opposite issue when working out on carpet, as my shoes stick to the carpet and won't let me glide as effortlessly as I'd like. I've always sort of just worked out in spite of this but it definitely impacted my workout as I constantly had to readjust my positioning while sliding around involuntarily.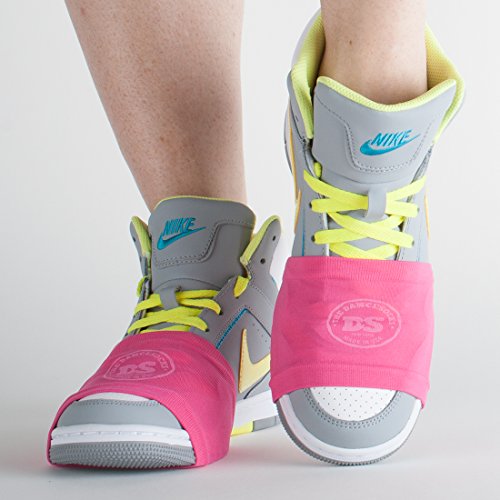 A friend of mind recommended me to use "Dance Socks" which are a pair of specially designed socks to wear over your running shoes that are anti-slip.  There are ones especially designed for hard or smooth flooring and others for carpet flooring and they have made my Country Heat workouts way easier to perform and more effective since I can follow the moves precisely.
Who will enjoy this workout program?
Those who will best benefit from the Country Heat workout program will be those who meet some of the following criteria:
You like country or upbeat music

You enjoy dancing (even if you're not great at it!) and rocking/swaying to a good beat and rhythm

Need to follow low-medium intensity cardio routines

You're a beginner or new to exercise and looking for a gradual start into it

Or you're an advanced exerciser but want to get some extra calories burned each week by supplementing with a new routine
How many calories can I burn with these workouts?
As most of my readers know, I love using my heart rate monitor to track calories burned during workouts like the 21 day Fix!  With Autumn's other programs, I am burning anywhere from 160-360 calories per 30 minute workout.  So it will all depend on the pace of the workout and how high it gets your heart rate going.  I'm writing a page dedicated to calories burned during Country Heat as I have done with previous workout programs. I have started tracking how many calories I have burned during each workout and giving a brief summary of what each workout targets and how I like it. You can read my article on how many calories you burn per Country Heat workout here!

These are the Country Heat Workouts:
Country Swing – This is a cardio based workout with plenty of fun moves like Booty Shake and Ride a Horse. It has a slow start, but the moves are easy to follow and it hardly feels like exercise!

Giddy Up – This workout was more challenging than the first routine and my heart rate was much higher throughout the routine, likely due to more "jumping" moves and higher energy throughout.

Down and Dirty

–

My favorite workout of the first three! Great fun and a bit more fast-paced. Plus you get to dance to "Footloose!" and who doesn't love that song? I burned nearly 300 calories with this one.



Bring the Heat – These just get better and better! This Country Heat workout has some awesome moves and is higher-paced than the previous workouts.  My favorite moves are "Chug Jumps" and "Rocker".  The music is fantastic too!

Trail Ride – This is likely the highest intensity workout of all of them that offers the most energetic moves like "Spider" and "2-Timing Hop".  It has a lot of popular country tunes as well!


Dance Conditioning

– This workout is a combination of cardio for a nice warm-up and strength training moves to help you build muscle. You will need a mat for some of the core and abdominal work.  You'll do some planks and squats as well.

Night Crawl – This workout is quite short but is meant to teach you a dance to a song designed exclusively for Country Heat! The routine is a line dance routine set in a fun night club/disco setting. It's a great extra add-on after your normal workouts.  Don't just do this routine because it is only 3 minutes long! You need to do a longer workout as well.

The Country Heat Eating Plan
If you are familiar with Autumn Calabrese's 21 Day Fix Program, then you will know that using portion control containers is a key component to having success with any of her workout programs.  While the workouts will help you to burn calories and therefore burn excess fat and get stronger through workouts such as Dance Conditioning, the nutrition component is just as crucial.
Included in your Beachbody package will be 7 color coded portion control containers, each a different color depending on the food group.  You will determine which calorie bracket is best for you and then use various tally sheets or logging printables to track how many containers you are eating each day and will have an allotted number per food group.
The Country Heat Portion Control Container System and Nutrition Guide:
Green Container = Vegetables such as Lettuce, Tomatoes, Carrots, Celery, Broccoli, Spinach, Bell Peppers
Purple Container = Fruit such as Apples, Bananas, Berries, Oranges, Pears, Watermelon, Peaches
Red Container = Protein such as Low-fat meats including Turkey, Chicken, Lean Pork, Lean Beef or Steak, Fish, Eggs, Cottage Cheese and Plain Yogurt
Yellow Container = Complex Carbs including Brown or Whole-Grain Cereals, Bread, Rice and Pasta, Potatoes and Legumes
Blue Container = Healthy Fats such as Avocado, Raw Nuts and Low-Fat Cheese
Orange Containers = Seeds and Low-Fat Salad Dressings
You then need to determine which calorie bracket you fall under in order to either lose weight or maintain your current weight if you have reached your weight loss goal.  There are 4 different caloric brackets that go along with Country Heat but most women will fall under the 1200-1499 Caloric Bracket, the 1500-1799 Calorie Plan or the 1800-2099 Calorie Bracket Plan.
Tally Sheets and Printables According to your Calorie Bracket
I have designed three different 5 page bundles to complement Country Heat and make things just a bit easier to follow this program.  They are all available at my Etsy Shop.
You can get the 1800-2099 plan by clicking here or the 2100-2300 calorie worksheet bundle here!
Each bundle has a custom designed Country Heat Tally Sheet for logging your containers each day depending on which calorie plan you are following.  Additionally, it includes a menu and meal prep planner, a results tracker and the approved food list that you are allowed to each within each container.  The nutrition guide is the same for both Country Heat and the 21 day fix programs so you can mix and match these worksheets accordingly.
By following the nutrition component of this program in addition to pushing yourself during the Country Heat dance workouts, this program really is an excellent way to burn calories while actually having fun and enjoying music that you love to listen and dance to!
   Order Your Copy of Country Heat and Read Reviews on Amazon.com