I love Pinterest and it's amazing how one simple concept or claim can go viral and people will believe it without question. Lately, I have seen hundreds of quick at home workouts spread around Pinterest claiming you can burn 100 calories in under 5 minutes. The most recent claim I've noticed with thousands of shares is that you can lose ten pounds in 2 weeks following the Drop 10 workout plan.
Now, it's definitely possible to lose 10 pounds in 2 weeks even though a lot of that weight is just the initial "boost" you get from changing your lifestyle.  But it is impossible to lose 10 pounds in two weeks by incorporating exercise alone, especially a simple 15 minute workout like the one advertised.  As you can see in the graphic below, this is just a small sample of "pins" with this workout plan.  There are over 50 thousand shares and people believing this can really help you lose 10 pounds that quickly!  So does it work?
Get Our Custom Drop 10 in 20 days Plan at our Etsy Shop Here!

I decided to put it to the test and see how many calories you can actually burn doing this workout and assess how many pounds you could lose in two weeks if you followed a sensible diet.
The Drop Ten Workout Routine
This is the complete plan that has been spread around Pinterest. The idea is that if you do this routine once a day for 2 weeks or 14 days, you'll lose 10 pounds.
100 crunches
90 jumping jacks
80 lunges
70 squats
60 seconds of running in place
50 second plank
20 high knees
10 push ups
So that's it!  I decided to do this routine and track it using my Fitbit Charge HR 2 fitness bracelet to see how many calories I burned and how high it got my heart rate. I recorded the stats and am sharing them with you here!
The Workout Results:
Length of Workout: 15 minutes and 54 seconds
Calories Burned: 98 calories
Average Heart Rate: 119 beats per minute (3 minutes in the cardio zone and 10 minutes in the fat burn zone)
Unfortunately, without changing your diet or exercising more, you CANNOT expect to lose 10 pounds in 10 days by following the above workout.  Burning only 100 calories is not enough to do much damage. You need a complete system to get those kind of results!

So How Quickly Can I Lose 10 Pounds?
In order to lose 10 pounds and keep it off, you'll need to commit to a mixture of diet and exercise. That is why we have developed the "Drop 10 in 20" plan which combines quick and effective exercises like the one above but with more variety and a higher calorie burn.
Our plan includes:
Six different workout routines with an estimated calorie burn and length of workout such as the one on the right.
A 20-Day workout calendar
A complete diet plan following the portion control diet complete with tracking/tally sheets to guide you in a mix-and-match diet making sure you get enough veggies, fruits, proteins, carbs and healthy fats each day.
Complete Food and Grocery list of the types of foods you can eat on this diet
Before and After measurements and weight loss tracker to keep tabs on your progress from Day 1 to Day 20
Can I Really Lose 10 Pounds in 20 Days Following this Plan?
Okay, so this is the money question.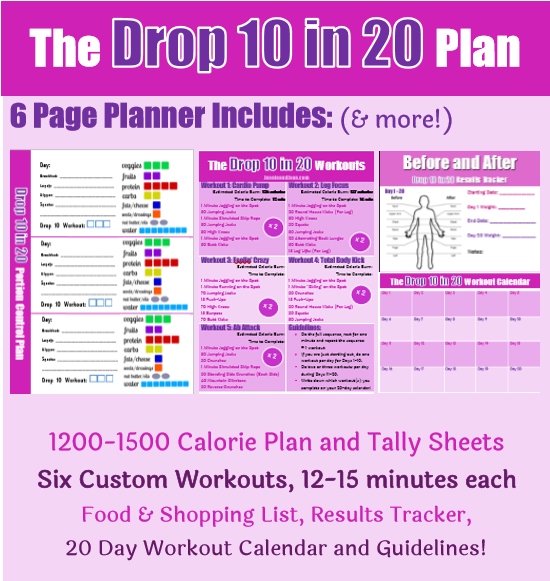 This fitness bundle includes everything you need to lose 10 lbs or more in 20 days.  That is because the program contains both quick and effective workouts in addition to an easy-to-follow diet plan. If you want to lose all 10 pounds, make sure to do 2-3 of the workouts included per day.
It also includes complete guidelines for how to follow the plan and all the tools you need to keep on track.
You don't need any special equipment and all of the exercises are basic and can be completed in under 15 minutes.  And you'll burn between 120-200 calories per workout depending on your fitness level and how hard you push.
You can use the diet plan with portion control containers if you have them or simply follow the included cheat sheet which tells you what each serving is the equivalent in standard measurements.  For example, one serving of vegetables or fruits = one cup, one protein serving = 3/4 cup, and so forth.
However, using the color containers makes the whole diet a lot easier and more fun too.
Veggies = Green

Fruit = Purple

Carbs = Yellow

Protein = Red

Healthy Fats = Blue

Oils and Dressings – Orange
We have had a lot of success with this program as have our friends and family members and hope you will give our drop 10 in 20 workout plan a try! To your health and fitness! – Jeanie
Get The Drop 10 in 20 days Plan at our Shop Here!