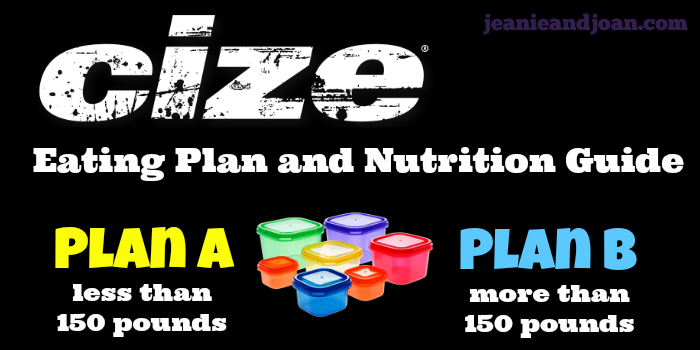 Shaun T's popular hip hop exercise and dance workout series called Cize comes complete with a nutrition guide that uses the same containers as the 21 day fix program by Autumn Calabrese.  Except with his program, there are only two different plans that you will follow depending on your current weight.
Cize Plan A Eating Guide
If you weigh less than 150 pounds, you will follow Plan A.  For this plan, you will use the color portion control containers that are divided according to food groups.  You will eat a certain number of each containers that will total between 1200-1500 calories and help you lose between 1-2 pounds or more per week (which is a healthy number)
You'll eat the following:
Yellow Containers (Carbohydrates): 2

You can enjoy a variety of healthy complex carbohydrates including oatmeal, wholegrain breads, brown rice or pasta, and white or sweet potatoes

Red Containers (Proteins): 4

There are a number of foods you can enjoy such as lean beef, skinless chicken or turkey, lean pork, fish, tofu, cottage cheese or plain 1-2% fat yogurt

Purple Containers (Fruits): 2

Most fruits you can enjoy 2 servings of (or more of it's a smaller fruit like a clementine or fresh fig) such as apples, pears, watermelons, oranges, grapes, and berries

Green Containers (Vegetables): 3

Some of the vegetables on the list include tomatoes, squash, beans, celery, broccoli, kale, cucumber and carrots.   Remember that potatoes are considered a starch and carbohydrate (yellow) and not a vegetable.

Blue Container (Fats and Cheese): 1

Healthy fats are good for weight loss and your overall nutrition.  You can enjoy avocado, almonds, raw peanuts, hummus or low-fat cheeses

Orange Container (Seeds and Light Salad Dressings): 1

In the orange containers, you'll be able to have light salad dressing like Italian or Balsamic Vinaigrette or sunflower or sesame seeds which you can sprinkle on a salad

2 teaspoons of oils

This is for either all-natural peanut butter or olive oil
Plan B Eating Guide
Cize's Plan B is for those who weigh over 150 pounds. You might need to change your plan as you lose weight and eventually hit Plan A to continue having steady weight loss. This plan will equate to around 1500-1800 calories per day.
3 Yellow Containers (Carbs)

4 Red Containers (Proteins)

3 Purple Containers (Fruits)

4 Green Containers (Vegetables)

1 Blue Container (Fats and Cheese)

1 Orange Container (Seeds or Dressings)

4 teaspoons of oils or nut butters
With Plan B, you'll eat an extra carbohydrate, fruit and vegetable per day plus two additional teaspoons of oils.  With these plans, you can mix and match foods throughout the day and meal planing in advance will be helpful.  Try to eat a mix of the food groups throughout the day, instead of all your carbs in one sitting or all your fruits, for example.
Cize Worksheets for Logging Containers
It can be helpful to use tally sheets for Plan A and Plan B to make sure you are eating the right amount of containers per day and not going under or over your limit.  If you get really hungry and feel like you have hunger pains, then you can drink a glass of water or tea.  If you still feel hungry after this, enjoy an extra serving of protein and vegetables to try to tide you over for the evening.  Make sure to eat small meals throughout the day so you're not left for 5 hours at the end of the day with no containers left to eat.
Overall, the eating plan using the Cize containers is an excellent way to lose weight and track your calorie intake without having to count each and every item you consume.  Meal planning will become your friend and adjust your container intake as you lose weight and eventually drop below 150 pounds.