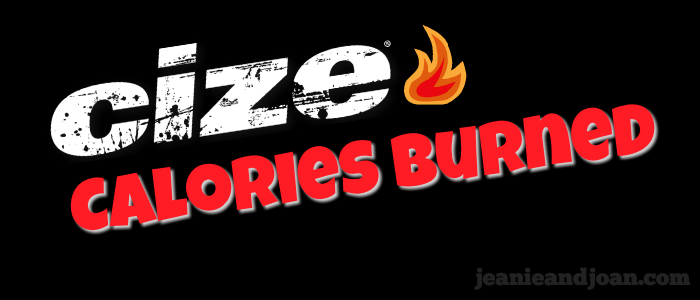 One of the things I love most about Shaun T's Cize workouts is that they help you burn a crazy amount of calories! Without having to use fancy equipment or even dumbbells, you can get your heart rate up high in the cardio zone and burn upwards to 500 calories per workout.  I've using my heart rate monitor to track the amount of calories I have burned in each workout and am sharing the results with you here! These workouts are unlike any others I have done before.  Normally, I dread a 40 minute workout and never look forward to it. Or, I am counting down the minutes throughout until it ends. But with Cize, you're too busy learning new moves and moving to the beat to even think about working out. It's truly a blast!
If you haven't already ordered Cize or want to learn more, you can read reviews here on Amazon for the complete product package!
There are 6 different workouts in the basic Cize kit that takes you through three different levels.  Level One contains two "yellow" beginner workouts which range from 28-43 minutes in length.
The Level One Cize Workouts:
Crazy 8s:
Workout Length: 28 minutes
Calories Burned: 296
Average Heart Rate Per Minute: 147 bpm (25 minutes of the workout in the cardio zone)
Difficulty Level: Beginner
Workout Summary: I loved Crazy 8s.  It was the first workout I tried and I worried I wouldn't be able to follow a hip hop dance routine since I'm not the most coordinated.
But Shaun T introduces each move slowly and doesn't increase the pace until you have mastered it. Then he combines it with previous moves you have learned and slowly you work up to performing the full routine.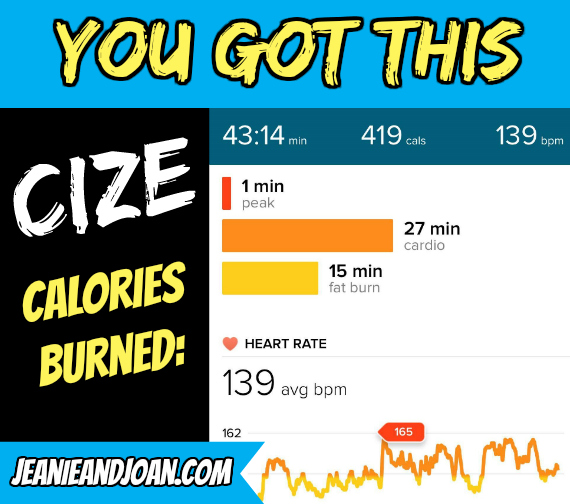 You Got This:
Workout Length: 43 minutes
Calories Burned: 419 Calories (Wow!)
Average Heart Rate: 139 bpm
Difficulty Level: Beginner Plus
Workout summary: You Got This is quite a bit longer than Crazy 8s but you also burn a lot more calories as a result! It's a bit more difficult than the previous workout but it still goes through the motion at a slow pace so you can learn each move before combining them together. I mastered the first workout quicker than I did this one, so I know taking a full week to truly nail down the workout will make it all the more easier.
How Can I Track My Personal Calorie Burn?
Remember, every one is different and some people will burn more or less calories than others.  A large man will burn more calories than a short woman, for example.  I use a Fitbit Charge HR 2 to track my calories. You can see an example of how it works in the graphics above. I recorded my calorie burn for each workout and took a screenshot afterwards to share with you all!  This has been an essential tool for my weight loss. There is no other way to monitor exactly how many calories you burn throughout the day. I will never go without mine!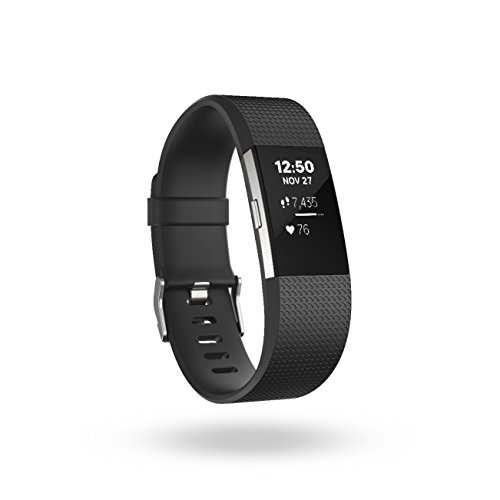 The Level Two Cize Workouts: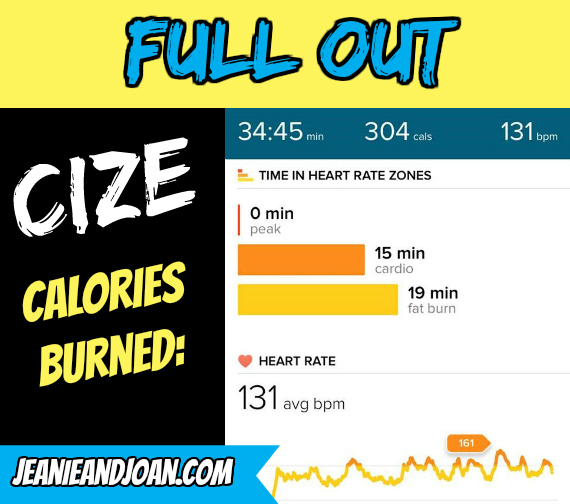 Full Out
Workout Length: 35 minutes
Calories Burned: 304 calories
Average Heart Rate: 131 bpm
Difficulty Level: Intermediate
Workout Summary: After doing the first two workouts of the level one series, this workout was a bit of a challenge for me. The bonus is that even if you aren't mastering the moves instantly, you are still moving your body while trying and this means you are still burning a bunch of calories. The choreography was a bit more complicated but it was still a great workout and I know after doing it several more times, I will master it.
In the Pocket
Workout Length: 37 minutes
Calories Burned: 364 calories
Average Heart Rate: 137 bpm
Difficulty Level: Intermediate Plus
Workout Summary: After doing the previous workouts and learning their moves, this wasn't as difficult as I thought it would be. There were a few moves that I needed to practice again and again before getting (particularly in the last half of the workout). Shaun T definitely picks up speed in this one but the workout was a blast overall!
The Level Three Cize Workouts:
Go For It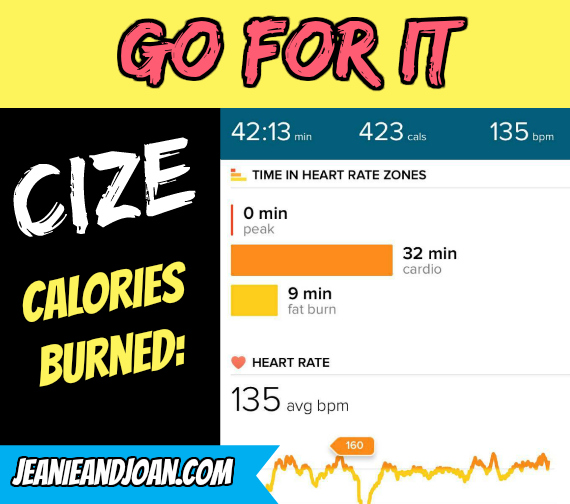 Workout Length:  41 minutes
Calories Burned: 423 calories
Heart Rate Average: 135 bpm
Difficulty Level: Advanced
Workout Summary: My first time doing this workout I was very grumpy and miserable, haha! I felt like the moves were too challenging. But the second time doing it (and the calorie burn is from the second time around), I mastered it. Everything clicked together. The routine is fast paced so you need to pay attention but it is definitely doable.  Make sure to do this one when you have a lot of energy!
Living in the 8s
Workout Length:
Calories Burned:
Difficulty Level: Advanced Plus
Deluxe and Bonus Cize Workouts
If you have purchased the deluxe edition of Cize, there are an extra three workouts you can enjoy and swap with the original six.  The first is a quick abs workout that combines both standing and floor ab work called 8 Count Abs.
Shaun T has also developed a Cize Weight Loss Series featuring two workouts: Get Into It and Turn It On.
Cize Workouts Summary:
Overall, Shaun T's Cize workout series is a powerhouse for calorie burning.  I've reviewed the calories burned during the 21 day fix and Country Heat programs and neither compares to this one for getting your heart rate up and sweating bullets.  It's a comprehensive program that will help you burn fat faster than any other program on the market while having fun at the same time.  I recommend you get your own Fitbit Charge HR 2 or other heart rate monitor to track your own calories burned during the Cize workouts and throughout your day to day activities. With this information, you can accurately assess how many calories you are burning throughout the day. This will help you determine how much weight you can and will lose per week if you follow the nutrition guide as well.