The big question of the day is how many calories do you burn when doing the 21 day fix workouts?  In the guidebook that comes with the program, the book estimates that you deduct 400 calories a day when figuring out your calorie target to account for how many calories you will burn during the 30 minute workout. This guide will tell you how to estimate your own calorie burn and also show you how I use my workout schedule to track my progress.

>>Read reviews about the 21 Day Fix Program on Amazon!
Unfortunately, burning 400 plus calories per workout is just not the case.  Some days, the workouts are much less strenuous than other days (like Pilates Fix day or Yoga Fix) so you need to adjust accordingly or workout more.  I decided to track how many calories burned during each and every workout and take screenshots of my after workout results.  I purchased a FitBit Charge HR to help me track how many calories I am burning during the 21 day fix workouts and I am overwhelmed at how accurate the device is.
Why is it important to track your calories burned with the 21 day fix workout?

This is one of the most important things for me and how I have managed to lose weight.  With the 21 day fix portion control containers, you are able to get a strong estimate of how many calories you are consuming each day.  But each day can vary so dramatically with how many calories you burn depending on your daily activities and how hard you push yourself during your workouts. 

If you have an office job, you are likely burning a lot less calories each day than someone who works at a construction site, for example.  By wearing a device like the FitBit to track your calories, you can get a better estimate of how well you are meeting your weight loss goals and when you will reach them.
>> Read more about the FitBit Charge HR 2 on Amazon.com
For example, I am aiming to burn a minimum of 2,700 calories a day using my Fitbit.  I wear it on my wrist all day long and because it is so slim and sleek looking, it just looks like any other watch or bracelet.  It tracks my heart rate so it can make accurate adjustments to read my daily calorie burn and also tracks steps taken, calories burned, floors climbed and more.

You can read it on the watch directly and set the timer to track the calories burned during a particular timed workout (which I use when doing the 21 day fix).  You then stop the watch after your workout is done and it will tell you all the important information you need to know about the workout.  The device then syncs to the Fitbit application where you can view all of your daily stats and sync them in real time throughout the day.
By aiming for a 2,700 calorie burn – I am also consuming the 1200-1500 calories a day bracket plan.  Therefore,  2,700 calories – 1400 calories (on average) = 1,300 extra calories burned a day.  x 7 days = 9,100 calories.
Now, if 3,500 calories equals one pound of fat, I should be losing 2.6 pounds a week using this formula.  And based on my weight loss results over the last 35 days, this is extremely accurate.  I am so grateful that I ordered a Fitbit to help me so I really am meeting my goals.  Now – let's take a look at the calorie burns per 21 day fix workout.
Keep in mind, that I am 5'10, and I use two sets of weights when doing these 21 day fix workouts. Either my 6 pound dumbbells or my 12 pound dumbbells depending on the exercises.  I also push myself extremely hard.
Make sure to log your calories burned after each workout to keep track of how you are progressing. Over time the workout should become easier for you so your calorie burn might increase if you are pushing harder or decrease if the workout is becoming too easy for you.

21 Day Fix Workout 1: Total Body Cardio Fix – Calories Burned
Here is a screenshot of one of the days I did for this total body cardio workout.  Remember that your calorie level will vary each time you do the workout depending on your energy levels and how hard you push yourself.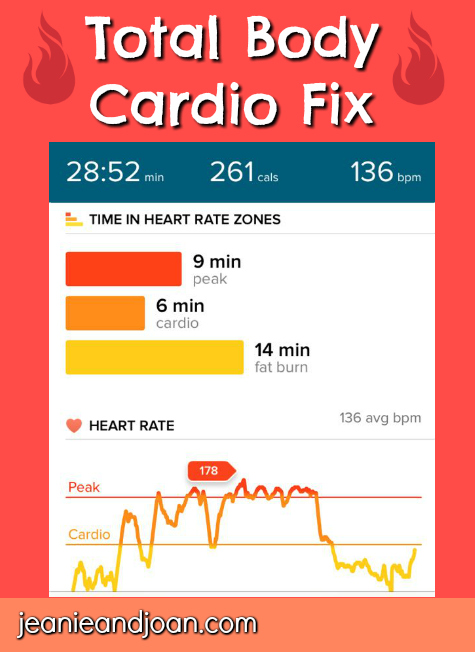 Calories Burned: 261 Calories
Average Heart Rate: 136 beats per minute
Workout 2: Upper Fix – Calories Burned
Calories Burned: 196 calories
Average Heart Rate: 119 beats per minute
Workout 3: Lower Fix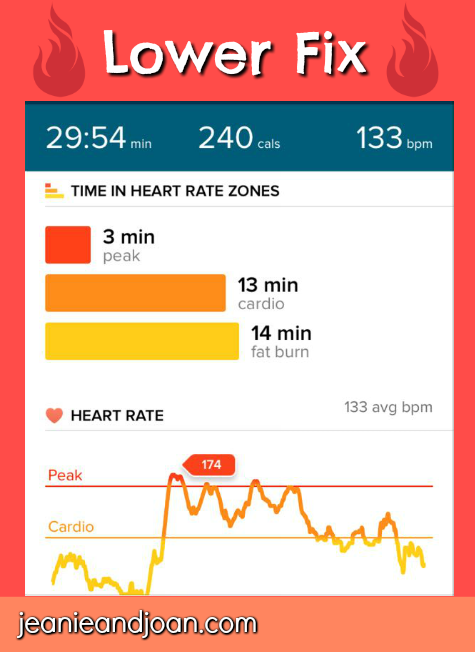 Calories Burned: 240 calories
Average Heart Rate: 133 beats per minute
Workout 4: Cardio Fix
Calories Burned: 312 calories
Average Heart Rate: 141 beats per minute
Workout 5: Dirty 30
Calories Burned: 200 calories
Average Heart Rate: 127 beats per minute
Workout 6: Plyo Fix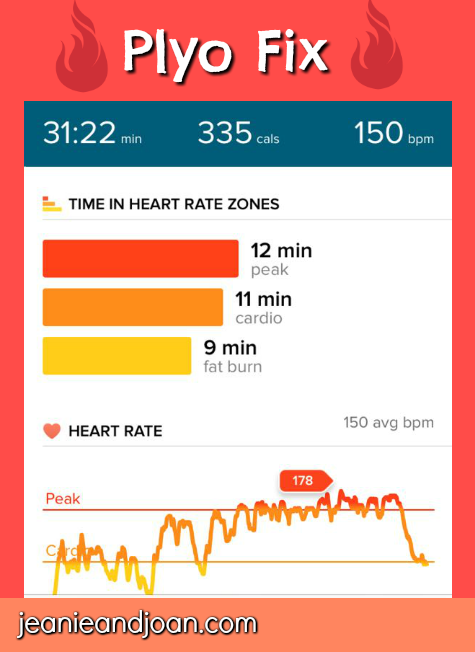 Calories Burned: 335 calories
Average Heart Rate: 150 beats per minute
Plyo Fix was my highest calorie burning workout in addition to Cardio Fix.  If I have a lot of energy, I like to do one of these workouts to burn as much calories as possible in just 30 minutes.
How Can I Track my Own Calories Burned?
I can't tell you how much I love my FitBit Charge HR 2. The HR 2 version is the best option because you get a more accurate reading of your calories burned since your heart rate is being measured at the same time.  If you want to take your workouts to the next level and need that motivation, a FitBit is an awesome tool to help you.  It makes weight loss less complicated because you will know exactly how many calories you are burning.  Rather than "guessing" and hoping you are meeting your calorie deficit for the day.  The FitBit also has an awesome application where you can add friends and have various challenges to help you stick to your workouts.  And also includes logging abilities to track your weight loss.

I can't recommend this device enough – it has really helped me be able to assess my weight loss goals and how exactly I will be able to meet them before summer with the 21 day fix workout program.  You can learn more about the FitBit at the link below! 🙂

Other Heart Rate Monitors and Calorie Tracking Fitness Bracelets:
When choosing a fitness bracelet, the most important thing to remember is to get one that has a heart rate monitor.  Otherwise, it is often very inaccurate. How can a bracelet monitor your calories burned each day or per workout without monitoring your heart rate and seeing it increase as you do your exercise routines?  While the FitBit is my personal favorite, there are other options available that I have seen people use and enjoy:
1: Bellabeat Leaf Urban
This is brand new on the market and has taken the fitness bracelet industry by storm. A lot of people complain about fitness trackers because they aren't that pretty or fashionable.  The Bellabeat was designed exclusively for women. Not only because it can be worn as a necklace, bracelet or belt clip, but because it helps track more than just calories burned. 
You can track your menstrual cycle, stress level, activity level and more! It's basically an all-around health and well-being tracker and is genuinely authentic "smart jewellery".  It's gorgeous on top of that!
2: Polar FT7 Heart Rate Monitor

This one comes in a variety colors and monitors your heart rate and calories burned. The only downside for me personally is that you need to wear a chest strap to monitor the heart rate where as my FitBit is wrist based.  But the price point makes it affordable if you don't mind the chest strap.
3:

TAIR Heart Rate Monitor Bracelet
This fitness bracelet option by TAIR is less known brand-wise but offers heart rate monitoring and calorie tracking via a wrist bracelet such as with the FitBit. It also includes a build in pedometer and monitors your heart rate based on the type of activity you are doing.
Please let me know in the comments below which you prefer and how many calories you are burning on average and if you are having success using the 21 day fix workout schedule too! I'd love for us to share results so we can get a nice average for those who don't have a fitness bracelet or are unable to get one!