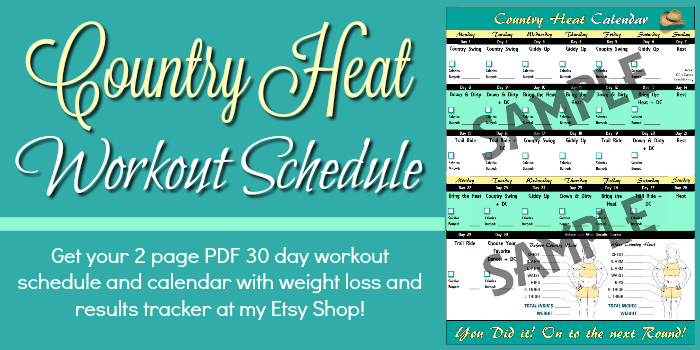 When following this new dance workout, it's important to keep track of your daily workouts and also how many calories you are burning per workout to make sure you are pushing yourself to the max! I have developed a Country Heat workout schedule for you to follow over the next 30 days (and continue to use again and again for every 30 day round you follow). The printable is available on my shop on Etsy and also includes a before and after weight loss chart so you can track how many inches you have lost and pounds you have shed.
If you haven't yet ordered your copy of this program, it is now available to order by clicking on the button below!
Order Your Country Heat Package from Amazon!
The Country Heat Workout Calendar:
The 30 Day Workout Calendar contains a full 30 day schedule of working out. You get one rest day each week and on some days have to do a dance workout in addition to the Dance Conditioning workout.
There are 6 workouts in total.  The first week is a repeat of two workouts, Country Swing and Giddy Up, to help you get used to the routines so you will perfect them and be able to do them effortlessly to burn the most amount of calories.
The second week you will be introduced to Down and Dirty, Bring the Heat and Dance Conditioning which again will help you learn the moves without blinking an eye and you'll really get the hang of how to do all the moves.
During the third week, you'll do a mixture of the workouts from weeks 1 and 2 plus "Trail Ride" and in the final week, it'll be a mix of all previous workouts plus extra Dance Conditioning to help firm you up.
You can get the full 2 page poster PDF of the Country Heat Calendar and workout 30 day schedule by subscribing below!

I have also developed several different 5 page bundle packs that are designed according to which calorie bracket you choose to follow for the nutrition component of the eating plan.  The bundle packs include day planners and container logging sheets, the approved food list, a results tracker and a weekly meal planner.  You can check out some of my bundles below:
Calorie Logging and Meal Prepping Printable Bundles:

I hope you enjoy our Country Heat calendar and find that this program helps you meet all of your weight loss goals while also having a great time. Let us know how you like the program and sign up to our mailing list to be the first to know when we release our calories burned per workout segment!