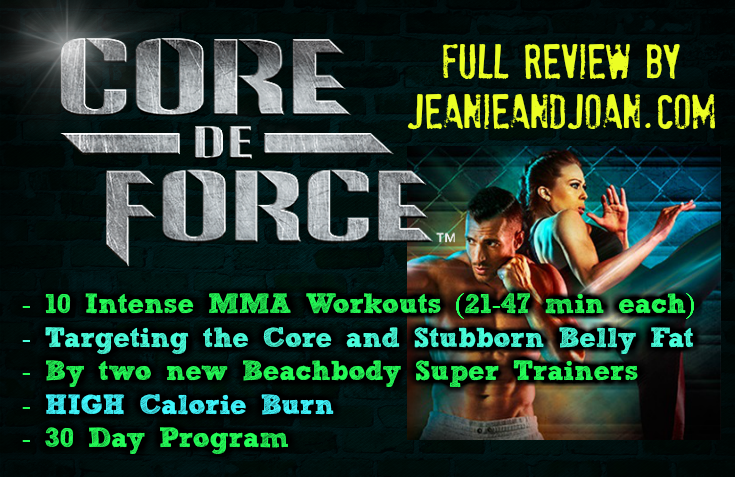 I am so excited to be reviewing Beachbody's newest workout program Core de Force being released in early December, just before the holidays! This latest exercise program is by new fitness trainers Joel and Jericho who are nothing short of FIERCE.  And this is a program unlike any program previously released by Beachbody.  The workouts combine a series of mixed martial arts and kickboxing style moves to help you shed fat and lose weight in 30 days.
The workouts are specifically designed to burn fat, build muscle and most excitingly – shed belly fat!  The stomach is a problem area for most as it is generally the last place you lose fat. But these trainers walk you through a series of high intensity exercises designed to work your core and abdominal muscles.  Of course, you need to lose weight all around the body in order to get a flat stomach. But these workouts ensure your belly isn't the last place to lose the fat!
My Core De Force Workout Program Review:
The great thing about this exercise program is that it combines the expertise of two different Super Trainers. You've got Jericho McMatthews, the stunning redhead who kicks serious butt in the workouts. And you have Joel Freeman – and I hope my hubby won't mind me saying, but there's nothing better than a bit of eye candy while working out! It certainly helps the time fly by!  The workouts range from 21-47 minutes in length.
Who is Core de Force for?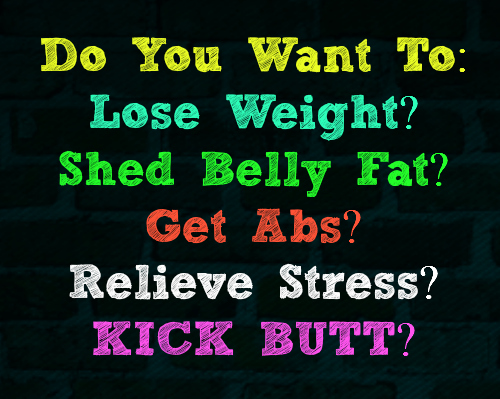 Beachbody's range of exercise programs ranges from being catered towards beginners to the most advanced of exercises.  Regardless of your fitness level, you'll be able to do these workouts as there is a "modifier" for those who can't do the routine at full intensity.
You'll watch Jericho or Joel teach you the moves and perform them.  If the routines are too intense, a woman at the side will be doing a modified version you can do until you're ready to increase your intensity level.
This program is for both men and women of all ages who want to lose weight and get in shape.  I wouldn't recommend this workout program for any one who is pregnant or has really bad knee/joint problems, however. Some of the moves are quite high impact. Although, you could modify those movements and still burn calories regardless.
The ideal candidate for this program:
Enjoys high intensity athletic-style workouts
Has at least a low-intermediate fitness level or isn't brand new to exercise
Wants to flatten their stomach and shed belly fat or love handles
Hasn't got the time to spend hours at the gym for the same results!
Why is it called Core de Force?
The name of this Beachbody program is inspired by the core-focused workouts that you will be doing. In the program, there are 10 core workouts that are all specially designed to work your mid-section targeting love handles, the "muffin top" and lower belly fat.
The workouts will get your heart rate skyrocketing as you will do a series of intervals.  What this means is that you'll commit to 3 minute rounds of intense exercise and keep going until you hear the bell.  It's designed as if you're in a boxing ring to keep your energy high.  After each round, you'll have a period of rest or do lower-intensity movements before spiking your heart rate up again with the next 3 minute round.
Core de Force uses mixed martial arts throughout, combining boxing, kickboxing and Muay Thai (a type of martial arts that originated in Thailand).
The Core de Force Workouts:
The Four MMA Workouts:
MMA Speed:


This Boxing style workout targets the upper body and core
27 minutes long (6 rounds)

MMA Shred:

Total body workout inspired by Muay Thai
37 minutes long (9 rounds)

MMA Power:

High intensity complete body workout using "defense" techniques
47 minutes long (12 rounds)

MMA Plyo:

The most challenging workout combining boxing, Muay Thai and plyometrics to spike your heart rate to the ceiling!
47 minutes in length (12 rounds)
The Two "Bodyweight" Workouts:
Power Sculpt

Focuses on building muscle using your own body resistance (no equipment!) and interval training
37 minutes in length (9 rounds)

Dynamic Strength

A lower impact total body routine that is high intensity but puts less pressure on your joints and knees. It helps increase your strength and build muscle using your own body weight
47 minutes total (12 rounds)
The Stretch and Recovery Workouts:
Active Recovery

This workout is for your rest day and helps you stretch out your body and increase flexibility.  Don't skip it! It's important to recover your muscles after all the power workout you'll do during the week!
21 minutes long

Core de Force Relief

This is a quick 5 minute long stretch video to do before bed or whenever you need to stretch out your tight muscles!  Do it as often as you like and it will help prevent you from feeling stiff and sore!
What's the difference between the Core de Force Base and Deluxe Kits?
Well, first of all – the base kit is the cheapest option. If money is a bit tight, you'll still get all you need to get started on the program. However, the Deluxe Kit includes extra workouts and the portion control container system made popular by the 21 day fix program. I'll break down what is included in each kit below:
The Core de Force Base Kit: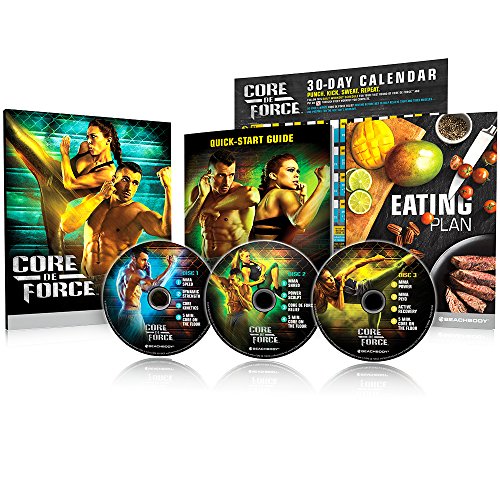 The 10 MMA style workouts as described above on 3 DVDs

The other two workouts included are:

Core Kinetics (a 15 minute ab workout)
5 minutes "Core on the Floor" (5 minute floor ab workout)

3 Step Quick-Start Guide and Introduction to the program
Eating Plan

Including sample menus and unique recipes

30 Day Wall Calendar and Workout Schedule
>> Be the first to get the Core de Force Base Kit on Amazon and Read Reviews!
The Core de Force Deluxe Package:
Includes EVERYTHING from the Base Kit above plus the following: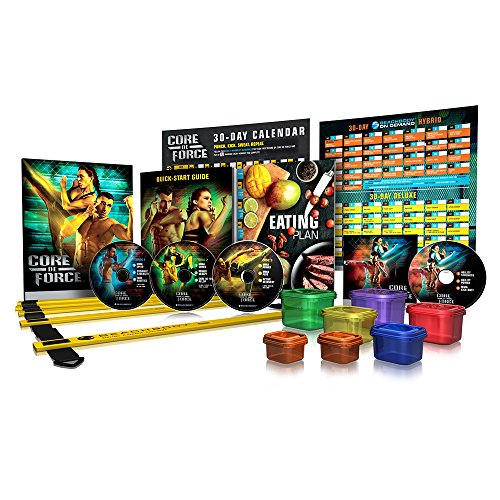 3 Additional Full-Length Lower Body Workouts:

Agility Strength

Quick footwork and body resistance for a cardio/strength training combo
37 minutes long (9 rounds)

Agility Power

High intensity MMA workout targeting the lower body and building muscle
27 minutes (6 rounds)

MMA Kick Butt

Kickboxing style workout for a high-intensity full body workout
37 minutes (9 rounds)

30 Day Deluxe Calendar combining your extra workouts
7 Piece Set of the Official Beachbody Portion Control Container System
Agility ladder to use with the extra Deluxe workouts
>> Treat yourself to the Deluxe Kit now available for order on Amazon.com!
How long is the workout program?
The Core de Force program is designed to be completed over 30 days.  You will workout between 1-2 times per day, depending on which week you are at.  On the days where you do 2 workouts, the second workout is an Ab workout which can vary between 5-15 minutes.  So don't worry, you won't be working out for longer than an hour a day MAX!
You can get the Base Kit 30 Day Calendar by clicking here. If you have the upgraded kit that includes the additional 3 lower body workouts, you'll follow the 30 Day Deluxe Schedule which you can get here!
How long until I see results?
This question is difficult to answer because every one is different. But the short answer is that it depends on how much effort you put into the program! If you commit to working out every day for 30 days (except your rest day, of course!) you WILL see results.  This isn't some gimmick or diet supplement promising to magically help you lose weight.  It is a comprehensive program combining intense exercise and a healthy diet.  Sticking to your portion control plan and eating the appropriate foods will help you lose around 2 pounds or more a week.  If you have a lot to lose, you'll likely see much bigger numbers as the initial weight is the easiest to lose.
My website is full of recipes and snack ideas for following the portion control diet plan. You can check out some sample meal plans here or get some recipe ideas to get you started!
My Tips Before Starting Core de Force
Take before and after measurements!

This is crucial! Some people will lose only 5 pounds but will have lost 15 inches over their entire body. The scale lies.

Weigh yourself in the morning on Day 1 on an empty stomach.
After 30 days, weigh yourself again in the morning and take your final measurements.
Be consistent! If you have a "bad day", don't make it a bad week! Get back on the saddle and eat healthy the next day and commit to your workouts.
I hope you found my Core de Force review helpful and would love to hear your thoughts on the program! Please comment below with how you're liking it and about your results and weight loss success. It truly is a fantastic program and would make a great Christmas gift for your fitness loving loved one!