If you have been lucky enough to grab yourself a copy of the Core de Force Deluxe Kit from Beachbody, you'll be needing a new calendar! The Deluxe calendar combines all of the 10 Core Workouts with the additional three lower body workouts included in the set!  You can get the standard Base Kit Calendar is by clicking here.
Attention: The internal data of table "8" is corrupted!
The extra workouts included are Agility Strength, Agility Power and MMA Kick Butt.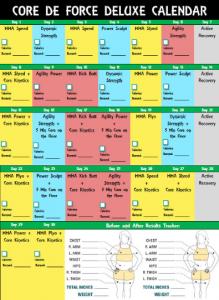 Agility Strength:

This is a 37 minute long workout that takes you through 9 rounds of drills
You'll power through fast-paced footwork drills and do a series of body resistance power moves

Agility Power:

You'll use the Agility Ladder included in your Deluxe kit for this workout.
It's a nice and quick 27 minute long workout in which you'll move through 6 rounds

MMA Kick Butt:

This workout is also 37 minutes long with 9 rounds
It's my favorite of the lot as it focuses on kickboxing routines and really works the full lower body
During the 30 day schedule with the Deluxe Kit, you get more variation with the three lower-body focused workouts. You'll switch between the standard Body Movement and resistance workouts offered in the base kit and the Agility workouts.  This helps keep the workouts fresh so you aren't bored or tired of doing the same workouts over and over again!
You also get the benefit of the included "Agility Ladder" in your Deluxe package which is a really fun and effective addition of the program.
Get Our 30 Day Deluxe Calendar by Subscribing to Our Newsletter below!
What is an Agility Ladder?
Another name for this piece of equipment is a "speed ladder". On first glance, it might be a bit confusing as to what exactly this little ladder is and how you use it! NO, you don't hang it on the wall and try to climb it. Abort!  It's actually meant to be placed down on the floor. You will do a series of drills to help increase your footwork abilities and speed.  The exercises require you to be steady and focused on your feet while hopping in and out of the boxes, avoiding touching the ladder.  This not only increases your speed, but helps to improve your balance as well.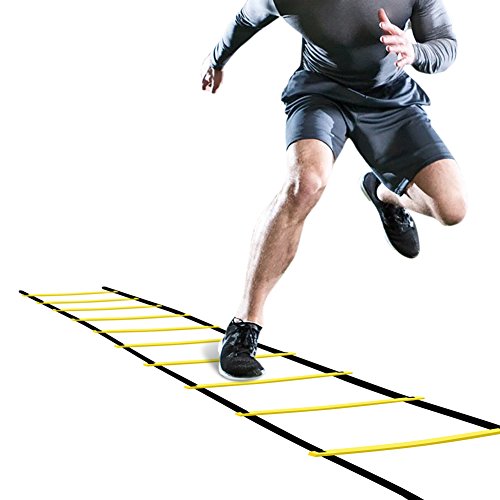 Agility Ladder drills are extremely common in different types of Martial Arts training such as Muay Thai which is a key part of the Core de Force workout program. And best of all, it's fun! But just a warning, if you leave this ladder hanging around the living room, your toddler or kids will try to move it to their play room! It's kind of like an adult version of hopscotch.  And who doesn't love that?
Feel free to print out the Core de Force deluxe calendar and place it on your wall to keep you on track over the next 30 days!