After having been reviewing several of the most popular Beachbody programs like the 21 Day Fix program and Country Heat by Autumn Calabrese, I decided to finally try out Shaun T's latest workout program called Cize which is a high intensity but low impact dance workout.  I waited this long because I know Shaun T is popular for his Insanity workout series which is way too intense for me and I personally found the workouts to be long, grueling and a true drudgery.  But after doing the first Cize workout, I couldn't believe how fun and quick it was too pick up. 
The first workout was only 28 minutes long (All of the workouts are around 28-50 minutes long) and I burned over 300 calories per workout as you will see in my complete Cize review below.  The workouts in this program are so fun that I actually find myself doing some of the moves in the kitchen when I'm cooking and listening to my favorite tunes on the radio. They are catchy and I look forward to exercising, or "cizing" each afternoon!  Imagine that!
   Get CIZE and read reviews on Amazon by clicking here!
The Workouts: My In-Depth Cize Review
There are 6 workouts in total on 3 DVDs and separated in color by intensity level.
DVD 1: Beginner Workouts – Yellow Level 1
Crazy 8s
This Cize workout is 28 minutes in length and I burned around 300 calories after completion.  It is the shortest of all the workouts and maybe the "easiest" but I was dripping in sweat afterwards and my heart rate was soaring throughout.  You learn a complete dance routine made up with 8 moves in total.

At the end of this routine, you will perform the entire routine 4 times to a popular song

Crazy 8s Final Performance Song: Hands in the Air by Timbaland
You Got This:
This second beginner level workout is longer than the first.  It is 43 minutes in length and I burned around 420 calories on average.

Some of the moves you perform in this workout were learned in Crazy 8s so it is important to do these workouts in sequence so you won't get lost.  I definitely enjoyed this workout but the moves were trickier for me to do and it took me sometime to master them.  Don't get frustrated, just keep pushing through each move and feel free to pause and rewind if you want to master the footwork.

You'll perform each move in sequence at the of the workout once you've mastered all the moves

You Got This Final Performance Song: Treasure by Bruno Mars
DVD 2: Intermediate Workouts – Blue Level 2
Full Out:
This is the first workout of the Cize Level 2 series and it was definitely more challenging and fast-paced.

It is 35 minutes long.

I burned around 300 calories in this workout.  You do a lot more jump style moves. It took a few times to get used to the choreography but after the third time doing the workout, I was able to keep up throughout!

Full Out Choreography Set to: Lose my Breath – Destiny's Child
In The Pocket:
In the Pocket Dance Routine Choreographed to: Problem – Ariana Grande
DVD 3: Advanced Workouts – Red Level 3
Go For It:
Pass that Dutch – Missy Elliot
Livin' in the 8s:
The Eat Up! Meal Plan and Nutrition Guide
Cize follows a similar eating plan to the 21 day fix program. It uses the same colored portion control containers but rather than dividing into various groups based on a calorie target, it is much more simple. You will follow Plan A if you weigh under 150 pounds and follow Plan B if you weigh over 150 pounds. It's as simple as that!
Plan A: < 150 lbs (Around 1200-1500 Calories Per Day on Average)
If you weigh under 150 pounds, you'll be eating the following amounts of food per day using the portion containers:
3 Green Containers (Vegetables)

2 Purple Containers (Fruits)

2 Yellow Containers (Carbohydrates)

4 Red Containers (Proteins)

1 Blue Container (Fats/Cheese)

1 Orange Container (Seeds or Dressings)

2 teaspoons of oil
Remember to drink at least 6 glasses of water per day, preferably 8 if you can! Feel free to have black coffee or tea with no added sugar or a splash of skim milk and Stevia to sweeten.
Plan B: > 150 lbs (Around 1500-1800 Calories Each Day)
If you weigh over 150 pounds, you'll be eating a few extra servings of some of the food groups.  Remember as you lose weight, you might need to change your Plan according to your target weight.  For example, if you currently weigh 160 but your goal weight is 120, you'll need to adjust from Plan B to Plan A once you reach 150 pounds.

4 Green Containers (Vegetables)

3 Purple Containers (Fruits)

3 Yellow Containers (Carbohydrates)

4 Red Containers (Proteins)

1 Blue Container (Fats/Cheese)

1 Orange Container (Seeds or Dressings)

4 teaspoons of oil
Note: If for whatever reason you get hungry throughout the day, drink a tall glass of water. If your stomach is still rumbling 30 minutes later, have an extra red container (protein) and/or green container (vegetable). This will still help promote muscle-building with the extra protein and shouldn't have much impact on your results.
The Workout Calendars and Weekly Schedule:
There are two different Cize calendars you can follow depending on your experience and exercise level. You can follow either the beginner or advanced versions, but it isn't strict.  Some people can pick up choreography quick and will learn the workouts effortlessly after only 2 or 3 times per workout. Others might need a whole week to do the same routine until it becomes easy for them and they really feel the calorie burn!  Take it at your own pace and don't feel a need to rush. The most important thing is that you are getting your heart rate up and burning calories!
The program is designed to do over the course of around 40 days.  If it is your first time doing the program, the creator Shaun T recommends taking each week to learn a new routine and work your way up to the level three advanced routines.
For example, Week One you would do Crazy 8s each day and on Week Two, you'd do You Got This, etc.  However, if you master Crazy 8s after only 3-4 days, feel free to progress to the next level workout and so forth.
Once you are accustomed to all of the workouts, you can do the Advanced calendar which mixes and matches workouts of each level over the course of 40 days.  Both of the calendars are available in my Etsy bundles. Each calendar is a two page PDF file that you can print out as often as you like.

What is Included in My Cize package?
There are two different packages depending on your needs and budget.  The base kit has all the things you need to get started with the exercise program and all 6 DVDs, but the deluxe kit has the portion control containers you'll need for the nutrition portion of the program if you don't already own your own.  However, there are some more affordable alternatives for getting these containers if you don't want to splurge too much on the Deluxe Kit.  Keep in mind, you'll also get an extra three DVD workouts and weighted wristbands in the Deluxe Kit which I'll expand on below.
The Base Kit: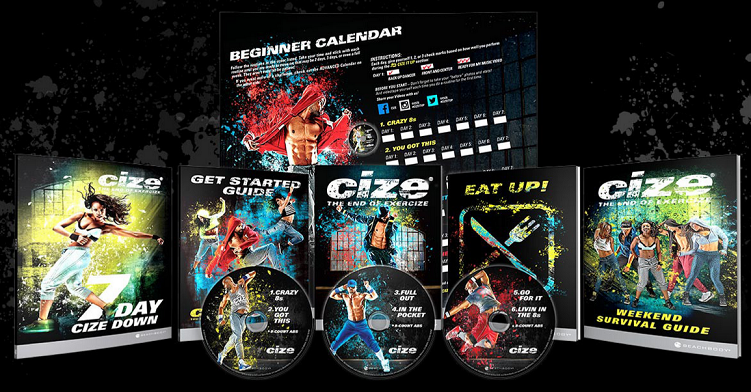 6 Workouts on 3 DVDs

Beginner Calendar

Eat Up! Meal Plan Guide

7 Day Cize Down kickstart weight loss guide and plan

Weekend survival guide with strategies for keeping on track
>> Click here to get the Cize Base Kit on Amazon
The Deluxe Kit:
The Deluxe Cize Kit contains everything in the Base Kit plus the following:
8 Count Abs Workout DVD

An abdominal and core workout both using floor and standing ab exercises

Shaun T's Cize: Weight Loss Series containing the following 2 workouts

Get Into It: Dance Routine to "He Ain't With Me Now" by RichGirl

Turn it On: Intense dance workout choreographed to "Wild" by Jessie J

Advanced and Deluxe Cize workout calendars

7 color coded portion control containers to use alongside the Eating Plan

1 pound weighted wristbands to intensify your workout and calorie burn
>> Click Here to Order the Cize Deluxe Kit and Read Reviews on Amazon
What Equipment Do I Need to Follow this Program?
That's the beauty of it – no equipment needed! Just a good pair of running or sports shoes and a sports bra for most ladies since you'll be bouncing around a lot!  If you are doing the Ab portion of the program included in the Deluxe kit, you'll need an exercise mat as well.
I recommend using Dance Socks if you have slippery floors.  I have tiling where I workout and the sneaker socks I use help prevent me from slipping and sliding.  They also have socks for helping you guide more easily over carpet flooring which are great for some of the slide moves.
Where Should I Order Cize?
I recommend purchasing Cize on Amazon instead of the official BeachBody website.  There are less hassles and "upsells". Beachbody is quite notorious for charging your credit card for extra items you didn't even order, or contiuing to make monthly payments even after you have paid for the program in full.  If you order from Amazon, you'll pay for the program in full and don't need to worry about Beachbody reps calling your home phone number randomly to sell you more products or charge your card for unauthorized payments. Plus, you can return any products you are unhappy about with Amazon's customer service.
My Final Thoughts and Opinion on this Program:
If I were to give Cize a rating, it would be 4.5 out of 5. It is absolutely excellent.  I love how the dancing makes me feel. I'm going through a hard break-up at the moment, and this workout has given me joy and purpose.  The workouts help relieve stress, anger, and burn a bucket load of calories.  My stomach is harder than ever and my legs are toned from thigh to ankle.  The only reason I don't grant this program a 5 is because the advanced workouts are really difficult and I still have yet to master them or feel really comfortable doing them. But the Level 1 and 2 workouts are fantastic and didn't take me long to get into the groove. 
Cize isn't just meant for dancers or dance enthusiasts. I have pretty decent rhythm and timing but I have never been a dancer and Shaun T gives thorough instruction and has you practice each move until you perfect it before adding it to the sequence. With repetition and practice, not only are you burning a ton of calories, but you're also learning a complex and fun dance routine.  What isn't to love? I hope you found my Cize review helpful!