Shaun T's popular fitness program Cize it Up is by far the most fun and entertaining workout video by Beachbody. Without question. The calorie burn is insane and the workouts are a BLAST. While most other workout videos have cheesy or boring music in the background, Shaun T has designed this workout series with the music as the FOCUS. Each exercise move and sequence you learn is timed with the beat of a popular song from artists including Jesse J, Ariana Grande, Bruno Mars and more!  I've extensively reviewed the Cize Base Kit by Beachbody before, but now I'm going to try out the Weight Loss Series with two additional workout videos.
Shaun T's Cize Weight Loss Series
This series are additional add-on workouts to the original workout program. However, you don't need to purchase the original program to take advantage or enjoy these workouts! They can also work as stand-alone workouts if you want to add an extra bit of cardio to your daily routine but don't want to invest in the full program.
These two are actually my favorites of all of Shaun T's Cize it Up workouts! They are between 30-40 minutes in length and you can burn between 350-450 calories per workout on average.
Turn it On: Weight Loss Series Workout 1
Length of Workout: 34 minutes
Exercise Moves Choreographed to "Wild" by Jesse J for the Cize it Up finale
Moderate Paced Workout Routine

375 Calories Burned

Average Heart Rate: 152 beats per minute
This workout started off at a moderate intensity and my heart rate began to climb after less than a minute.  Each of the moves were easy to learn but they require a lot of energy. This means that I was able to do the entire workout without stumbling on the choreography but burned loads of calories! The Cize it Up portion at the end was to Wild by Jesse J and you do the entire choreographed sequence three times before your cool down.
Get Into It: Weight Loss Series Workout 2
Length of Workout: 38 minutes
Exercise Moves Choreographed to "He Ain't With Me Now" by Rich Girl for the final Cize it Up performance
Fast Paced Routine

419 Calories Burned

Heart Rate: 150 bpm
This workout was much more tricky to follow. The moves are more complicated than the first one but they are definitely do-able.  You just need to focus more and practice until you get it right.  I did enjoy Turn it On more, but this was still a great workout.  The choreography itself was excellent, but I guess I don't really like the song pick!
Where Can I Get These Workouts?
Shaun T's Weight Loss Series is included in the Cize Deluxe Kit. However, if you already have the base kit and are looking for these extra workouts to complete your collection, you're in luck! They are available separately on Amazon by clicking on the image below.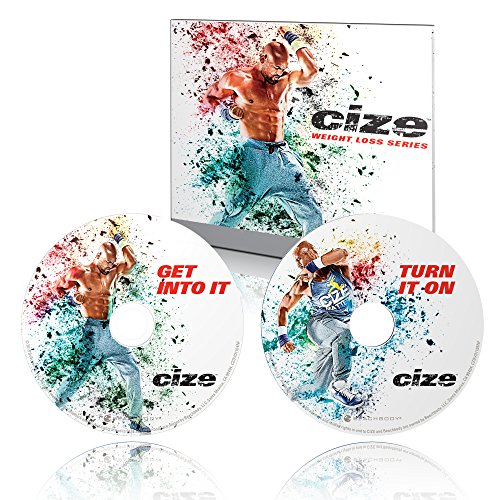 Note: It's important to remember that with this series, you only get the two DVD workouts. The guidebook and workout calendars are not included like they are with the base or deluxe kit.
What is Cize it Up?
This can get a bit confusing for some people! The name of Shaun's program is "Cize" which is taken from "Exercise" with a spin! During the workouts, you learn the routine as you workout. You will do each move until it is perfected, then combine it with the previous moves you have learned. At the end of the workout video, you'll do a practice round of the entire sequence.  Then you will have a quick water break. After that, you'll do 3-5 minutes of the "Cize it Up!" portion of the program. That means you'll do the entire routine to the actual song it was choreographed for.  This is the best part of the workout DVD.  It actually encourages you to finish the video because unlike most workouts, the end finale is the best part!
The Cize Dance Moves
Each workout is packed with new dance moves. Sometimes you'll repeat similar ones in each workout, but not that often. That keeps it fresh and interesting as you learn an entirely new routine each time. You'll learn to love the workout videos once you master the moves.  Here are some of my favorite dance moves from Turn it On and Get Into It.
I seriously can't tell you how much I love this workout! One of my favorite moves in the sequence is "Punch – Round – Drive". It reminds me of high school dances back in the day! Shopping cart, anyone?  The choreography in Turn it On is really easy to follow and get the hang of.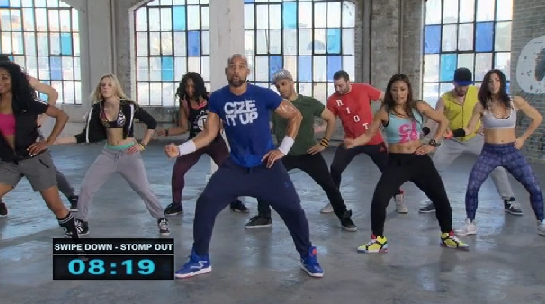 Sporting his own Cize It Up shirt, Shaun T loves teaching "style" moves to finish off the sequence! This one is awesome, "Swipe Down, Stomp Out!".  He loves to teach us some awesome moves to give a stylized finish to our choreographed dance routine.  And all the while contributing to a crazy calorie burn!
Can I Really Lose Weight By Dancing?
All you need to do is look at the calorie burn of the Cize workouts to realize that YES, you can lose weight by just dancing!  Sometimes it is so much fun to shake our booties that it doesn't even feel like exercise.  I've done longer workout routines and burned LESS calories than with Cize.  However, with other workout programs, I am not having nearly as much fun.  The moves are monotonous and boring.  Who wants to do jumping jacks when you can be "driving the car" or "playing basketball".  Shaun T is an absolutely incredible trainer. He is fun, entertaining and gives excellent instruction. You won't be disappointed with Cize – it will change how you view exercise!