There are two different Cize calendars you can follow depending on your exercise or dance ability level. If you are new to doing Shaun T's dance program, you'll want to start off by following the beginner calendar.  In this calendar, you'll learn each workout week by week.
Shaun T's Cize Beginner Calendar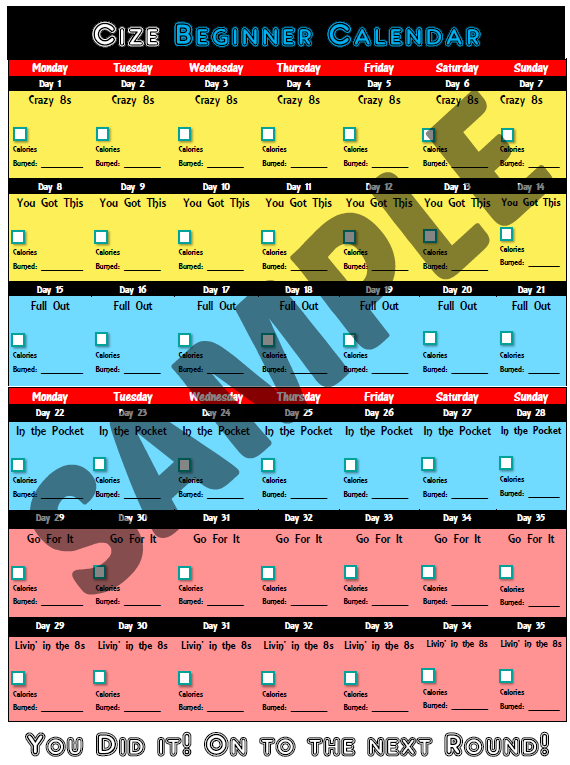 Over the next 40 days, you will learn a new workout routine each week.  You can do the same routine for 6 or 7 days a week and then switch to the next workout once you have mastered the routine.  If you have learned the routine and can perform it well after 3 or 4 days, feel free to move on to the next routine.
It's important to do these Cize workouts in order because the Level 1 workouts are much easier than the Level 3. You don't want to choose a random workout because you need to work your way up do avoid getting discouraged.
The Level 1 Workouts are Crazy 8s and You Got This.  They are marked by yellow in the workout calendars.  The Level 2 Workouts marked in blue are Full Out and In the Pocket.  The Level 3 Workouts marked by red are Go For It and Livin' in the 8s.
Additionally, if you need more time to concentrate on a workout, feel free to continue more than one week.  For example, if you are still having difficulties after a week of doing "In the Pocket", you can continue that same workout the next week. The most important thing is to be exercising and burning calories!
Cize Advanced Workout Schedule
The advanced workout is done over the course of 4 weeks. You'll take a rest day once a week.  In this calendar, the workout are all mixed up so you'll do a mixture of Level 1, 2 and 3 throughout the week.  Three times a week you'll also do 8 Count Abs to work your abdominal muscles and your core.
In my Etsy shop bundles, you'll get both the beginner and advanced Cize calendars.  Each calendar is color coded with an option to mark down how many calories you burn per Cize workout if you are using a fitness bracelet.
Each calendar is two pages long making it nice and big to print off as a 2 page poster you can stick on your fridge. There is also a results and measurements tracker at the bottom to track your before and after weight and any inches lost.
I personally like to laminate these printable Cize calendars so I can use them over and over again and save on ink! I keep mine on my fridge or in my workout space (my living room) to keep me motivated to press play!  If you want our advanced calendar as shown above, like this page on facebook or twitter!
You can get both of the workout schedules at my Etsy worksheets shop by subscribing to my newsletter above.  After you finish one round of the beginner 42 day plan plan, you can take a few days of rest off and then start your next Cize workout 4 week advanced round.