One of the trickiest parts about this program is figuring out what are the best and easiest 21 day fix recipes and snack ideas that you can incorporate using the portion control containers that are totally "fix approved"! I've been doing the program since the beginning of the year and have now figured out exactly the kinds of foods that are easy to make and follow the program precisely.  So, I want to share my findings with all of you and want to know what kinds of snacks and meals you are using as well!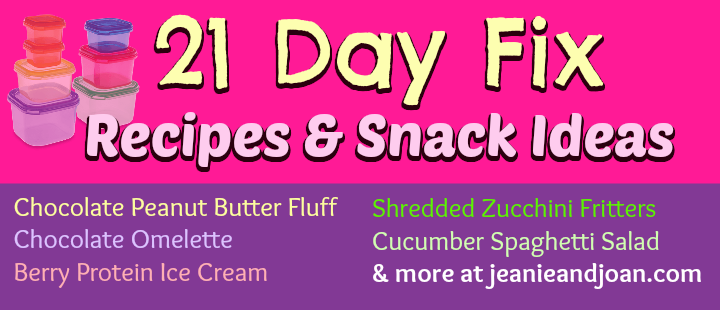 My Favorite 21 Day Fix Recipes:
Who said that eating healthy has to be boring? There are so many creative and fun recipes you can make using the container system! All you need is to find a few favorite recipes that will become a part of your daily eating habits.  Find a few breakfasts you love, lunches that fill you up, a hearty dinner and snacks to keep you going throughout the day. Once you get together a variety of meals and treats that are easy to make and actually taste great, following the container nutrition guide will be easy.  And when it's easy, that means you will stick to it and you will lose weight like crazy!
21 Day Fix Breakfast Recipes:
You can get a list of some of my favorite 21 day fix snack ideas here!
Veggie Dips and Salad Dressing Recipes:
These dips are awesome because you can eat an entire serving of vegetables and dip for only 1-2 green containers and 1 red container + 1 tsp of oil out of your whole daily allowance! Normally, you could only have a few tablespoons of dip because store-bought versions are so packed with fat and sugar.  These alternatives allow for you to smother your veggies in creamy goodness guilt-free!
Fix Approved Dessert Recipes:
Let me start off by saying that I have a bit of a sweet tooth. And when I say a bit of one, I mean a serious one. I love all things sweet, rich and decadent.   That made doing this program a bit of a problem for me at the start since the food approved list doesn't exactly allow wine gums and chocolate fudge ice cream to count as one of your red or yellow containers. 😉
So, I had to improvise and develop some super satisfying 21 day fix dessert recipes!  Let's start with some of my goodies.  Revolving around my love for peanut butter and chocolate, I discovered PB2 powdered peanut butter.  If you haven't heard of this stuff, you're about to be blown away.  A regular tablespoon of peanut butter contains over 80 calories.  You can have two tablespoons of PB2 which you mix with a tablespoon of water to make sweet creamy peanut butter that has NO saturated fat or hydrogenated oil.  And two tablespoons of the stuff equals only 42 calories.  Heavenly!  Depending on which 21 day fix tally sheets or calorie brackets you are using, you are allowed anywhere between 2 teaspoons to 6 teaspoons of peanut butter a day.
1 teaspoon of peanut butter = 31 calories
2 teaspoons = 62 calories
That means you could use three tablespoons of PB2 mixed with 1.5 tablespoons of water to equal an amazing 63 calories for 3 TABLESPOONS of peanut butter. WAHOO!
I like to use this mixture spread on celery sticks or on a banana.
But the real beauty of this product is that you can use it in various recipes to make all sorts of sweet decadent treats.  My favorite being a peanut butter chocolately "fluff" that is packed with protein and fiber.
21 Day Fix Approved Peanut Butter Chocolate Fluff Recipe: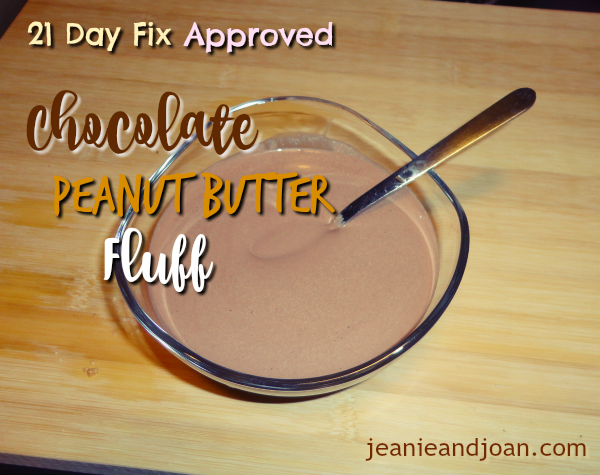 1 red container filled with cottage cheese (low-fat)
2 tablespoons of PB2 powdered peanut butter (=1.5 gray teaspoons on your chart since it's a much lower calorie content than regular peanut butter)
1 tablespoon of 100% all natural sugar free cocoa powder (only 12 calories, not necessary to add up on your chart)

Note: this will make it have quite a dark chocolate taste. If you're not a fan of that flavour, use half a tablespoon or less of cocoa powder.

Stevia or sugar-free sweetener to taste

Note: this type of dessert requires a lot of sweetening and stevia can often leave a bitter taste, so I prefer to use sucralose or another type of sweetener that isn't biter for this particular recipe

A dash of extract of your choice (almond or vanilla)
Instructions:
Blend all of the above ingredients in a food processor until smooth

If you want a thinner consistency, you can add a splash or two of skimmed milk.  The more added milk will give it a more pudding texture.  Taste and adjust milk/sweetener quantities as you go.
This will make a rich thick peanut buttery fluff that tastes almost like a peanut butter/nutella hybrid that's actually GOOD for you! You can eat the whole thing with a spoon if you can handle the richness, or might prefer to use it as a dip for fresh strawberries or banana slices!  This is one of my favorite dessert 21 day fix recipes that I've tried so far!
Chocolate Protein Omelette Crepe:
Okay this might sound a little wacky, but listen, it's delicious, chocolatey and full of protein.
3/4 cup of liquid egg whites (1 red container)
2 tablespoons cocoa powder (non sweetened)

1 tablespoon of unsweetened coconut

Stevia or sweetener to taste

1/2 tsp baking powder
Berry Protein Sorbet Ice Cream
Starting to see that I have a bit of a sweet tooth? Who doesn't crave ice cream on a hot summer day? And I don't want a measly 1/2 scoop as a "treat", I want to shovel a big bowl down!  So I came up with this fruit/protein based 21 day fix approved ice cream that tastes like a dream.
1 purple container filled with the frozen berries of your choice (strawberry is a personal favorite)
1 red container filled with sugar-free greek yogurt or plain yogurt

splash of milk if a thinner consistency is desired

sweetener or Stevia to taste

(optional) 1-2 scoops of protein powder to make this even higher protein content
Instructions:
Begin by pouring in the frozen berries in the food processor and starting to process them.

Add the yogurt and continue processing until smooth.

Add in sweetener/stevia or extra protein powder until you get a thick red sorbet that is smooth and lump free

Eat straight away!
This tastes like a dream and gives you a big bowl of fix approved ice cream!  You can even mix it up and make a peanut butter/banana version by using frozen banana and 2 scoops of PB2!
Over the next few days, I'll be posting my next three favorite 21 Day Fix recipes and snacks that are quick and easy to make for you all to enjoy! I'll also be uploading pictures of my completed recipes to give you an idea of what they'll look like once completed!