Perhaps you have already done several rounds of the original Fix workout series. But now you want more of a challenge and to get even better results. The 21 day fix extreme program by Autumn Calabrese will push you to your absolute MAX.   The workouts are definitely more intense than the original version but they deliver what they promise – results. In the original program, the workouts are always under 30 minutes, usually ranging from 27-30 minutes and in the Extreme version are between 30-35 minutes each for the most part. 
The workouts also use heavier sets of weights and include the use of resistance bands.  The sequences are different depending on each exercise and many of the motions are "split".  What I mean by that is that you might be doing a military press and do 30 seconds with heavy weights and 30 seconds with lighter weights. This is in order to help push you and exhaust your muscles to help muscle growth and help you sculpt a leaner and more defined body.  Let me get into the workouts in detail!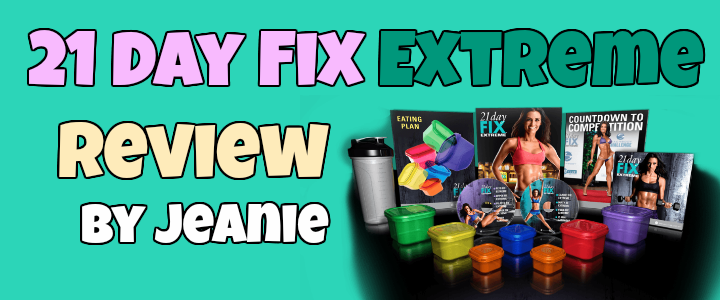 The Extreme Workouts Included in Your Package:

Plyo Fix: "Plyo" exercises are series of intense training involving a lot of jumping squat combinations – be prepared for a serious calorie burn and heart racing! This was the most difficult for me.
Upper Fix Extreme: Targeting chest, back, arm and shoulder muscles for the ultimate strength-training workout. My arms look more defined than ever after doing a month of these workouts!
Lower Fix:  Work the lower body with weighed squats and lunges targeting the glutes, calves, hamstrings and the butt!
Cardio Fix Extreme:  Another favorite of mine – it focuses on cardio interval training.  That means some segments you work super hard and others you do lower intensity exercises until you calm down enough to repeat the high intensity ones. Calorie burning central!
Yoga Fix Extreme:  This yoga workout really pushes to you the max as you focus on lengthening and strengthening your muscles for increased flexibility.
Pilates Fix Extreme:  This is a great workout for the core and abs – you'll use a resistance band through many of the exercises helping to improve strength, increase flexibility and endurance.
Dirty 30 Extreme: Bonus workout designed to work the entire body with cardio, interval training and strength-training exercises using resistance bands or dumbbells.
>> Read more reviews about the 21 Day Fix Extreme program on Amazon
The eating plan for this sequel program is the same as with the original program except the 21 day fix color containers look slightly different.
The 21 Day Fix Extreme Workout Schedule and Calendar
The extreme program is designed over the course of 21 days just like the original program except the order of the workouts is slightly different.  If you decide to order the basic package, you'll repeat the same 7 workouts each day for 3 weeks.  But if you go with the Ultimate Kit, you can switch out certain workouts on the designated days according to what you're in the mood for. This is great because it helps promote variety and you won't get as bored with more options!
For example, On Mondays you could do either Plyo Fix Extreme or Power Strength Extreme.  On Tuesdays and Thursdays, you can add an extra 10 minute workout (called 10 min hardcore) to help increase your calorie burn for the day.  Whereas, Saturday you can do either Dirty 30 Extreme or ABC Extreme.  The days where you do Pilates and Yoga, you'll stick to those workouts alone and there no extra ones to swap out.
Portion Control Containers and Nutrition Guide
As with the original program, you'll have to determine your caloric bracket using the calorie chart I've created below.  Based on this formula, you can figure our how many calories you need to eat a day in order to lose weight.  First, let's get into how weight loss works.
One pound of fat is 3500 calories.  So in order to lose a pound of fat a week, you need to be burning more calories than you are consuming. That means, you should create a deficit of at least 3500 calories a week if you want to lose one pound of fat a week. If you want to lose 2 pounds a week (and more than this isn't recommended), you should create a deficit of 7000 extra calories a week, or 1,000 calories a day.
That means if your body is burning 2800 calories a day, you can eat 1800 calories a day, etc.
Here is the formula you can follow to figure out how many calories you need to burn and select the appropriate calorie bracket for you:
In your 21 day fix extreme package, you'll get these 7 containers:
The Green container is for Vegetables like carrots, cucumber, lettuce, etc.
The Purple container is for Fruits like berries, apples, watermelon,  and so forth.
The Red container is for Proteins like fish, chicken and lean red meat.
The Yellow container is for healthy carbs like potatoes, cereals, brown rice and whole wheat pasta.
The Blue container is for fats and cheeses like almonds, nuts, low-fat cheddar, etc.
The 2 Orange containers included are for seeds and light salad dressings.
Each day you'll use these containers and a certain quantity of each to meet your calorie goal for the day that you have determined based on the formula given above.  On some days, you'll be more active than others. For example on a heavy work day, you might be hungrier than you would be on a Sunday if you spent most of the day lounging around (aside from doing your 21 day fix extreme daily workout!)
For this reason, you might feel hungry and want to eat more than your allotted containers.  If this happens, that is okay! Just don't load up on carbs. Feel free to add an extra fruit and protein to your day (a purple and a red container), for example a piece of fruit and a yogurt. This won't hurt your dietary efforts and you'll feel more satisfied.
There are many other affordable options available on Amazon to get you started or if you want extra containers to use with the program.  Each container stands for a different food group and depending on your calorie bracket, you can eat a certain number of each container per day.
21 Day Fix Extreme Tally Sheets for the Various Container Calorie Brackets
Depending on what your results were from the formula above, you'll need to select calorie tracking or logging sheets that will help you track how many containers you are eating per day. Most people will fall into one of the following brackets:
1200-1499 Calories Per Day – Aiming to burn 2200-2499 calories a day to lose 2 pounds of fat a week.
1500-1799 Calorie Bracket – With the aim to burn 2500-2799 in order to lose 2 lbs per week
1800-2099 Calories Per Day – Should burn 2800-3099 calories a day to lose 2 pounds/week
I wasn't happy with the 21 Day Fix Extreme guidebook I received with my package and decided to design my own tally sheets and bundles. I had a lot of compliments about them so opened up an Etsy shop last month to offer my sheets to all of you for a great price.  Here is an example of how some of them look for the Extreme program.  You can get the worksheet on the right and others at my shop by clicking here.
I also have various bundle packages available that include the calorie tracking sheets, measurements tracker, 21 day fix extreme approved food list and more. They are available in three different calorie brackets. Check out my shop by clicking on the pic below!
The Original VS 21 Day Fix Extreme Exercise Program Summary:
The Extreme program is an excellent addition to your workout collection. However, I recommend starting with the original program first if you are not already an experienced exerciser.  Joan tried one of the extreme workouts with me in my basement when I first purchased them. She said the "Plyo Fix extreme" workout was too hard on her knees/joints. There are low impact movements you can follow in the video by one of the girls, but she still prefers the original workouts.  If you are an experienced exerciser or have finished the original 21 day fix program, then the extreme program is perfect for you. You'll do similar routines that are more advanced and designed to push you to your absolute maximum.  You also burn more calories in the Extreme version of the program as a result of this.

Both programs are top of the line – they give you exactly what you need to follow a foolproof system to losing weight. The eating plan is easy to follow and based on the proven calories-in/calories-burned scientific formula to losing weight so there's no second guessing your food intake when you use the portion control containers.  Additionally, you get 7 workout dvds that are easy-to-follow and designed to work the entire body combining both cardio and strength-training (something many women ignore). I highly recommend both of these programs and would love to here about your successes with either version of the program!  I hope this 21 Day Fix extreme review has helped you make a decision about which program is best for you.