With dozens of exercise and workout programs available on the market,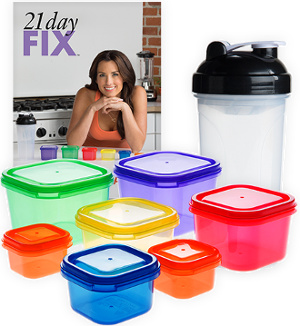 it can be overwhelming to choose one that suits your weight loss goals and needs.   But after discovering a 21 day fix review, we were amazed at how much our bodies changed by following this program for only 3 weeks. And the best part is that the workouts are only 30 minutes long. 
After being amazed by the changes in our bodies from doing this 21 day diet program, we've decided to create a website to help you with all the tools and resources needed to follow this program.  This is a complete comparison review on both of Autumn's programs. She has the original 21dfx program and if you have successfully completed that program and would like to accelerate your progress, you might consider the extreme program, her sequel to the original package. Both programs follow the same principles, 30 minute workouts each day for 21 days and following an eating plan with the 21 day fix portion control containers.
With the 21 day fix, there are two parts to your success, the workout schedule and the eating plan. I'm going to break down the basics for you in the review below followed by a guide to using the 21 day fix containers.
21 Day Fix Workout Schedule and Calendar:

The 21 day fix workout schedule consists of 7 different workouts. You complete one a day and repeat the series over again for the following two weeks.  I love this because most other programs only have one or two workout videos that you have to do on repeat and that can get seriously boring.
The 21 day fix is full of variety similar to the Masters' Hammer & Chisel Workout  as you go through seven different workouts that target all areas of your body, upper, lower, and the abs/stomach.  The series also includes a yoga and pilates workout designed to help increase your flexibility and tone your body even more.
The Workouts:
Total Body Cardio Fix:  The first in the series, this workout is designed to work your entire body with a high-powered cardio workout. This is my personal favorite and I burned over 400 calories in 30 minutes!
Upper Fix: 30 minutes of upper body exercises using weights to tighten and tone your arms, shoulders, chest and back.
Lower Fix:  It's all about the booty – squats, lunges and other lower-body exercises to help burn calories and strengthen your lower half.
Pilates Fix: A little break from the other workouts but still tough enough – working your core and elongating all of your muscles.
Cardio Fix: High calorie burning workout that you can follow both in high tensity or low tensity depending on your level of fitness. I love the cardio workouts because I always burn a ton of calories as tracked by my heart rate monitor!
Yoga Fix: Many people forget the importance of stretching and yoga after weeks of hardcore exercise, but DON'T underestimate the importance! Doing yoga or stretching exercises helps improve your flexibility so you won't be so sore each time you workout.
Dirty 30: A bonus workout designed to work your entire body with cardio exercises and strength training! This one BURNS!
Overview:
The original package is an excellent program for both beginner or advanced exercisers looking to lose weight and get in shape providing you follow the workout schedule outlined.  You can repeat the program again and again until you reach your target weight.  If you like the eating plan system and want to continue once you reach your weight goal, you simply have to increase your calories each day (for example, eat between 1800-2099 calories) in order to maintain your new weight.