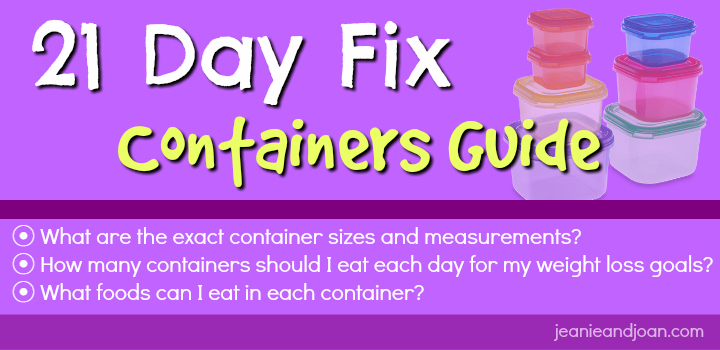 After using the 21 day fix portion control containers for only 2 weeks (I'm 1/3 into the full program), I've already lost 10 pounds by using both the container system and the exercise program. I've tried to lose weight in the past by counting calories and while it works, it is exhausting to have to record each and every calorie. I love the container system because all you need to do is fill up your allotted containers per day, and you're guaranteed to lose weight. Portion control makes it just that simple. This is your ultimate 21 day fix containers guide to help you figure out how many containers you need to eat, what the exact container sizes and measurements are, and how to start your own 21 day challenge.
Note: If you don't own the program, you can order it from Amazon at the link below. Remember that if you have gone through the original program and are looking to lose even more weight and get a more challenging workout, you might consider the 21 Day Fix Extreme program as your next investment.

If you have the official program, you will have also received the portion control containers to go along with the program. If you don't have the containers or perhaps you broke them, you might be wondering what the exact sizes are so you can DIY or order your own set with the same sizes.
The 21 Day Fix Kit Includes 7 Containers in Different Sizes: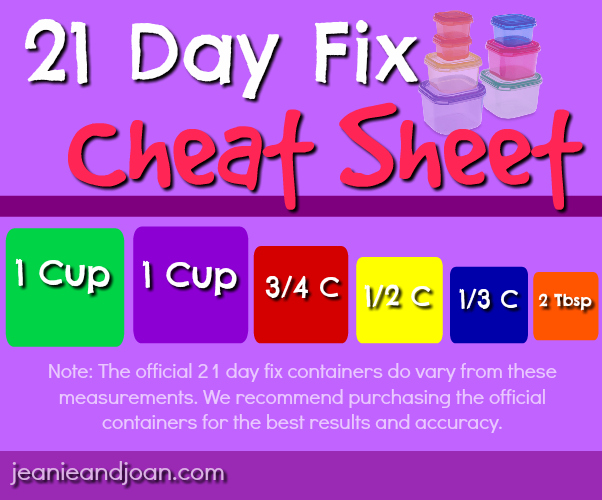 Purple Container for Fruit = 1 Cup or 8 ounces

Green Container for Vegetables = 1 Cup or 8 oz

Container for Proteins = 3/4 Cup or 6 oz

Yellow Container for Carbohydrates = 1/2 Cup or 4 ounces

Blue Container for Fats = 1/3 Cup or 2.5 oz

2 Orange Containers for Seeds and Salad Dressings = 2 Tablespoons or 1 ounce

Note: While these are the measurements on average if you do not have the containers, they are not the exact sizes of the containers. Each of the containers vary slightly in the program which is why it is recommended to purchase the official containers so you will have the greatest results when following the program.
Now let's begin the guide!
Click Here to Order the 21 Day Fix Program on Amazon!
Where to Get the Containers:
Because of the popularity of this program, there are a number of affordable options for getting the containers with the exact sizes in ounces of the official program. There are many options available on Amazon according to your price range. Here are a list of our favorites:
#1: The Koulang Portion Control Containers
These containers are very similar to the ones I received with the the 21 day fix program.
The set comes with two sets all 7 of the color containers (including 2 orange ones). I like that I know they are for sure the exact size down to the vary ounce so I am getting accurate results with the program. Of course, there are other options that are more affordable such as the ones below:

Click to see reviews on Amazon to order these portion control containers.
#2: Portion Control Containers Set
I also own a set of these containers in addition to the official set. The reason behind this is that I often like to plan my meals and snacks in advance. In this package, you get TWO sets.
So rather than have to wash each container after every use, you can have several of them in the fridge packed up and ready to go.  This also works great if you plan on doing the program with another family member in your household.

#3: Gainwell Container Set
This is another option for portion control containers that match the 21 day fix program. The container sizes are the exact same as the Official containers.  This set also includes a free e-book and recipe guide that goes along with the program.

This is a great option if you are hoping to order several sets to help you along with meal planning as the week goes by.
Have a look at the reviews and see which option suits you best.
Check reviews on Amazon for the Gainwell set
#4: Beachbody Portion Fix and Fixate Cookbook Set

]I like this set because it contains both the containers and the cookbook to get you started with the program – and is the authentic product from Beachbody. The cookbook an amazing tool to have in your kitchen! While using the 21 day fix containers, it can be kind of boring to pick and choose from the same food groups every day.
Especially if you are cooking for a family and want to make a more complete meal for everyone who isn't dieting!  But the Fixate cookbook has tons of healthy recipes to use with this program and tells you exactly how many containers to use for each recipe and how many constitute one serving and so forth.  If you're following the container system, this is worth the investment.

Finding My Caloric Bracket: How Many Containers do I need per day?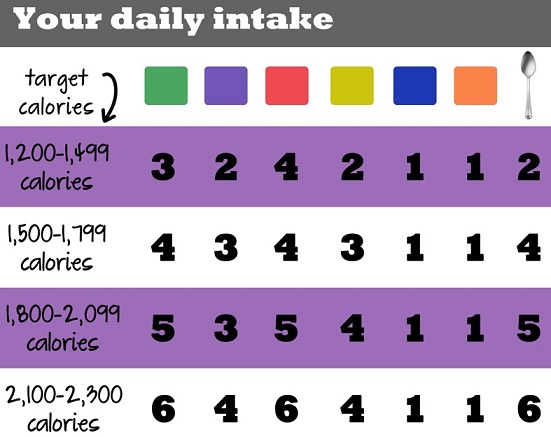 When following this program, it's important that you follow the eating plan according to your body type and your weight loss goals. You need to calculate how many calories you should eat each day in order to lose 2 pounds of fat a week and then choose the eating plan that will help you meet those goals.
In the official guidebook for the 21 day fix, they recommend you find out your calorie level by doing the following formula:
A: Take your current weight in lbs x 11 = Calorie Baseline
B: Calorie Baseline + 400 (Calories Burned during the Fix Program) = How many calories you need
C: Caloric Needs – 750 (Caloric deficit to lose weight) = Calorie Target for the Day

Let's do an example for a woman who weighs 175 pounds.
A: 175 pounds x 11 = 1925 (Calorie Baseline)
B: 1925 + 400 = 2,325 Calories needed per day
C: 2,325 – 750 = 1,575 Calories per day
That means that if a woman who weighs 175 pounds should consume 1,575 calories per day when following this program in order to lose weight.
How Many Calories Does This Program Actually Burn?
I have a big problem with the above formula and personally am not following it. My problem is that the booklet assumes you are burning 400 calories per workout. In my experience, this is NOT accurate. I own a FitBit and am tracking calories burned per workout.
The highest amount of calories I have burned is around 330 calories during the 28-30 minute workout. And I push myself HARD. And on the days where you are doing Yoga Fix or Pilates Fix, you will be lucky to burn 150 calories. If you want a workout that will help you burn 400+ calories, you'll need to workout for at least 40 minutes. I recommend checking out Beachbody's latest Core de Force workout program which has longer and more intense workouts.
Therefore, unless you are doing other forms of exercise throughout the day like walking or running, I would recommend subtracting another 150-200 calories from the total.
If you want to read more about how many calories you burn during the 21 day fix workout program, I wrote an in-depth post on this and included screenshots from my calorie monitor to show how many calories I burned in each workout.
I am currently following the 1200-1500 calorie bracket plan. And definitely eat less on the active recovery day where you only do "Yoga Fix".
Program Worksheets to Keep You on Track

I have made different worksheets for the 21 day fix for you to print off and use according to which calorie bracket you need to follow based on the above formula. You can print these off or laminate one and use a dry erase marker to help you tick off the containers as you consume them throughout the day.
1200-1499 Calorie Bracket Printable
Look at my new shop on Etsy to get a printable pdf for just a few dollars of the 1200-1500 Calorie Bracket Printable both in Large Size like the printable above and also a special 3 day – mini version! Or you can get the 5 page bundle pack which includes the day planner, food list, results tracker and meal planner! Everything you need to get started with this program!

Higher Calorie Bracket Printable Packages

For those needing a slightly higher calorie bracket, the following printables are for tracking the consumption of 1500-1799 Calories per day, 1800-2099 Calories and 2100-2300 Calories. Click on the image below to get the package at shop and view samples of each worksheet included!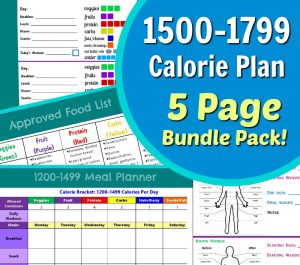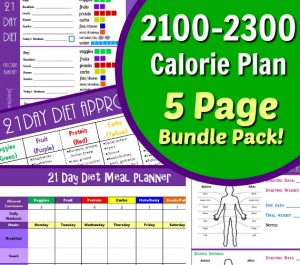 How to Use The Containers and Follow the Nutrition Program:

There are 7 different colored containers that make eating simple by using portion control to help you lose weight. The 21 day fix container sizes vary according to each type. I've tried other eating plans before that require calorie counting or "points" counting and I dreaded eating every day. The portion control containers make things SIMPLE.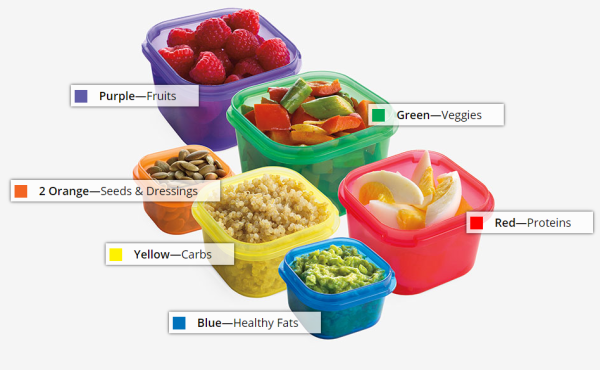 You get to eat a certain amount of 21 day fix containers each day to stay within your calorie bracket. Don't go over this amount and you'll lose weight. Simple as that. By following the plan precisely, you'll stay within your calorie budget for the day and will lose weight effortlessly. Now let's review the containers:
What to Put in Each Container:
Purple: Fruits – You can enjoy fruits such as strawberries, apples, raspberries, etc.
Green: Veggies – You can eat delicious vegetables like carrots, cucumbers, bell peppers, etc.
Orange: Seeds and Dressings – Enjoy light salad dressings or seeds like pumpkin, sesame, etc.
Yellow: Carbs – Yes, please! Brown rice, oatmeal, and other complex carbohydrates are welcomed on the 21 day diet

Blue: Healthy Fats – Enjoy avocado, almonds and other nuts!
Red: Proteins – Turkey, chicken, tuna or non-meat substitutes can be enjoyed.
Most women will fall into either the 1200-1499 or 1500-1799 calorie bracket if they are trying to lose 2+ pounds a week. Men will generally fall into the last two categories as men require more calories per day than women. Consuming only 1200 calories a day was definitely a change for me. Drinking a lot of water helped reduce my cravings and hunger levels.
What is the best way to Meal Prep in advance?
While I have the original 21 day fix containers for this program, often one set is not enough when you are using multiple containers each day. I like to use this meal prep container set to organize all of my meals for the day. I use the original containers as a base to divide into these containers so I can finish all my weekly meal planning in just a few hours!

I hope this guide on how to use the containers has helped you understand more about what your caloric needs are. It's important to know which calorie bracket you fit into for maximum results. I'm only 2 weeks into the program and can't wait to see how much weight I lose after I finish it and begin a second round!
I hope this program guide has helped you and that you are enjoying the container worksheets I have provided for you! What other resources or tools are you using alongside this exercise program? Please comment with your thoughts below.
For additional resources and support, check out our featured articles on the right. Learn about some awesome recipes and meal planning ideas, additional exercises you can do and more! Providing you have the 21 day fix containers and tally sheets, weight loss is at your fingertips!