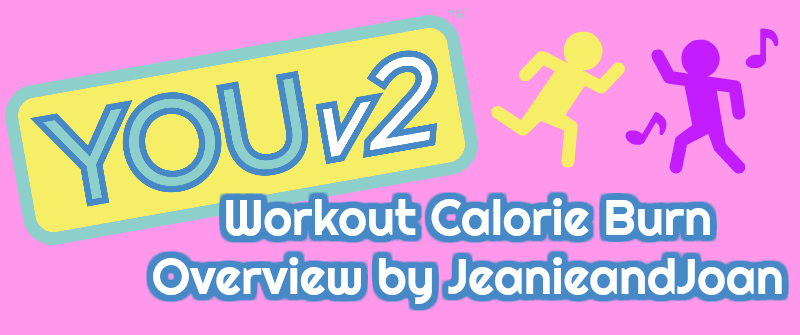 Most people associate a high calorie burn with high impact workouts and low calorie burn with low impact workouts. This couldn't be more untrue! You can still burn a ton of calories by doing low impact workouts and I'll show you that by tracking the YOUv2 workout calorie burn count for each workout!  The workouts might be much lighter compared to some of the other Beachbody workouts like Shaun T's high intensity Focus 25 or Autumn's the 21 day fix, but the YOUv2 workouts still deliver a great calorie burn.
Let's begin with the cardio workouts.
On week one, you'll do Move Your Body five times during the week, focusing on trying to do as much of the workout as possible and keeping on moving your body as much as possible.
Move Your Body
Calories Burned:
Length of Workout:
Intensity level out of 10:

5 – Heart rate gets high but it isn't too difficult

Fun level out of 10

7 – The moves were a lot of fun!
Workout Summary:
I was shocked at how many calories I burned doing the first YOUv2 workout.  I am used to burning around 300 calories when doing a tougher workout from Shaun T's collection or the 21 day fix. But I suppose with this workout, you aren't taking any breaks to catch your heart rate. You just do steady state cardio throughout and the time flies.  The workout was a lot of fun and at the end, you combine all the exercises together and dance to a popular song.
Work It. $hake It!
Calories Burned:
Length of Workout:
Intensity level out of 10:

6.5 – This workout was actually a bit challenging and my heart rate reached peak at one point!

Fun level out of 10

9 – I loved the moves in this workout so much! They were easy to follow and totally 80's disco style.
Workout Summary:
This has been my favorite workout so far of the YOUv2 cardio workouts. It has so many great moves that are easy to follow and fun to do. It doesn't even feel like a workout and my average heart rate was at 147 throughout! I am shocked that low impact workouts can have such a powerful calorie burn. YOUV2 is definitely a great option not only for beginners wanting to burn calories but for advanced exercisers wanting to get more cardio in each week.
Rock it Out!
Calories Burned:
Length of Workout:
Intensity level out of 10: 7
Fun level out of 10: 8.5
Workout Summary:
This was a blast! It had a rock theme throughout this YOUV2 workout and you learned a bunch of moves like strumming the guitar, smashing the guitar and so forth. At the end you combine the moves together and do a little dance to "Hit me with your best shot" by Pat Benetar. It's  so upbeat and the class has such an infectious energy. It was fabulous! I can't believe how much my heart rate soars and how many calories I burn with these workouts!