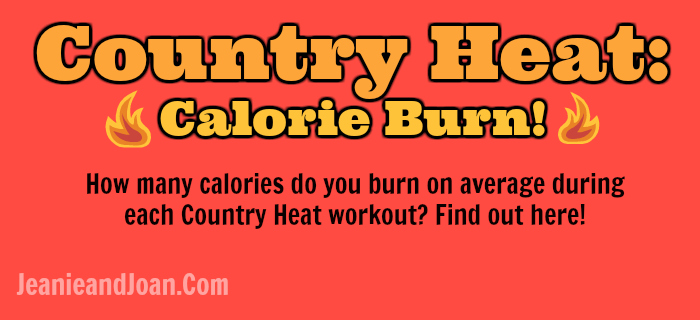 We have been working hard on this post over the past few weeks to get you a detailed account of how many calories you burn during the Country Heat workout DVDs! A lot of people doubted that this dance exercise program could prove to burn as many calories as Autumn Calabrese's former programs, but boy were they wrong!  These workouts got our heart rate going and pushed us past the fat burn zone into the cardio zone for the majority of the workouts.
Haven't ordered Country Heat yet? You can get yours on Amazon and read all the amazing reviews it has got so far.
It's important to note that all bodies are different and what we have calculated as a calorie burn per Country Heat dance workout doesn't necessarily apply to each and every one of you!  The best way to track your own calorie burn is to invest in your own heart rate monitor.  We highly recommend the FitBit Charge HR above all other heart rate monitors.  Primarily, because other monitors track movement combined with steps (a pedometer) and give a caloric burn estimate.  But the Fitbit Charge HR tracks your heart rate in addition to movement and steps to give an overall accurate estimate of your calorie burn per workout.  It also takes into consideration your current weight, height, age, base heart rate and activity level to give the most accurate reading possible.
This is the Fitbit I own and you can choose other color options as well depending on your personal style.  The Fitbit also includes an awesome app for your cell phone, tablet or computer to monitor week by week progress.  You'll also see our screenshots of each workout below so you can see where our heart rate went highest, lowest, and how difficult the workout was overall. 
It's also important to mention is that I (Jean) am doing each workout and tracking the calorie burn so there is consistency within the results and to see which workout will burn the most amount of calories.  If you'd like to track your own calorie burn during each workout, you can learn more about the FitBit Charge HR 2 by clicking here.

Let's begin!
Workout 1: Country Swing
Length: 31-32 minutes
Calories Burned: 257 calories in total

Average Heart Rate during the workout: 125 beats per minute, primarily in the fat burn zone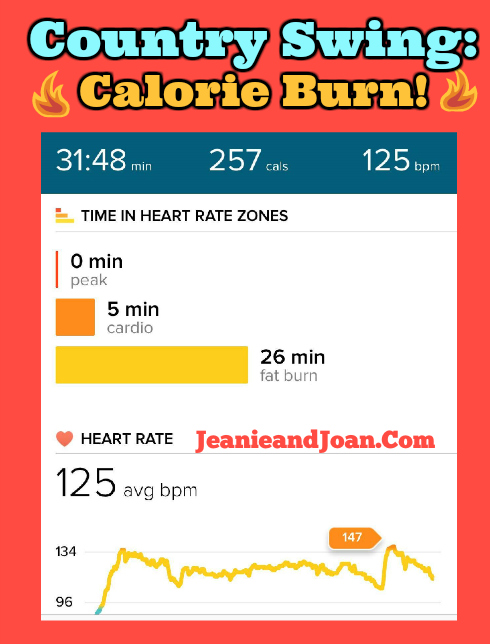 Workout Summary: Country Swing is a great cardio workout – it starts off a little easy and you're thinking "Umm, is this it?" but then the moves start becoming more challenging yet easy to follow. My heart rate was increasing and I was working up a good sweat.  There are also some squat and lunge style moves but all in all, it hardly feels like exercise and the calorie burn is comparable to my results with the 21 day fix.
Workout Routine 2: Giddy Up!
Length: 28 minutes
Calories Burned: 288 calories

Average Heart Rate: 143 bpm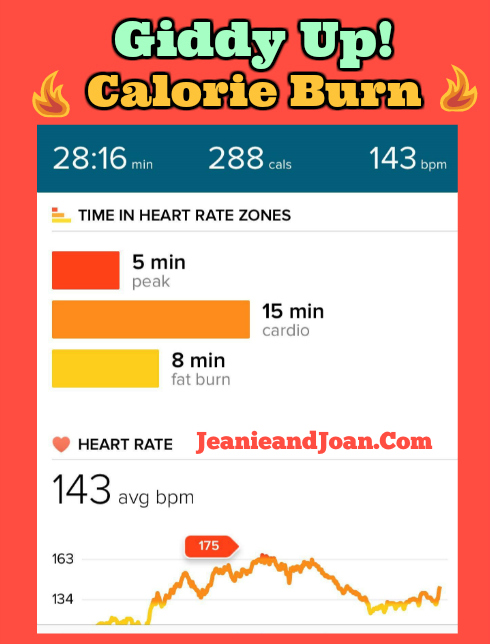 Workout Summary: I was actually so surprised I burned more during this workout than I did when doing Country Swing, especially since it is also 3 minutes shorter but I shot up to my peak zone for a part of this too and spent over half of the time in the cardio zone. I did enjoy this workout about the same as the first routine. The moves were a lot of fun and really worked my abs – especially Rib Rock and Barrel Roll.  Other moves also had light jumping (which you could either do marching/stepping or jump higher to increase calorie burn).  Another tip is to use your arms as much as possible while doing this workout so you can get the highest burn possible and work your entire body.
Workout Routine 3: Down and Dirty
Length: 26 minutes, 30 seconds

Calories Burned: 296 calories

Average Heart Rate: 149 bpm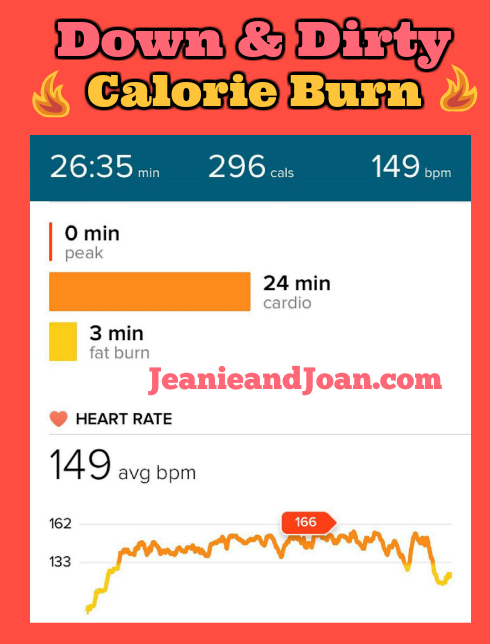 Workout Summary: I really enjoyed this workout! It is my favorite so far of the three I have tried. It has great music, including the "Footloose" song and the moves are upbeat and fun.  Some of the footwork was a little tricky to follow at first but if you do the Routine Breakdown prior to the workout, you'll get it.  The calorie burn here is 296 and that is doing the full routine itself (not the breakdown).

As the week progresses, we will be posting more results and updating with other graphics of how many calories you burn per Country Heat workout.  Click "Like" on our Facebook page to the right to be updated on the daily of our workout and calories burned off each day.
Workout Routine 4: Dance Conditioning

Length: 24 minutes

Calories Burned: 235

Average Heart Rate: Between 121-132 beats per minute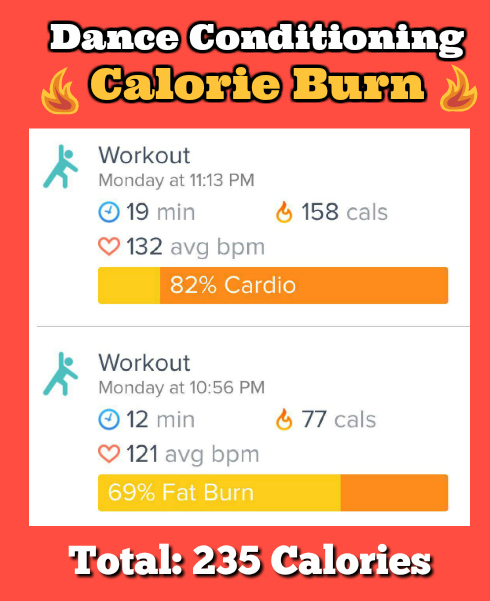 Workout Summary: This workout is a mixture of cardio and also strength training. You'll warm up by doing a series of quick paced moves (often a mix from other ones you've learned in Country Heat). And then you'll change it up and do some plank or lunge style moves and squats to help build muscle and strength.

Workout Routine 5: Bring the Heat

Length: 27 minutes

Calories Burned: 285

Average Heart Rate: 148 bpm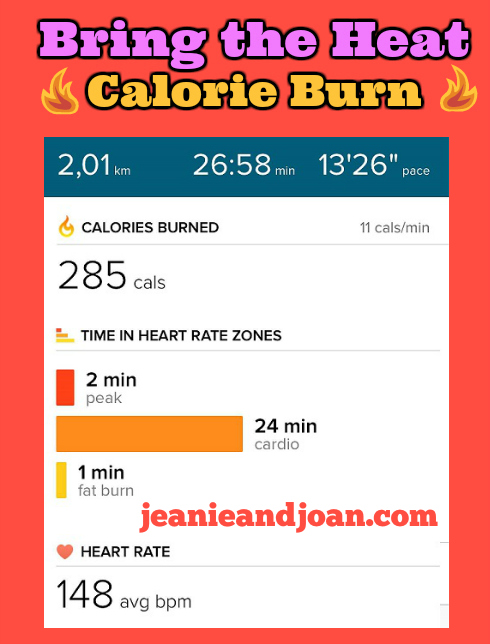 Workout Summary: This was my favorite workout of all of them. The moves were high-paced from minute one and SO much fun. I really enjoyed it and know this will be a regular in my Country Heat round-up!

Workout Routine 6: Trail Ride

Length: 25 minutes

Calories Burned: 252 Calories

Average Heart Rate: 145 bpm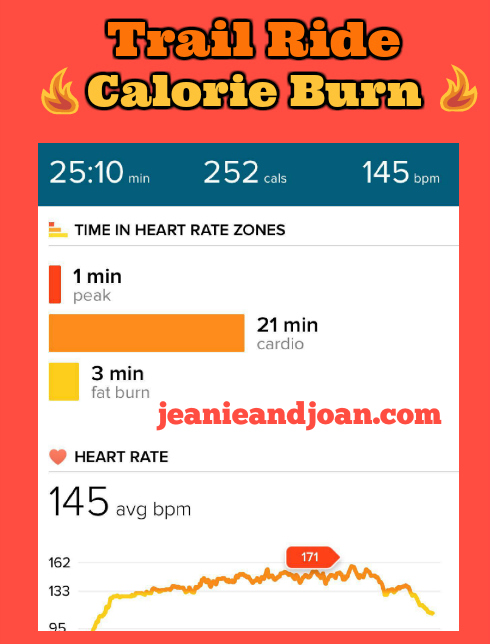 Workout Summary: This one was a lot of fun. It started off a bit slow and I thought the moves were way too easy to get a good calorie burn. But then they picked up and my heart rate started to climb. The music was great and I really enjoyed it by the end. Such a short workout too and over 250 calories burned!

How can I track my own calorie burn?
We highly recommend investing in your own Fitbit Charge HR or the new and improved edition, the FitBit Charge HR 2 (which I am waiting for in the mail as it has just become released!)  This is the only way to truly be accurate with knowing exactly how many calories you are burning each day not only doing your workouts, but in your general every day life. 
Sometimes I am shocked at how little calories I burn if I spend the day lounging around as opposed to being out in down or doing chores all day.  It is the best way to be able to determine how big of a calorie deficit you are creating each day, and also know which calorie bracket you should fall under when using the Country Heat Tally Sheets.