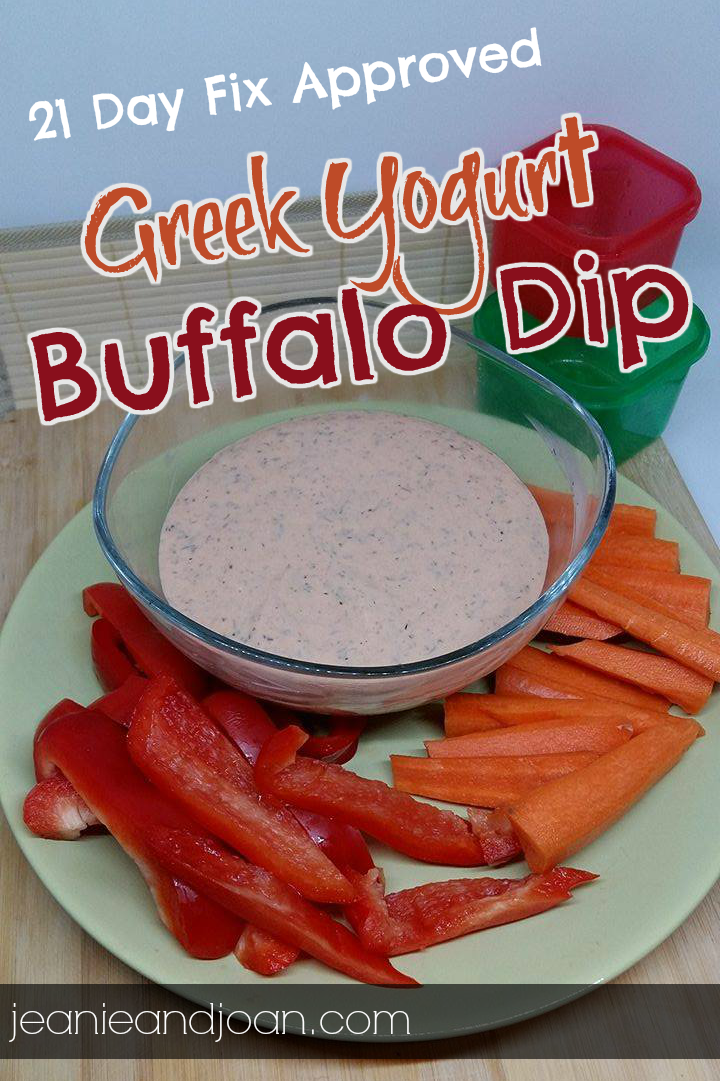 If you are like me, one of the most difficult parts of healthy eating is when you're getting snacks together for Movie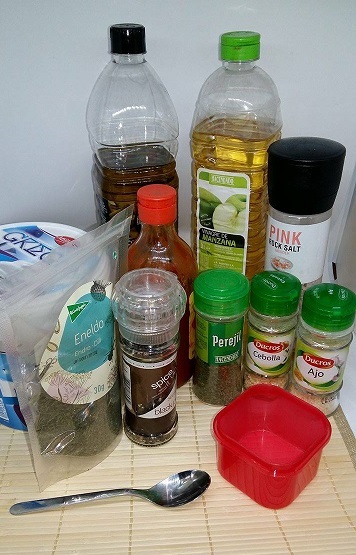 Night! I decided to whip up this 21 Day Fix approved recipe for Greek Yogurt Buffalo Dip. This goes great with vegetables like carrot slices, celery sticks, bell peppers and cucumbers!  The best part is, you can eat a HUGE quantity of dip guilt-free. The entire recipe makes enough for the whole family. However, if you want to chow down on the whole thing, it is only 2 red protein containers and two teaspoons of oil out of your entire day! Plus, however many green containers full of chopped veggies you eat!
The best part about this dip recipe is that it is made with all the ingredients you are sure to already have on hand. You don't need to worry about having fresh herbs. You can make a great tasting dip low in fat and calories and the best part – 21 day fix approved!
I like to make this recipe and then divide it into two different containers. This creates two different servings and I can have it two days in a row for snacks. It's also a great dip to pack in a lunch to work or school and your kids will love it!
21 Day Fix Greek Yogurt Buffalo Dressing Dip
Ingredients
2 red containers of Plain Greek Yogurt (1% fat or light) - (1 1/2 cups)
3 Tablespoons of apple cider vinegar
3-4 Tablespoons of Hot Sauce (depending on how hot you prefer the dip to be)
2 teaspoons of extra virgin olive oil
3/4 teaspoon of salt
3/4 teaspoon of onion powder or flakes
1/2 teaspoon of garlic powder
3/4 teaspoon of dill weed
1.5 teaspoons of dried parsley
Ground pepper to taste
Instructions
Combine the Greek yogurt with the vinegar and hot sauce. Stir well.
Add the salt, onion powder, garlic powder, dried parsley and dried dill weed. Add freshly ground black pepper to taste
Stir all the ingredients until they are well-combined.
Refrigerate for at least two hours to let the flavors combine well so the dip is full of rich flavors.
Serve with chopped vegetables or as a salad dressing.
Notes
Recipe equals 2 red containers (protein) and 2 teaspoons of your oils daily allowance
https://jeanieandjoan.com/21-day-fix-greek-yogurt-buffalo-dressing-dip/
What Can I Enjoy With This Dip or Salad Dressing?
My favorite veggies to eat alongside this dip are sliced red bell peppers, sliced carrots or baby carrots, celery sticks and cucumber slices!  You might also have this with a few rice crackers or mini Melba toasts if you want to add a yellow container (carb) and make it more of a meal.  This recipe can also be used as a salad dressing if you like it nice and creamy.  You can pour it over a bed of lettuce and mixed vegetables.
How Does This Recipe Work With the 21 Day Fix nutrition plan?
One red container of Greek Yogurt = 1 protein
This recipe requires two red containers of Greek Yogurt and two teaspoons of olive oil (Some plans require 2 teaspoons per day, others 4 per day depending on your calorie bracket)
You can split this dip into two or four servings or small containers.  I like to divide it into 2 servings (or double the recipe and make 4 servings) and then pack it in my meal prep containers for lunch the next day.
>> You can get the same 3 compartment meal preparation containers I use on Amazon by clicking here!
The flavors mix perfectly over night and taste delicious the next day. This also gives me something to nibble on at the office when I get bored or hungry so I don't end up buying junk! I love my meal preparation containers because you can pack all the veggies and dip together without it getting mixed up, and they are air-tight so there is no spillage!  I just use my regular 21 day fix containers to measure the serving size and pour it in the container. Voila!
I definitely recommend getting some of your own. The Nimkik set come in large packs of 10 so you can plan for several days or the entire week, depending on how many you order. I prefer the 3 compartment ones since you can put more food items in it and can keep them separate.
They are also BPA free so you don't need to worry about using the reusable plastic.  I hope you enjoyed this 21 day fix approved dip recipe and subscribe below for more recipes when they are released!