If you're like me, you love munching on something crunchy while relaxing at home in front of a movie or TV series marathon! The problem is that normally, people eat chips, popcorn and other high carb snacks by the bucket load.  If you've ever been to my house over the holidays, you'd think we were running a convenience store!  But with spring coming up, it's time to eat HEALTHY and enjoy some low-carbs snacks. My 21 day fix approved honey mustard dressing or dip is the perfect thing to chow down on while enjoying your weekend nights in!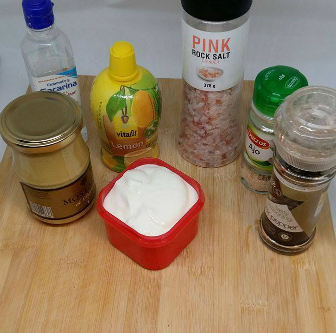 You can use this dip as a salad dressing or as a veggie dip. The consistency is good for either. If you're wanting it to be a bit thicker, add more Greek yogurt or thick mustard.  Now, I have omitted honey because of the high calorie/sugar content.  We will use sweetener as a substitute. If you refuse to have the dip without honey, there isn't much harm in adding 2 tablespoons providing you won't eat the whole dip in one sitting.
But with the sweetener, you can feel free to have the entire bowl to yourself as it equals only 2 red containers (protein). It doesn't use any oil or added sugar, so it doesn't count as your orange containers or use any teaspoons.  That means, the more dip the merrier!  Check out our other salad dressing dip recipes by clicking here.
Note: This honey mustard dressing is very tangy! Use less mustard if you aren't a fan of the strong Djon mustard taste like I am!
21 Day Fix Approved Hot & Tangy Honey Mustard Salad Dressing
Ingredients
1.5 red containers of Low or Non-Fat Plain Greek Yogurt
3-4 Tablespoons of Dijon mustard (to taste)
2 Tablespoons of lemon juice
1/2 tsp of salt
1/2 tsp of garlic powder
1/3 tsp of freshly ground black pepper
Sweetener to taste (I used 1 teaspoon of liquid sweetener)
Instructions
Mix all ingredients together.
If you prefer a thicker consistency, add more Greek Yogurt or mustard or use only 1 tablespoon of lemon juice.
Let sit in fridge to allow the flavors to blend for several hours.
Enjoy with freshly cut veggies or baked potato chips! You can also serve it over a salad.
https://jeanieandjoan.com/21-day-fix-tangy-honey-mustard-salad-dressing/
Makes 2 large servings or 4 regular size servings.
21 Day Fix Note: The entire bowl = 1.5 red containers, Half of the mix = 0.75 red containers
I like to make one or two batches of this and then divide into my meal prep containers and have a stack of them in the fridge ready to go! They are perfect for bringing to work or school as a snack/lunch.
They also are nice to have on hand to make sure you're getting all of your veggie requirements each day.  And also, when you're hungry and don't feel like preparing anything healthy, you can grab a container and chow down!
I like to use Chefland's three compartment containers as they are BPA free, and have enough room to store the veggie dip an a variety of chopped vegetables. Or you can include baked crackers or potato chips (using a yellow container to measure) and they will stay nice and dry!