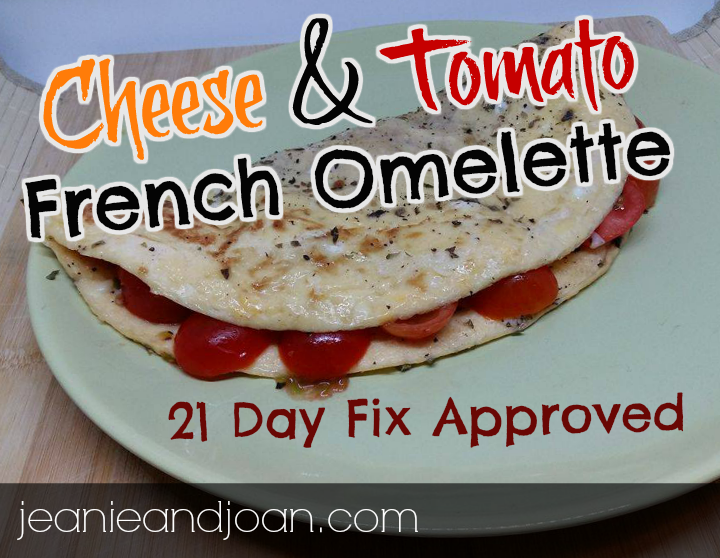 French omelettes are a dieter's dream. The are quick to make, can be stuffed with vegetables and are great for breakfast, lunch or dinner! This is a basic 21 day fix approved cheese and tomato omelette recipe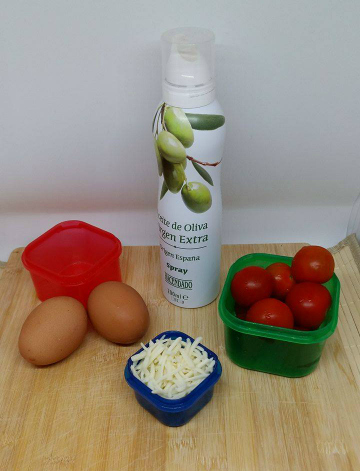 that can be adapted as you like.  I sometimes add in a layer of spinach leaves to melt with the cheese and tomatoes to get in my dark leafy greens!  You can make this more of a meal by adding chopped chicken or turkey.
Additionally, you could split it in two to serve two people and each have a half on a slice of toast.  Remember that this would change the container amounts, so adjust accordingly.
Also, feel free to change up the veggie types.  You might prefer to make this an onion and pepper omelette instead.  This is a very basic omelette but works great with the 21 day fix nutrition program.
21 Day Fix Italian Style Cheese and Tomato Omelette Recipe
Ingredients
2 eggs (1 red container)
a splash of skim milk
sliced cherry tomatoes (1 green container)
mozzarella cheese (1 blue container)
Olive oil (1 teaspoon or Low-Fat Non-Stick Cooking Spray)
Seasonings (to taste):
Salt
Freshly Ground Pepper
Oregano
Instructions
Preheat non-stick frying pan for omelettes.
Whisk two eggs with 1-2 tablespoons of skim milk
Once the pan is preheated, pour the egg mixture into the pan.
Wait between 2-3 minutes until the mixture is cooked at the bottom and isn't "jiggling". Lightly season the top with oregano and salt/pepper.
Use a silicone based spatula to lightly lift all the edges and flip the entire omelette.
Season again lightly with salt, pepper and oregano to taste.
Sprinkle the cheese on half the omelette and place the sliced cherry tomatoes on top.
After 1-2 minutes, fold over half the omelette and press gently down.
Once the cheese has melted, carefully remove the omelette with a spatula to your plate.
Serve immediately.
Notes
This recipe makes 1 omelette. It will use 1 green container, 1 red container, 1 blue and 1 teaspoon of oil.
https://jeanieandjoan.com/21-day-fix-cheese-omelette-recipe/
What Equipment Do I Need?
The most important thing about making an omelette is having a high quality non-stick pan.  If you don't have this, you won't be able to make a proper omelette.  It will be nearly impossible to flip and you'll end up turning the omelette into scrambled eggs.  I have this pan which heats up in the middle and lets you know when it is full hot and ready to fry.  That way, you won't overcook either side of the omelette.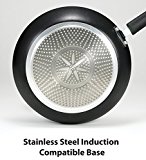 Also remember to flip the omelette BEFORE adding any vegetables and cheese.  A lot of people forget this step and throw the veggies on the uncooked egg.  You need to wait 2-3 minutes before flipping the omelette and then layer half the side with the cheese and vegetables.
I hope you enjoyed this omelette variation.  You can click here for more 21 day fix recipes and snack ideas!