In a previous post, I reviewed one of the most popular workout plans on Pinterest that has been shared hundreds of thousands of times.  The plan states that doing a bunch of simple moves at home can burn 1000 calories in one workout. That exercise routine (while a great workout) only burned 235 calories.  I decided to do another test to see if any of the workouts shared can help you burn 1000 calories.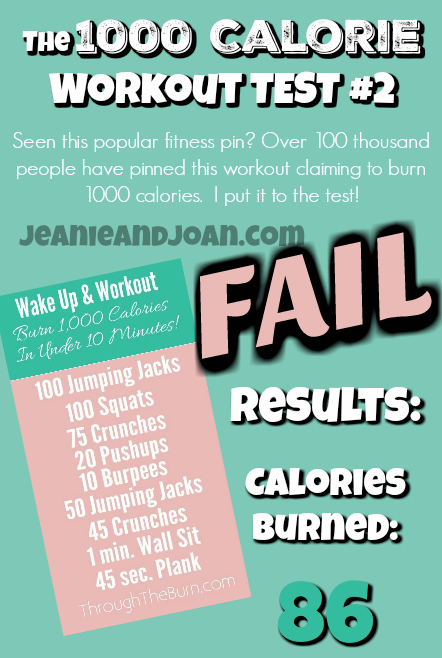 This next one was claiming something even more outrageous.  That in under 10 minutes, you can burn 1000 calories.  That means you'd be burning 100 calories per MINUTE.  It is absolutely ludicrous and angers me to think that people are sharing such nonsense!  I did the workout and shared the results below using my Fitbit Charge HR 2 heart rate monitor.
Can the 1000 calorie workout REALLY Burn 1000 Calories?
The Routine:
100 jumping jacks
100 squats
75 crunches
20 push ups
10 burpees
50 jumping jacks
45 crunches
1 minute wall sit
45 second plank
Note: I did this at the highest intensity I could muster.  My jumping jacks were fast-paced and my squats were low to the ground. I also did all the push-ups on my toes.  So my results are about as good as they can get!
The "1000 Calorie" Routine Results: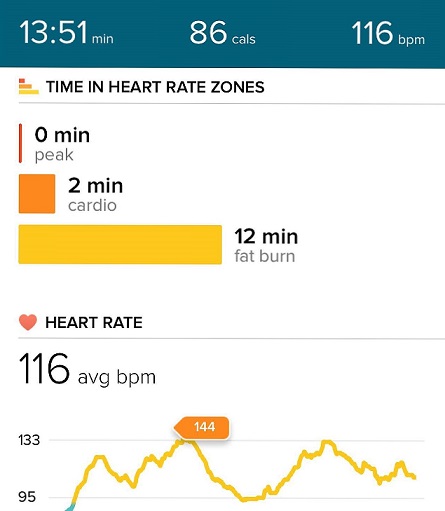 Length of workout: 13 minutes and 51 seconds
Calories burned: 86
Average Heart Rate Per Minute: 116 minutes (2 minutes in the cardio zone and 12 minutes in the fat burn zone)
Workout Summary:  Okay, this is an awesome workout to do once a day in the morning, but NO, it doesn't help you burn 1000 calories! What a joke! You'd have to do this workout over 10 times to get to that number.  It's such a shame that these are being shared.
In order to burn 1000 calories, you'd need to do a high intensity workout for between 50-70 minutes.  There are plenty of high calorie burning workouts out there that are a lot more fun than doing jumping jacks and burpees on the spot. My latest favorite workout Cize by Shaun T has helped me burn up to 500 calories in 45 minutes.
How can I try this test for myself?
If you want to track your own calories burned during a routine like this one or even the 100 calorie workout routine, you'll need to invest in a heart rate monitor that offers the feature to see how many calories you burn per exercise.  The new Fitbit Charge Hr 2 is an awesome investment. It has helped me see how many calories I burn on a daily basis and spot track exercises like this one. I highly recommend it if you are serious about losing weight and don't want to fall for any of these false claims found on sites like Pinterest!  Please share this workout and help spread the REAL truth about these workouts!