Over the past few months, I have seen a bunch of infographics that have gone viral on Pinterest claiming that you can burn 100 calories in under 5 minutes by doing a quick sequence of workout moves.  The sequence is short and easy to follow. For this reason, it has been shared thousands of times on hundreds of different social media accounts and popular fitness blogs. But the truth is, it's a complete myth!
The Popular "100 Calorie Workout":
40 jumping jacks
30 crunches
20 squats
10 push-ups
The claim is that doing just one round of this will burn 100 calories.  Heck, if that was true, I might skip my 21 day fix workouts and just do two or three rounds of this!  Working my butt off doing my Fix workouts will burn around 300 calories in 30 minutes, so I knew that this was a myth.  I decided to put my theory to test and do this workout using my new FitBit Charge HR 2 and track how many calories I burned doing one round of this.
Some stats about me first:
Height: 5'9
Weight: 160 lbs
The Results: Actual Stats of the Alleged 100 Calorie Workout
How Many Calories I actually burned during the 100 Calorie Workout: 18 Calories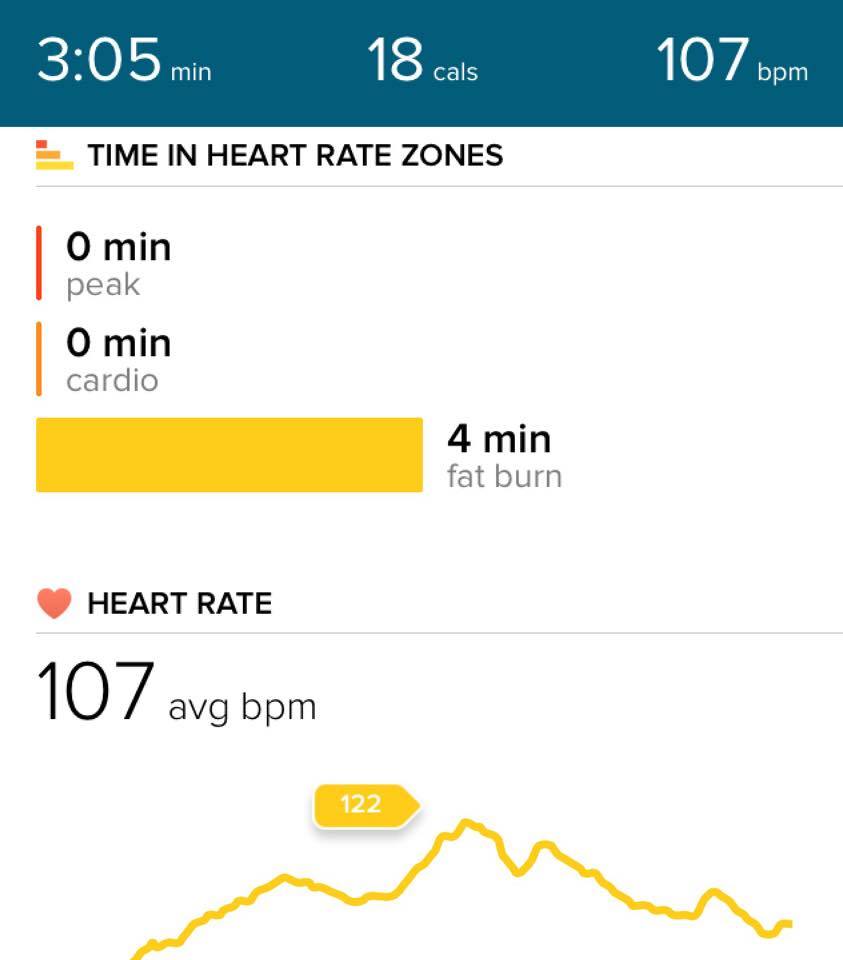 WOW! Now that is a disappointment. Doing one round of the above "100 calorie workout" only helped me burn 18 calories.
Length of Workout: 3 minutes and 5 seconds
Calories Burned: 18 calories
Average Heart Rate: 107 beats per minute (Fat Burn Zone)
Note: I did the entire workout at 10/10 effort. I did low squats nearly to the ground in perfect form. And I did 10 push-ups on my toes and also low to the ground.  Regardless of how much effort you put in, it's nearly impossible to burn 100 calories in 3 minutes.
It's a joke that this workout has gone viral because if someone actually thinks it lets you burn 100 calories, they are 80% off.  You would need to do 5 rounds of this workout to burn 100 calories.  Which leads to my next experiment.  I decided to do 5 rounds of this workout to see if I could reach 100 calories.  I waited until my heart rate returned to normal to do the 5 rounds to ensure the results were not skewed.
5 Rounds of the "100 Calorie Workout"
Length of Workout: 14 minutes and 25 seconds
Calories Burned: 121 calories
Average Heart Rate: 132 beats per minute (8 min in the Fat Burn Zone, 7 min in the Cardio Zone)
I did the workout in sequence rather than do 200 jumping jacks all at once. I did 40 jacks, 30 crunches, 20 squats, 10 push-ups and then repeated the sequence.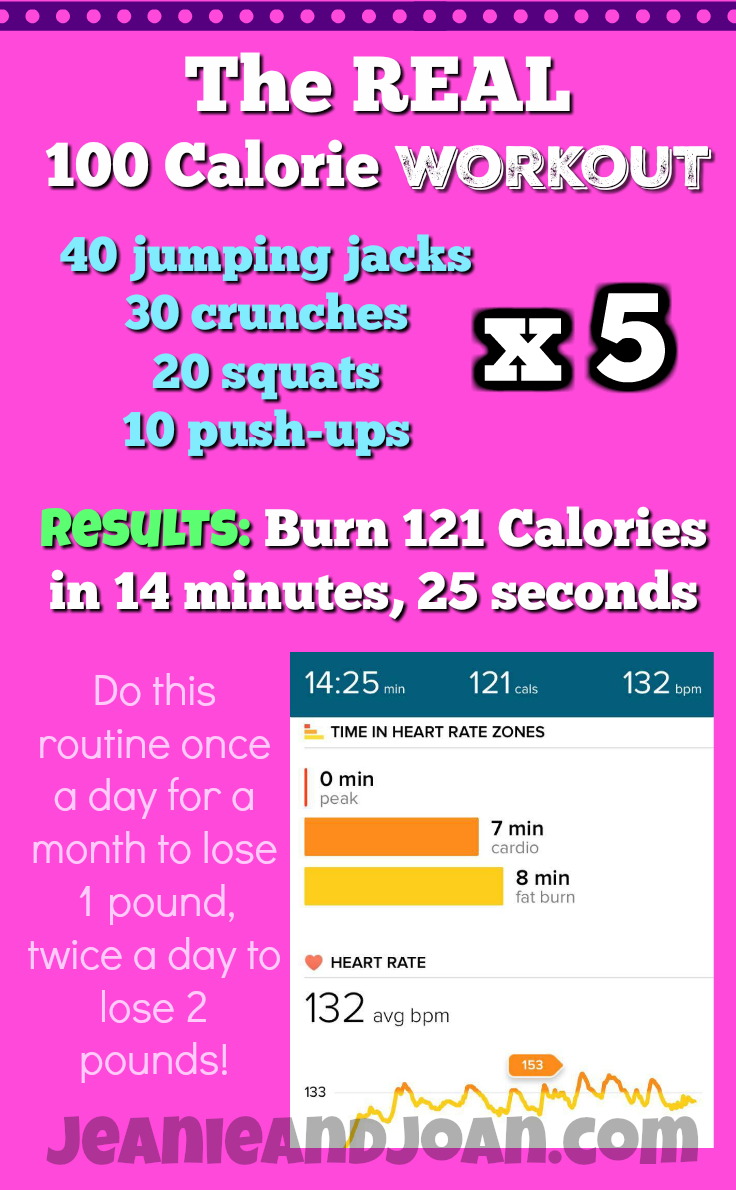 Now THAT was a workout.  Of course the original workout has been shared thousands upon thousands of times. Because it LOOKS appealing, doesn't it?
The "100 Calorie Workout" actually looks like this:
200 jumping jacks
150 crunches
100 squats
50 push-ups
And that just doesn't seem as quick and simple as the original, does it? Nope. And that's because weight loss ISN'T simple, and it's a shame and a scam when people suggest otherwise. Real results requires real hard work and 3 minutes of jumping around isn't going to help you burn off that fast food you had earlier today. It'll take a lot longer than it did to eat it to burn it off.
Help me share the TRUTH and share this article or pin my infographics!  As a gift to you, I'll give you a free 30 day worksheet to track your daily "125 Calorie Workout" challenge.  The idea is to do 3 rounds of the sequence in the morning and 2 rounds in the evening to help you burn an extra 125 calories per day.
125 Calories x 7 days = 875 Calories Per Week
875 Calories x 4 weeks = 3,500 extra Calories burned per month
And because 3500 Calories = 1 pound of fat, simply by doing this workout each day, you can lose a pound of fat per month without making any extra changes. If you double this and do the full routine in the morning and in the evening, you'll lose an extra 2 pounds of fat per month.  This is also an awesome routine to do when you're on vacation and unable to go to the gym or do your Beachbody workouts.
Do the Drop 10 Pounds in 20 Days Workout Challenge
I have developed 6 different custom workouts that help you burn between 125-250 calories in 12-14 minutes. My workouts have much more variety and each one comes with the estimated calorie burn after I've completed the workout and tracked it with my Fitbit!  By combining two workouts a day with my 1200-1500 calorie diet plan, you can lose around 10 pounds in 20 days.  There is no way to lose weight without also monitoring your diet as well!
I've discussed the drop 10 workout plan in detail here but you can get the full 6 page workout and diet plan at my Etsy Shop by clicking on the image below!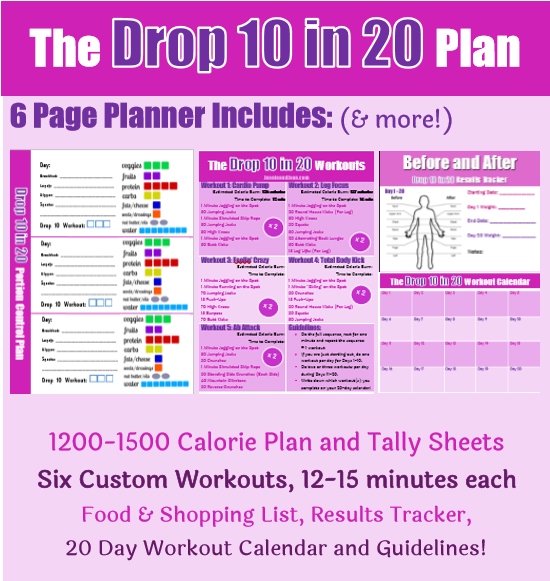 How Can I Track My Own Calories?
In order to get the best accuracy for how many calories you burn per workout video or "quick workout" like the one above, you'll need to get your own heart rate monitor.  I have tried several, but highly recommend the Fitbit Charge HR 2 which is brand new, comfortable to wear and has the highest accuracy I have experienced.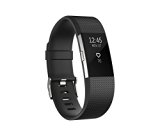 It tracks your steps taken and monitors your heart rate so you get the most accurate reading of your daily calorie burn.  You can also select what type of exercise you are doing and start a stop watch to record your heart rate and calories burned throughout the exercise.  The screenshots I have posted above are an example of the information you will get and be able to read on the free App that comes with your purchase.
I hope you enjoyed this workout breakdown and stay tuned to our blog or subscribe to our newsletter below for our next 100 calorie workout plan!