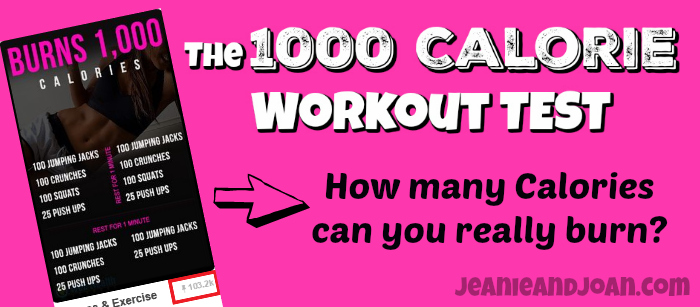 So lately I have been having some fun doing some of Pinterest's most popular workout routines. Today I decided to target the 1000 Calorie Workout which has been pinned over 500,000 times on Pinterest.  This means there are over half a million people following some of these workouts and thinking that they are burning 1000 calories in under 10 minutes.  That is a hoax if I ever heard one!  I've already squashed the 100 calorie workout and the drop 10 workout plan so today it's time to target the 1000 calorie workout and see how many calories you really burn doing this workout.
The 1000 Calorie Workout Sham
I love social media but I hate when lies get spread as truth. Especially when people are genuinely looking for real solutions to weight loss and health.  If someone is spreading around a cute graphic claiming something outrageous, they are doing it to get extra pins and social shares. And this comes at the cost of spreading misinformation.  If someone was genuinely doing the 1000 calorie workout each day, they would be losing an extra 2 pounds per week.  (Because 3,500 calories = 1 pound of fat.  And 1000 calories x 7 days = 7,000 calories OR 2 pounds of fat)
Or perhaps to make up for a bad day of eating fast food and drinking beer, a man or woman does this workout they've found on Pinterest to make up for their "off" day.  When in fact, they have only burned a fraction of what they intended to.
I've decided to target the three most popular 1000 calorie workout routines on Pinterest and see if you can actually burn 1000 extra calories per day with this plan.  Let's start with the first routine.
Popular Pinterest 1000 Calorie Workout #1

100 Jumping Jacks
100 Crunches
100 Squats
25 Push-Ups
Rest for 1 Minute
Rest for 1 minute
100 Jumping Jacks
100 Crunches
25 Push-Ups
100 Jumping Jacks
25 Push-Ups
Okay, that is quite the workout!  In total you are doing 400 jumping jacks, 300 crunches, 200 squats and 100 push-ups.  Make sure to drink water during your minute of rest in between sets.  And remember to work your way into doing those squats so you will be able to walk tomorrow!  If you are new to squats, only squat 1/4 or 1/2 way until your thighs get used to them or do half this routine instead of the full 3 sets.
Workout 1 Results:

Length of Workout Routine: 30 minutes and 29 seconds
Calories Burned: 235
Average Heart Rate: 132 beats per minute
1 minute in the peak zone
12 minutes in the cardio zone
17 minutes in the fat burn zone
Summary:  This workout isn't for the faint of heart. It is very challenging and my body was sore afterwards.  It's important to write that I put in a 10 for effort while doing this routine so my results are probably the best you could hope for.  This is a workout that combines both cardio and strengthening moves. You could spend your 30 minutes entirely differently and burn a lot more calories by sticking to more cardio based moves.  But in the end, it did NOT burn 1000 calories.  I'd have to do this workout FOUR times to burn that many calories.
That isn't to say that this is not a good workout. It's an excellent workout. The target should not always be to burn the highest amount of calories.  You do not need to do a 1,000 calorie workout each day.  If you aim for 400-600 calories, you're still going to lose a pound a week with a sensible diet.  If you restrict your calories even further, you can lose up to 2 pounds a week.
How Did You Track Your Calories Burned?
I am as big a skeptic as anybody and want to see solid proof before believing any Pinterest workout or anyone claiming it's a sham! So I used my new Fitbit Charge HR 2 fitness monitor to track how many calories I burned during this workout and saved a screenshot to show you the results. I love having a monitor like this because I can actually see how many calories I burn during my workouts and don't need to rely on any guesswork.
There is a plethora of workouts like this that claim to help you burn hundreds and hundreds of calories in minutes with minimal effort. Remember that if something sounds too good to be true, it usually is.
Instead of doing a boring workout like this to burn only 235 calories, I highly recommend Shaun T's Cize dance workout program which I also use and burn up to 500 calories in under 45 minutes.  There are plenty of fun ways to burn calories that are much less monotonous than these popular 1000 calorie workouts.  You just need to find a workout program that works for you!