If you've read our review about the 21 day fix program, you understand just how important it is to follow the portion control 21 day fix containers guide while you are following the program in order to lose as much weight as possible.  You can follow a number of different "calorie brackets" in order to maximize the amount of weight you can lose.  First you need to calculate how many calories your body burns each day to assess how many calories you will need.
Portion Control Color Containers
There are six different colored containers that you will use while on the 21 day fix program. The containers vary in size according to the color.  Each day you are allotted a certain number of containers in order to stay within your bracket for the day.  The idea is that you will consume enough food within these containers to not go over board and exceed your limit.
The purple container allows you to eat a cup of fruits such as strawberries, apples, pears, raspberries, oranges and so forth.
The green one stands for vegetables and you can enjoy assorted chopped veggies like bell peppers, carrots, cucumbers, tomatoes, beans, lettuce, etc.
The red container is for your proteins and you can have skinless chicken or turkey breast, fish, tuna, lean beef or vegetarian options like tofu or soy-based products.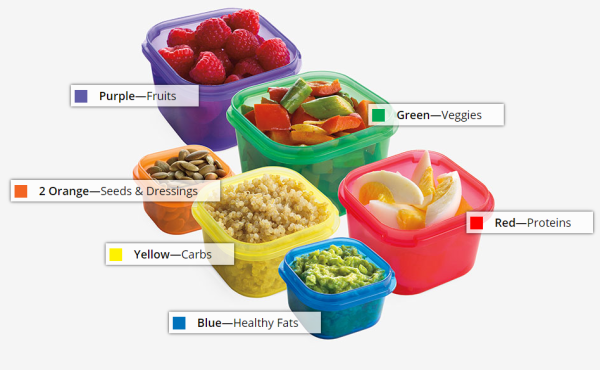 The yellow stands for carbohydrates and you can enjoy many different whole grain or complex carbs like oatmeal, brown rice or whole wheat pasta.
The orange containers are for seeds or dressings for your salads. You can enjoy most types of seeds but be careful to not indulge in creamy fatty salad dressings like ranch or Cesar. It's best to have an olive-oil based salad dressing or a homemade one.
Lastly, the blue container is for healthy fats and delicious food like nuts (raw, unsalted almonds, peanuts, cashews, walnuts, etc) or other healthy fat options like guacamole or avocado.
Meal Planning and Preparation
Because the 21 day fix program only contains one set of containers, many people choose to purchase other washable containers to be able to prepare in advance for the week. If you follow the diet and plan on a day to day basis, the preparation can become overwhelming.  I liked to buy a bunch of Chefland containers in packs of 10 or 20 to always have on hand. Because I was doing this program with my teenage daughter, I would prepare meals several days in advance for both of us and we'd use the top two layers of the fridge to stack our containers with all our fix-approved meals ready for the week!
DIY Containers: How to Do-it-Yourself!
If you are unable to get the official Beachbody containers, you have many different options available to you. Many people like to purchase tupperware or similar containers and label them appropriately, but it is easier if you can find ones that are already colored differently so you can easily distinguish them.  I highly recommend the Chefland containers. We'd use the measurement guide found in the cheat sheet below and fill out all the containers appropriately with our allowed "container" amount for each meal. This made the program much easier for us both to follow!