With summer just around the corner, there is no better treat on a hot day than Ice Cream. Unfortunately, ice cream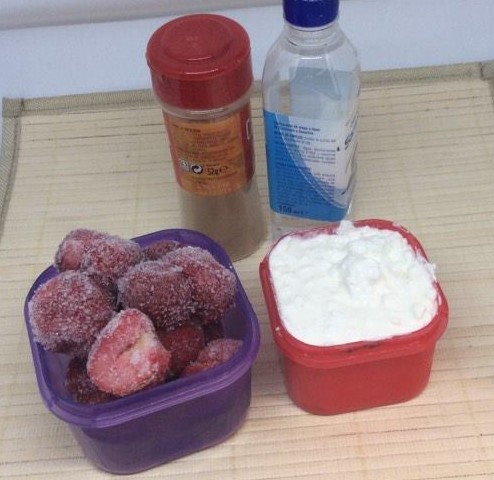 isn't on the 21 day fix approved recipe list. However, there are amazing 21 day fix sorbet and ice cream alternative recipes you can indulge in. Best of all, you can make them using fruit and high protein foods like yogurt and cottage cheese.  The recipes I am sharing do NOT count as a "treat" yellow container because there is no added sugar! You can make them using purple and red containers (fruits and proteins).
All you need to make this is frozen fruit, a protein source, sweetener and cinnamon (if you like!). I like using cinnamon with cottage cheese to help neutralize the flavor.  However you MUST use a food processor for this sorbet recipe. A blender just won't cut it unfortunately!
21 Day Fix Strawberry Protein Sorbet
Ingredients
1 red container of 2% fat cottage cheese (or 1-2% fat Plain Greek yogurt)
1 purple container packed with frozen strawberries (or fruit of choice)
Sweetener and cinnamon to taste
Splash of skin milk
Instructions
Process the frozen fruit and a splash of milk with a high powered food processor. You can use a tablespoon or so of water if you prefer not to use milk. This helps break down the fruit and gives it a creamier texture.
Add cottage cheese or yogurt and continue to process. If you prefer a thicker sorbet, add more frozen fruit.
Add sweetener (Stevia or Splenda) and cinnamon to taste. I use a few drops of liquid sweetener and a teaspoon of cinnamon. If you are using a more sour berry like raspberries, you'll need more sweetener. Strawberries are naturally sweet so not much is needed!
You can freeze the sorbet for an hour if you prefer it to be hard or eat and enjoy right away!
Notes
The entire recipe is the equivalent to 1 red container and 1 purple container if following the 21 day fix portion control plan.
https://jeanieandjoan.com/21-day-fix-strawberry-protein-sorbet/
Feel free to make variations of this recipe. You can swap the frozen strawberries for other frozen fruit items including sliced bananas, raspberries, mango or blueberries! You can also add in other ingredients like all-natural cocoa to give it a chocolate flavor or pure vanilla extract. Experiment and have fun with it. Remember that dieting doesn't have to be hard or restrictive. You just need to find delicious recipes that incorporate your favorite foods!