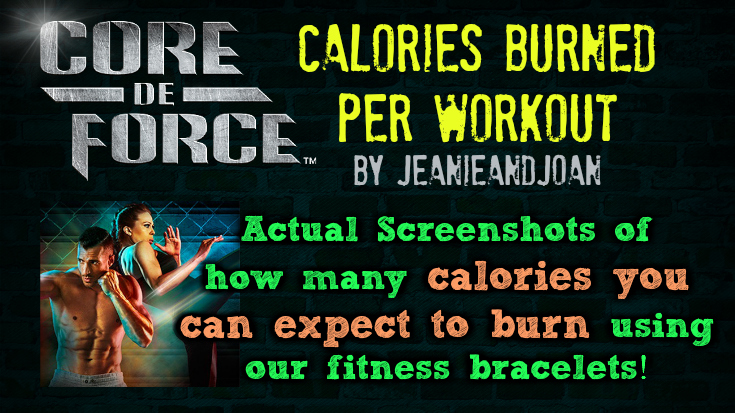 Well, we are officially into the second half of January! How are you doing with your weight loss goals or New Year's resolutions to get healthier and in better shape? Not great? That's okay! I took an extended break this holiday visiting family I am only able to see once a year.  And after eating several weeks like an unchaperoned kid at a birthday party, I am ready to get back on track!  At the end of 2016, I purchased the new Core de Force workout program and have been eager to try each workout and track my calories burned doing Core de Force!
Luckily, I have my awesome Fitbit Charge HR 2 to help me with that and have decided to track down my results for you here and also give you a review of each workout as I go along. Let's get started!
If you don't yet have Core de Force, you can get it on Amazon by clicking here!
Core de Force MMA Workouts: Calories Burned
MMA Speed:
Workout Length: 27 minutes
Average Heart Rate: 156 beats per minute
Calories Burned: 309
Workout Summary:  I have mixed reviews about my first workout.  It was easy to follow and the moves were powerful. You go through six rounds of moves that you do twice each.  It definitely worked my core and stomach muscles but I was a bit bored during the workout as opposed to doing a program like Shaun T's Cize which kept me entertained throughout.  It still provided a good workout though and I am optimistic going forward.


MMA Shred:
Workout Length: 37 minutes
Average Heart Rate: 159 beats per minute – WOW! My heart rate was in the peak zone for the majority of the workout and I didn't even notice, awesome!
Calories Burned: 428 calories – Wahoo!
Workout Summary: I REALLY enjoyed this one.  So far, it has been my favorite workout. The combinations were easy to learn and they had so many kicks in them. Kicking is one of my favorite exercises because your thighs/legs are your largest muscle groups and they often get ignored.  By doing high-powered kicks in combination with punching combos, your heart rate soars! And this means you can burn tons of calories. Win Win!
MMA Power:
Workout Length:  47 minutes
Average Heart Rate:  153 beats per minute
Calories Burned: 512 calories – AWESOME! 
Workout Summary: This workout was insane! After the first 3-4 rounds, I worried I wouldn't be able to finish the whole thing but the rounds get a bit easier in the middle, allowing you to cool down a bit.  Once your heart rate lowers, the combos and spikes get more difficult and it's non stop calorie burn! Loved this one!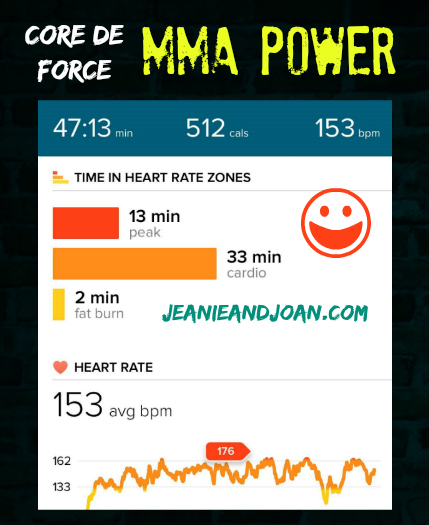 Strength Workouts:
Workout: Dynamic Strength
Workout Length: 47 minutes
Average Heart Rate: 131 beats per minut
Calories Burned: 396 calories
Workout Summary: I won't lie. I didn't like this workout. This workout is slow-paced and some of the moves are ridiculously complicated.  Not for beginners.  And I am not a beginner. I could do each move, they were just complicated and not necessary. You can work your muscles the same way and as effectively without twisting and turning like a contortionist. I can safely say I only finished this workout so I could give you the calorie burn. I likely won't do it again, there are much better workouts out there for strength.
How Can I Track How Many Calories I Burn Doing Core De Force?
The images I have taken mark my own personal progress and calories burned doing each workout. It's very important to note that these figures will change drastically from one person to another. For example, a man who is 6'3 will burn a lot more calories doing these workouts than a petite woman who is 5'3. Depending on your height, body weight, sex and fitness level, your calorie burn amount could be off by 100-200 calories or even more.  This is why I encourage you to use these as an example only.
The only way to track your own personal calorie burn is to invest in a fitness bracelet or heart rate monitor that has this option.  While not everyone can afford to have the top of the line fitness bracelet, there are plenty of affordable options that do the same trick. The most important factor is that they will track your heart rate in addition to steps taken to get the most accurate reading.  Here are my top picks for calorie burning trackers/monitors.
#1 Fitbit Charge HR 2
I have owned two different Fitbit devices. The original charge and just upgraded to the Charge HR 2 which has a larger screen on the watch itself and more options.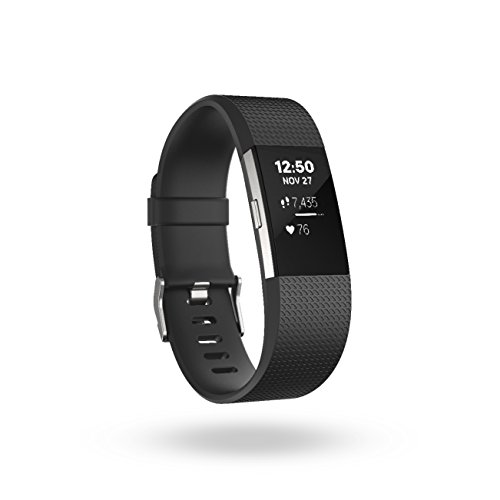 You can adjust the display as you like to see how many calories you have burned throughout the day, steps taken, your heart rate, floors climbed and more! My favorite option is to choose through one of many different types of activities and start the stop watch on the side.  This will track how many calories you burn doing the exercise of your choice. For example, I selected "Working Out" when I tracked the Core de Force workouts I did and the monitor will track your heart rate, steps taken and calories burned throughout the activity. At the end, you will see a summary on your watch.
You can also check how many calories you have burned while in the middle of the activity in case you are trying to reach a certain goal per day.  Afterwards, you're able to sync the device to your smartphone, tablet or computer and see all of the information per day and per activity as seen in my screenshots above.  You are also able to add friends and have a fitness community, encouraging each other and doing challenges to keep you in shape!
I am so pleased with how many calories the Core de Force workouts burn and will be updating this page as I continue doing them!