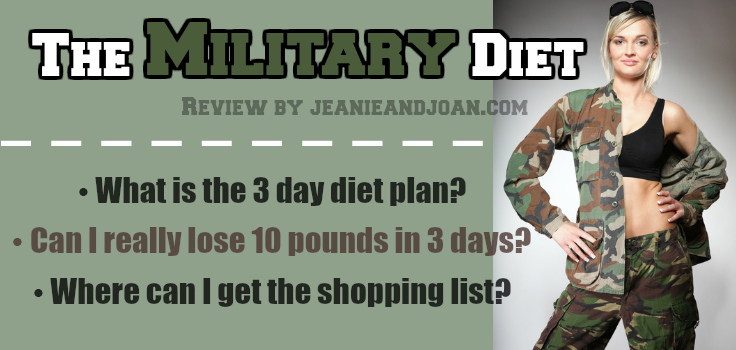 There is a reason I have categorized the Military Diet in the "short term solution" category instead of the Nutrition one. That is because it is NOT a nutritious nor healthy plan to follow for more than a few days at a time.  With this diet, you are eating less than 1000 calories per day and that is borderline starvation.  But, alas, this diet is popular for those wanting to shed as much weight as possible in 3 days. So the question is, can the Military Diet actually help you lose weight?  And how hard is it to follow?  Let's dig in.
Joan's Military Diet Review
I get it, some times there are emergencies.  A Christmas party might be coming up or a wedding. And you have no idea why you can't fit your favorite black dress. (It didn't have anything to do with eating your kids' Halloween candy, surely!) Sometimes drastic situations calls for drastic measures.  But keep in mind, I do not recommend fad diets like these for long-term weight loss.  It is painful.  Trust me.  I did this for you guys, so here it goes!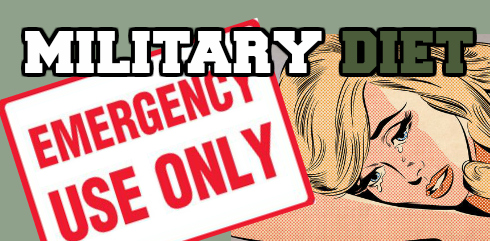 The 3 Day Diet Menu
Over the next three days, you will be eating very small quantities of food.  There are three "meals" each day. (I write meals in quotations, because they are so small, they can hardly be considered one!) In addition to these meals, there are no snacks allowed.  There are some other "fillers" you can have (like celery and herbal teas) which I will discuss later on.
Day 1: Breakfast
1 cup of black caffeinated coffee or tea

There should be no added sugar or cream
If you can't drink coffee or tea black, feel free to add a splash of skim milk (fat-free) and no-calorie sweetener like Splenda or Stevia

1 slice of whole wheat or whole grain toast with 2 tablespoons of Peanut Butter
1/2 a grapefruit

Honestly, a whole grapefruit is fine too
Lunch:
1 cup of coffee or tea (black and caffeinated as before)
Slice of whole wheat or multi-grain bread (toasted if you want)
1/2 cup of water-packed tuna (not oil packed)

Note: Dry tuna on toast sounds real appetizing. Not.  You can mix this with sugar-free mustard to give it some flavor and salt and pepper to spread on your toast
Dinner:
3 or 4 ounces of meat or fish (This can be substituted for tofu if you're a vegetarian)

You can choose any kind of meat: chicken, turkey, beef or pork

1 cup of steamed green beans
1 apple
1/2 of a banana
1 cup of plain vanilla ice cream

Yes, ice cream! The best part of the diet.  Remember you can ONLY have vanilla ice cream. Don't go loading up on Ben and Jerry's double fudge.  Plain vanilla is much lower calorie than other varieties. Stick to this as stated!
Day 2: Breakfast
A cup of coffee or tea (optional)
a slice of whole-grain toast
1 egg (whole egg)

You can prepare this as you please: hard-boiled, poached, scrambled, etc.

1/2 a banana
Lunch:
1/2 cup of cottage cheese

Eating cottage cheese bland is awful. Some people like it savory – so add salt, pepper and even a few slices of tomato and parsley if you like
If you like sweet cottage cheese (like I do), you can add a tablespoon of sugar-free jam and a bit of sweetener

1 hard-boiled egg (or cooked another way if you prefer)
5 saltine or soda crackers (white or whole-wheat)
Dinner:
2 hot dogs (without any bun or bread!)
1/2 cup of carrots (raw or steamed)
1 cup of broccoli (steamed)
1/2 a banana
1/2 cup of plain vanilla ice cream
Day 3: Breakfast
1 cup of caffeinated black coffee or tea
5 saltine crackers (whole wheat preferred)
1 slice of cheddar cheese
1 apple
Lunch:
1 slice of toast (whole wheat)
1 egg (poached, fried, boiled, scrambled, etc)
Seriously, that's your lunch. Horrible, right? If you want to add a sliced tomato, feel free. There are very little calories in a tomato and it wont hinder your results whatsoever.
Dinner:
1 cup of water-packed tuna (This might be the equivalent of two cans, depending on their size!)
1/2 of a banana
1 cup of plain vanilla ice cream
There you have it! You did it. The hardest part of the diet is making it through until the following morning.  Because after eating so lightly all day, you WILL be hungry.
Can I Eat or Drink Anything Else?
Going three days eating next to nothing will be a challenge.  A lot of people give up after day two because it is just too excruciating, especially if you are used to a high carb diet.  There are some "Freebies" you can enjoy while on this diet. But don't get too excited, they are nothing special!
Free "Foods" You Can Enjoy While on the Military Diet
Celery sticks

2 large stalks of celery are only 13 calories and contain a bit of fiber too

Cucumber slices

1/2 a cucumber contains only 20 calories

Shredded lettuce

Again, only 10-20 calories for two cups of shredded romaine lettuce.  Don't have any salad dressings with it, but if you mix it with sugar-free mustard and add it to your tuna on toast, it will help fill you up
All of the above are low in calorie and contain fiber which will help you feel more full than you would without it.
Free "Drinks" List While on the 3 Day Diet
Coffee, black
Tea, black
Herbal teas (Green is especially good and helps boost your metabolism as well)
WATER

Please drink at least 8 glasses of water a day and more if you are drinking a lot of caffeinated beverages like coffee or tea
You can try making fruit infused water as well.  I like to prepare a pitcher of cold water in the fridge with lemon and lime slices and a few mint leaves.  Leave it for a few hours and you'll have a nice refreshing drink to enjoy throughout the day
What to AVOID while on this diet
Avoid diet drinks and sodas
I know it seems like it shouldn't be a problem to have a few cans of diet coke. But aside from all the reasons artificial sweeteners are bad for you, they will just make you crave MORE sugar.  Diet sodas stimulate your appetite and you'll feel ravenous a few hours later and want to eat carbs and sugar galore.
Instead, if you are craving that crisp carbonated drink – go for Perrier water or unflavored sparkling water.  Then add some freshly squeezed lemon and Stevia as a sweetener.  Stevia doesn't stimulate your hunger the way other sweeteners will and you'll feel like you're drinking a sweet lemon soda.
Avoid alcohol at all costs!
Alcohol is full of empty calories and this will destroy all your efforts.  Stick to the drink options above or you won't see the results you've worked so hard for.
My Military Diet Results After 3 Days of Torture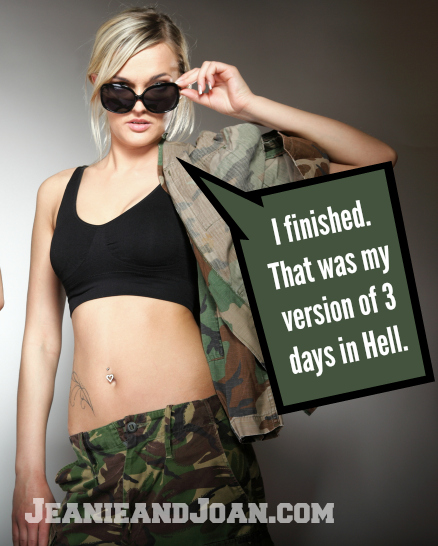 Overall, this diet is my personal version of hell.  I eat every 3 hours like clockwork, so this was a challenge.  I did drop 5 pounds after doing the diet though, so it does work if you commit to it.  However, if you aren't careful, you will regain this weight quickly. If your goal is to lose weight before a big event, party or special occasion, this is definitely a great option.
My stomach was much flatter after this diet and that is likely due to being less bloated.  Eating a lot of carbs or foods that produce gas can make your stomach appear larger than it is.  So if you need to fit into that tight black dress, you will look a lot leaner after 3 days of eating minimally.
Should I Exercise While on The 3 Day Diet?
When you are trying to lose weight quickly, you might be tempted to go on a super calorie restrictive diet like this one and also exercise like a maniac to accelerate your progress.  However, this isn't a good idea when you are eating so little. The military diet is basically like a 3 day fast. If you start doing high intensity cardio exercises or going for an hour long run, you will NOT have the energy you need. Your body will feel fatigued and you might even pass out from exhaustion and hunger.
This isn't to say that you should be sedentary or bed bound for 3 days. There are some forms of exercise that will benefit you and also not exhaust you the same way high intensity training will.
Exercises to Follow While on the Diet Plan
Power walking for 20-30 minutes
Cycling at a moderate speed for a half hour
Doing a set of crunches and squats

These exercises will help strengthen your core and legs but won't exhaust you
I'd recommend doing 30 crunches followed by 30 squats and repeat this sequence 3 times

Lifting dumbbells or light free weights (5-10 lbs)

If you're trying to get your arms ready to look great in your dress, try doing a few sets of curls and rows to work your biceps and triceps
Day 4 of the Military Diet
This diet only lasts for three days. Do NOT begin another 3 days of this diet after completing your first three. You will cause irreparable damage if you do. If your body becomes accustomed to eating under 1,000 calories a day, it will make it much harder for you to lose weight in the future. Your body will cling to its fat stores as it "panics" and goes into starvation mode.
What you need to do is return to a normal healthy diet of at least 1,200-1,500 calories.  This will help you maintain your weight loss and continue to lose more weight at a normal and healthy pace.  Slowly start to introduce carbohydrates into your diet but don't over do it.
Overall Review of the Military Diet
Well, it's no brainer that I hate this diet.  Was it worth going through to lose 5 pounds? No.  But if I had a beach party or a hot date and really wanted to look good in my outfit, it would definitely be a good option.  I personally prefer to eat healthy 90% of the time to avoid having to do these drastic diets.  Getting fit and losing weight needs to be a constant lifestyle change.  Extreme diets might help you get extreme results but these results won't stand the test of time.  You need to eat sensibly, exercise regularly and treat yourself on occasion. The military diet might help you lose up to 10 pounds, but a balanced lifestyle will help you keep it off!