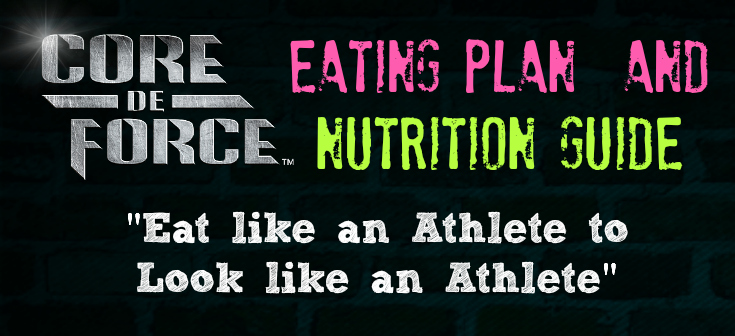 While exercise and working out is an essential part of your weight loss journey, in all honesty it isn't nearly as important as your diet and eating plan.  If you are working out 7 days a week but stuffing your face with pizza and ice cream in the evenings, you WILL NOT have success. I don't care what your friend's cousin's mom says. It ain't happening! You need to follow a stable and clean eating plan while on Core de Force in order to steadily lose weight.
The Core de Force Nutrition Guide and Eating Plan
As of late, all of Beachbody's latest programs have been promoting the use of the 7 piece portion control container set which is included in your kit.  This is because portion control is the only way to lose weight and the containers are an incredible and visual tool to help you understand and learn what a real portion size looks like.  If you haven't heard of this system, let me explain it for you below.
You'll receive 7 differently colored containers in your set:
1 green container for vegetables
1 purple container for fruits
1 red container for proteins
1 yellow container for carbs
1 blue container for healthy fats, nuts, and cheese
1 orange container for raw seeds and salad dressings
In addition to the use of these containers, you'll get between 2-8 teaspoons of oils a day to enjoy depending on your calorie bracket.  Depending on your weight, height and fitness level, you'll determine how many calories a day you should be eating.  Instead of counting each and every calorie you ingest, you'll follow the container system and make sure you eat X amount of containers of each food group per day.  Let's figure out your calorie needs:
CDF Calorie Bracket Formula
If you have a fitness bracelet or heart rate monitor, you can track how many calories you burn doing Core de Force.  This is crucial because it gives you an idea of how many calories you are burning with each CDF workout you do.
Once you know this, you can follow the formula to determine how many calories you'll need to eat each day.
Begin by multiplying your weight in pounds by 11.
Take this number and add 400 (which is the estimated calorie burn of Core de Force).

If you have a heart rate monitor, average out how many calories you burn with each workout and use this number instead.

Now subtract between 500-1000 calories to get your calorie target for the day.
Remember that 3500 is the equivalent of one pound of fat. If you create a caloric deficit of 500 calories per day, you'll lose 1 pound of fat per week.  A deficit of 750 will help you lose 1.5 pounds a week and at maximum, creating ad deficit of 1000 calories will lead to a loss of 2 lbs per week.  Do not go over this amount or your body might be pushed into starvation mode. This will hinder your progress greatly.
What Do I Do with This Number?
Once you have figured out the formula above, you might have a number like "1667 calories" as your daily target.  The container system is designed to work in "brackets" and you will aim to fall between one of these brackets. If your target number was 1667, you would aim for 1500-1799 calories per day.
For example, if you fall under the following:
1200-1499 Calorie Bracket:

You can have 3 green, 2 purple, 4 red, 2 yellow, 1 blue, 1 orange and 2 teaspoons of oils per day.

1500-1799 Calorie Bracket:

You can have 4 green, 3 purple, 4 red, 3 yellow, 1 blue, 1 orange, and 4 teaspoons of oils per day.

1800-2099 Calorie Bracket:

You can eat 5 green, 3 purple, 5 red, 4 yellow, 1 blue, 1 orange, and 5 teaspoons of oils each day

2100-2300 Calorie Bracket

You can have 6 greens , 4 purples, 6 reds, 4 yellows, 1 blue, 1 orange, and 6 teaspoons of oil
Most women will fall under the two brackets above but some women and most men will fall under the 1800-2099 and 2100-2300 calorie bracket plans.
I recommend using tally sheets to help you keep track of your progress! I've developed a 5 page bundle that includes  customized tally sheets, a menu planner, the eating plan food list and a weight loss tracker to help you on your way!
You can get my Core de Force printable packages for the 1500-1799 Calorie Bracket:
Click here to visit my Etsy Shop and get the 1800-2099 Calorie Bracket Package or the 2100-2300 Calorie Package depending on your caloric needs!
What Can I Eat Each Day?
In the included Core de Force food list you'll receive with your package, there are plenty of different options you can eat for each container.
For the green vegetable container:
Carrots, tomatoes, celery, spinach, broccoli, squash, beans, peas, cucumber, bell peppers, onions, etc.
For the purple fruit container:
Melons, pears, oranges, apples, mango, berries of all kinds, peaches, plums, kiwis, etc.
For the red protein container:
Chicken, turkey, lean pork, lean beef, fish, tofu, cottage cheese, plain yogurt, eggs
For the yellow carbs container:
Oatmeal, sweet corn, potatoes, brown rice, whole wheat pasta, whole-grain bread, high fiber cereal
For the blue healthy fats container
Avocado, hummus, almonds, peanuts, pistachios, cashews, cheddar or mozzarella cheese, feta cheese
For the orange seeds/dressings container
Unsweetened coconut, Italian vinaigrette or balsamic salad dressing, raw sunflower or pumpkin seeds
Additionally you'll get the use of teaspoons of oils or nut butters including:
Olive oil, coconut oil, peanut butter, almond butter, etc.
I recommend using tally sheets to log how many containers you are eating each day so you don't forget. This also will give you an idea of what foods you are eating so you can repeat meals when you're stuck for ideas.
Remember to have fun with it. Keep things fresh, mix and match meals and learn to enjoy the foods you're eating each day!