One of the most popular and well-known diets of the past year comes from Autumn Calabrese's 21 day fix program.  Her Fixate cookbook accompanies the diet and includes dozens of recipes to help you stay on track!  This is less of a diet and more of a healthy eating plan that is fun, colorful, and easy to use!  The cookbook helps you understand how you can combine the portion control containers together to make healthy and hearty meals for the whole family.  You don't need to eat container by container to get results.  But having the right recipes is crucial to your success! I'm here to review her cookbook and Fixate cooking show to tell you if it's worth the purchase!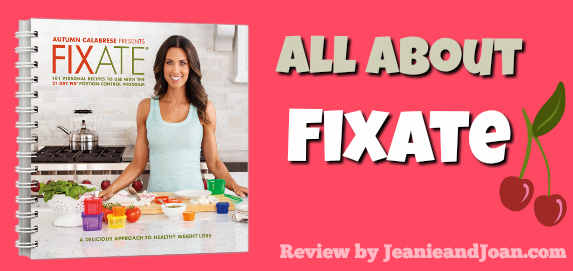 What is Fixate?
The term "Fixate" comes from the 21 day fix program designed for Beachbody by fitness and health trainer Autumn Calabrese. It is a 21 day exercise program that combines both workouts and nutrition.  The idea is that you will eat smaller controlled portions of each food group and track them along the way.  You no longer have to calorie count. Rather, you need to container count! Which is a lot easier and more fun.  You will fit into one of four calorie brackets. Each bracket allows you to have a certain number of containers from each food group. You'll notice a higher emphasis on proteins and vegetables with carbs and fruits restricted.
1200-1499 Calories

3 green (vegetables)

,

2 purple (fruits)

,

4 red (proteins)

,

2 yellow (carbs)

,

1 blue (healthy fats and cheese)

,

1 orange (seeds and dressings)

,

2 teaspoons of healthy oils

1500-1799 Calories

4 green

,

3 purple

,

4 red

,

3 yellow

,

1 blue

,

1 orange

,

4 teaspoons of oil

1800-2099 Calories
2100-2300 Calories
What does the Fixate recipe cookbook contain?
101 different easy to make/basic recipes
Each recipe has the container equivalent per serving shown

For example, a pasta dish will tell you how many veggies (green containers), carbs (yellow), and fats (blue) each serving will contain

Tips on how to use the portion control containers
Recipes for various diet needs including vegetarian, paleo, and gluten-free
Snacks, Dessert and Treat recipes included
Delicious Drink recipes too!
>> Click Here to Read Reviews about the Fixate Cookbook on Amazon
Example Fixate Recipe and How the Cookbook will Look: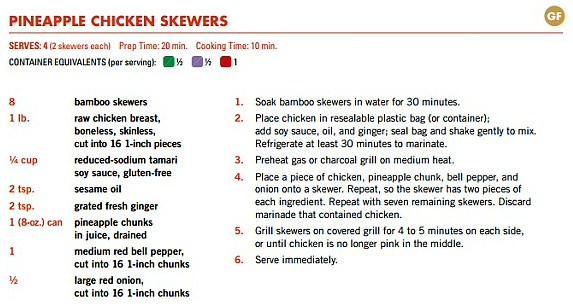 As you can see above, there is a small icon to the top right that says "GF" for Gluten-Free. These icons will help you know the diet will work with your dietary needs (Gluten-Free, Vegan, Vegetarian, etc)
You can also see how many servings there are.  In this particular Pineapple Chicken Skewers recipe, there are 4 servings in total (2 skewers = 1 serving).  And each serving will be the 21 day fix equivalent of 1/2 a green container (vegetables), 1/2 purple (fruit) and 1 protein.
The layout is easy to read and the recipes are not complicated.  I am not a natural cook, so I need directions. These are simple enough even for me to follow!
Pros and Cons of Fixate
The Positive Reviews – People who enjoyed this cookbook said that:
The recipes are simple and easy to make
They require basic ingredients that you will generally have at home
You get the container amount for each serving so it makes meal-planning and tallying your containers very easy
This book is made especially for people following the 21 day fix or portion control container program.  If you are only interested in healthy eating and not container counting, you might find it to be limited in options
The Negative Reviews – People who had some objections
The book promoted the Shakeology drink in some recipes which is very expensive and it seemed like a "pitch" to buy more unnecessary products
The recipes were almost too simple and didn't offer anything especially creative
Which workout programs are compatible with the Fixate cookbook?
You can use the 21 day fix cookbook with any workout program you want! It is best known for its compatibility with the 21 day fix program, Country Heat or the 21 day fix extreme.  You might not even be following a rigid workout program, but you can still benefit from this recipe book. Portion control will help you stay trim, regardless of how often you work. You won't gain excess fat. However, only exercise will help you get toned and lean, so we recommend at least exercising 3-5 times per week!
In Summary:
The Fixate cookbook is just another great tool to keep you on track with your portion control container diet plan.  While there are many 21 day fix approved recipes available online, sometimes it is nice to browse through a book when you're short on time. The Fixate cookbook has enough recipes to find something quick and easy for breakfast, lunch, dinner, or any snack you might need! There is even a section for desserts and cocktails!  It's definitely worth the investment in my opinion, but will be best appreciated by lovers of the container counting diet!