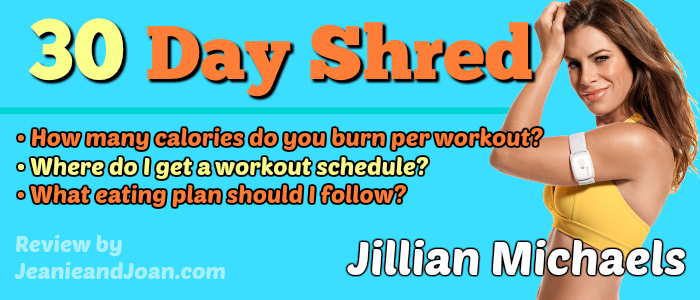 The 30 Day Shred workout program by Jillian Michaels is still one of the most popular exercise programs on the market. What I love about it is that the workouts are short, divided into three levels, and the program is easy to follow. But what kind of weight loss results can you really expect in just 30 days? And how many calories can you burn in each workout? I decided to do a complete review of one of my all-time favorite total body workouts. These workouts are great to do as a program by itself or incorporate into another one of your workout programs.  However, in order to lose weight, you must also follow a tailored diet for best results.  Let's get started!
Who is Jillian Michaels?
Most people know Jillian Michaels from the weight loss reality TV program, "The Biggest Loser". She was one of the trainers along with Bob Harper for many seasons on that show, where she helped dozens of people lose weight.  She is now one of the most renowned fitness trainers and experts in the world.  She has dozens of weight loss and strength training workout programs that you can do from the comfort of your own home.  And the best part is that you don't need to waste time or money by going to the gym. You can get the same results at home in half the time!
What is the 30 Day Shred?
Jillian Michaels developed the 30 Day Shred in 2008. It is a DVD containing three different total body workouts. The idea is that you can begin to change your body if you commit to working out for a half hour every day.
Each workout contains 3 sequences with 3 routines in each sequence.  For example, every workout will begin with a quick warm-up.  Following this, you will do a 2 minute strength-training routine, 2 minutes of cardio, and then 1 minute of abs. You'll do another sequence of different moves and then a final third sequence.  This is followed by a short-cool down.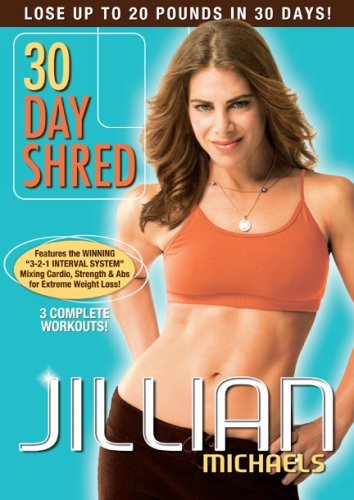 The idea is that you will progress through the 30 days at your own pace. If you are still struggling to complete Level 1 after a week of working out, continue with level 1 during week 2.  If level 1 is too easy for you after a few days or it isn't as challenging as it was at the start, continue to level 2.  You might do 30 days of just level 1 and that is okay! The important thing is that you are working out.  You can continue to try level 2 and 3 of the 30 day shred when you are able to get through the first level without too much difficulty.
Level 1 Workout: 30 Day Shred
The first workout is around 26-27 minutes in length.  Here is the sequence of workout exercises and the complete routine.
Warm-Up
Circuit 1

Strength:

Push-ups
Squats with overhead presses using light free-weights or dumbbells
Repeat sequence

Cardio:

Jumping jacks
Jump rope
Repeat

Abs

Standard crunches
Reverse crunches

Circuit 2

Strength:

Double arm rows
Lunge & bicep curl combo
Repeat

Cardio:

Butt kicks
Stationary squat combined with forward punches
Repeat

Abs:

Side crunches (each side)

Circuit 3:

Strength:

Chest flys
Side lunge and arm lifts (This one burns!)
Repeat

Cardio:

Jumping Jacks
Butt Kicks
Squat/punches combo
Jump Rope

Abs:

Cool-down

After doing this workout and tracking my calories burned using my Fitbit Charge HR 2, I burned 228 calories in total. It was definitely an incredible total body workout and I felt it in my legs and arms the next day.  This is a great workout to take along with you if you are staying at a hotel for a few nights or weeks and want to maintain your weight while on holiday!
Level 2 Workout: What to Expect
The 28 minute long second workout was very challenging compared to the first workout.  I actually burned most calories in level 2 than in any of the three 30 day shred workouts.  But it was still easy to follow and the moves weren't too complicated.
Warm-Up
Circuit 1

Strength:

Walking Push-ups
Stationary Squat and row
Repeat

Cardio:

High knees
Squat thrusts
Repeat

Abs

Crunch and single leg lift
Switch legs

Circuit 2

Strength:

Stationary lunge and double row
Alternating lunges and double hammer curl
Switch legs (repeat)

Cardio:

Jump twists (My favorite cardio move!)
Skate jumps
Repeat

Abs:

Weighted reverse lunges
Double crunches

Circuit 3:

Strength:

Military press and leg extensions
Squats with weighted arm lifts
Repeat

Cardio:

Plank jacks
Double jump rope
Repeat

Abs:

Cool-down
This is definitely my favorite workout of the three! It is super challenging, focuses on strength-training and burns a ton of calories.  In this level 2 30 day shred workout, I burned 266 calories in just over 27 minutes.
Level 3 Workout: Can You Handle It?
The level 3 workout is no joke! Don't attempt this one until you are able to get through level 2 without taking a break.  It is very challenging and you'll want to make sure you are drinking water throughout. I burned about 10 calories less doing this workout than I did with level 2. But I attribute that to the focus on strength-training in addition to cardio in this workout.  You are challenged to use your body weight more here so while the calorie burn might be slightly less when tracked, your body will burn more calories throughout the day because of the spiked heart rate.
Warm-Up
Circuit 1

Strength:

Walking/Sinking Planks
Superman
Repeat

Cardio:

Mountain Climbers
Sumo Squat jumps
Repeat

Abs

Reverse Crunches
Scissor Crosses

Circuit 2

Strength:

Squat Dumbbell Press
Jumping alternating lunges
Switch sides (repeat)

Cardio:

Boxing Punches with Dumbbells
Weighted Jumping Jacks
Repeat

Abs:

Circuit 3:

Strength:

Travelling push-ups
Plank rows with leg raises
Repeat

Cardio:

Jump Squats
Rock Star Jumps
Repeat

Abs:

Cool-down
This workout was super challenging. All of the jump and cardio moves focused on plyometrics and getting your heart rate to peak.  There were also a lot of strength moves that use all of your body weight. I burned 253 calories with this workout but am sure I could have burned a bit more if I didn't stop as often to catch my breath!
30 Day Shred Diet Plan and Nutrition
While Jillian Michaels has developed an incredibly workout program, there isn't a whole lot of information regarding what diet plan you should use.  I highly recommend using the same workout plan that Autumn Calabrese designed with her 21 day fix program. By using portion control containers, you'll be eating healthy and keeping your calories low enough to lose weight.
There are four different caloric brackets you can follow. For most women who want to lose weight, you'll need to eat between 1200-1500 calories or 1500-1800 calories.  If you are very tall or a man, you might need to increase that to 2000-2300 calories.
Depending on your current height and weight, you'll be able to eat a certain number of containers each day. Each container stands for a different food group.
The 30 Day Shred Food List
Green containers = Vegetables

Examples: Lettuce, Spinach, Bell Peppers, Carrots, Celery, Zucchini, Green Beans

Purple containers = Fruits

Apples, Pears, Berries, Watermelon, Oranges, Grapes, Grapefruit, Plums

Red containers = Protein

Lean beef, Skinless Turkey or Chicken, Fish, Cottage Cheese, Yogurt, Tofu

Yellow containers = Carbohydrates

Oatmeal, Whole-Grain Cereals, Brown Bread, Whole-Wheat Pasta and Rice

Blue containers = Healthy Fats

Avocado, Nuts, Cheeses, Hummus

Orange containers = Seeds and dressings

Light salad dressings, sesame/pumpkin/sunflower seeds
This is the perfect program to combine with the 30 day shred because you will not only burn fat and build muscle, but lose weight by consuming less than you burn.  Even if you aren't strict with counting calories, by eating healthy foods from the list above you'll lose weight steadily.
What Should I Do When I Finish the 30 day plan?
After doing one round of Jillian Michael's 30 day shred program, you should take a day or two of rest (still eating healthily). Then continue another round of the program and focus on doing more of the level 2 and level 3 30 day shred workouts to push yourself to the next level.  After this, you might want to try a more difficult program such as Shaun T's T25 or Tony Horton's 22 Minute Hard Corps workout program. Both of these are also under 30 minutes long and will deliver an incredible calorie burn.
Or better yet, invest in a longer and more challenging workout from Jillian Michaels or the sequel to the 30 day shred program. I hope you enjoyed my review!