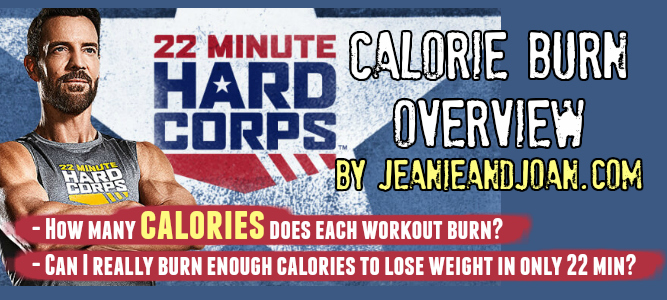 One of the biggest questions about this program that I get is: Can you really burn enough calories to lose weight with 22 Minute Hard Corps?  We've decided to review each workout, one by one, and determine how many calories you can burn in 22 minutes by working to your maximum! We've tracked all the workouts with our Fitbit Charge HR 2 and all workouts were done by the same person so you can get an accurate side by side comparison!
One thing to note is that the workout calorie burn was calculated  from second 1 of the 22 minutes. I didn't include the "Cold Start" warm-up or any other warm-up.  So you can add an extra 20-40 calories depending on how long you warm up for!
I'm going to organize the calories burned doing 22 minute Hard Corps level by level and show screenshots as proof of my results!  But here is an overall chart to help you.
22 Minute Hard Corps Calories Burned Overview
| Workout | Calories Burned | Length of Workout (timed) | Average Heart Rate (bpm) |
| --- | --- | --- | --- |
| Cardio 1 | 193 Calories | 21:58 min | 136 bpm |
| Cardio 2 | 201 Calories | 22:40 min | 135 bpm |
| Cardio 3 | 197 Calories | 22:31 min | 134 bpm |
| Core 1 | 56 Calories | 09:30 min | 123 |
| Core 2 | | | |
| Resistance 1 | 140 | 22:00 min | |
| Resistance 2 | | 22:00 min | |
| Resistance 3 | | 22:00 min | |
The Cardio Workouts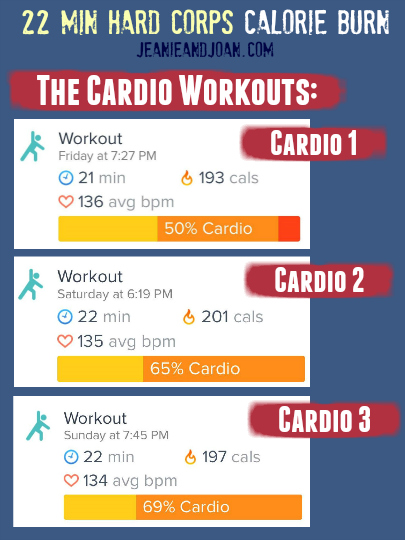 One thing that might surprise you with my results is that I burned more calories with Cardio 3 than Cardio 3.  I think the reason for this is that the moves are very complicated in Cardio 3.  There are many moves where you are switching rapidly from standing to the floor and others that focus on both cardio and strength.  That means, that you are challenging your body and helping to build muscle with Cardio 3 and working on your endurance level.  You will work muscles in Cardio 3 that you won't in Cardio 1 or 2.
This also means you'll burn more calories after doing the workout and throughout the day. So don't throw in the towel and just stick to Cardio 1 instead of the other two workouts. It's important to challenge yourself and your body to increase strength and endurance.  After you master Cardio 3, you'll be able to fly through the other two workouts.
Cardio 1 burned 193 calories
C2 burned 201 calories
C3 burned 197 calories
The Core Workouts
These 22 minute hard corps core workouts are only 9 minutes-11 minutes long and are floor-based. So a high calorie burn is NOT the target or goal here. They are muscle building and core strengthening workouts so your goal isn't to burn a lot of calories. Rather, to work your abdominal and core muscles to help strengthen and eventually flatten your tummy once you lose the fat over it!
Core 1 burned 56 calories in a little over 9 minutes
Core 2 burned 75 calories in just over 11 minutes
The Resistance Workouts
My favorites! I love strength-training and how it helps your muscles look long and lean.  These workouts push you with a variety of different exercises and still help burn calories even though that isn't the target. Also keep in mind that you will burn more calories as the day progresses after doing a strength training workout. So while the calorie count might be "low" for the workout, you will burn more throughout the day than if you hadn't done the workout.
Resistance 1 burned 139 calories in 22 minutes and 13 seconds
Bookmark this page for an update regarding Resistance 2 and 3!
Will I burn less or more calories doing the same workout?
One thing I always stress when doing these calorie burn tests is that results WILL and DO vary from person to person. A man who is a foot taller and 40 pounds heavier than I am will burn more calories.  And a woman who is more petite and lighter than I am, will likely burn less.  Additionally, if you do these workouts when you are packed full of energy, your calorie burn will be very high.  But if you do the workouts after a long day of work and have low energy levels, you will burn less calories because you didn't put in the same effort as normal.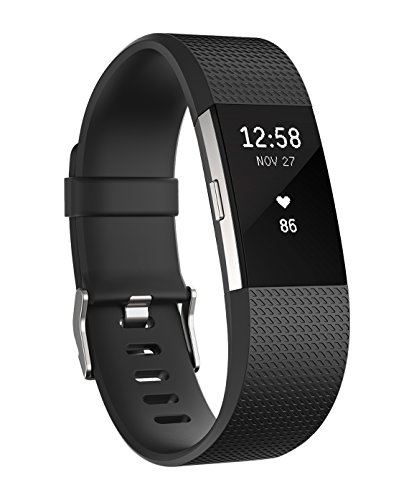 The only way to know for sure how many calories you burn is to invest in a fitness bracelet or heart rate monitor with the option of tracking calories.  The screenshots above were taken from my Fitbit App. I own the Fitbit Charge HR 2 and it is (in my opinion), the best device on the market. The watch is sleek, discreet, and offers so many amazing options to track your workouts.  It also has a great community and you can add all your friends and family members who also have Fitbit trackers and motivate each other/compete in challenges and more.
>> Click here to learn more about the Fitbit Charge HR 2 on Amazon.com!
Final Thoughts
While these workouts may be short, the calorie burn is actually incredible for only 22 minutes.  Add a 10 minute warm-up before the workouts and you'll hit 300 in no time.  They are a fabulous routine for those who are short on time or are trying to maintain their weight.  If you have more time to workout, you will want to check out the calorie burn of the Core de Force workouts which reaches up to 600 calories! You can still lose weight by only working out 22 minutes a day, but you'll need to restrict your calories further than you would have to if you are doing 45-60 minute workouts per day.  These are great workouts for anyone wanting a quick workout or for those who lead active lives and want an extra "push" at the end of the day.